By Ellie-Rose Davies, Content Executive at IMRG
Around big retail events, such as Mother's Day just passed, Easter, Black Friday, and Christmas, retailers pull out all their cards, attempting to heighten seasonal profits. This blog uncovers how retailers can effectively plan for events in their calendar, looking at growth opportunities during communal celebrations.
Industry experts have revealed their top tips to boost traffic, conversion rates, and overall engagement on retail sites during busy trading periods. These are the four key focus areas:
1. Personalisation
With lots of noise and growing competition surrounding key retail events, retailers can utilise personalisation to attract and hook reluctant shoppers.
Chris Gorman, Head of Professional Services at Esendex says, 'Limiting the time window for event-related promotions is one way we've seen our customers re-ignite interest in particular promotions. By using intelligence from previous campaigns, retailers can also think more spontaneously and pivot on local news and events rather than relying on major calendar events. Maintaining an emotional connection and personalising campaigns goes a long way towards ensuring that event-based marketing resonates with shoppers.'
'As more and more customers focus on product provenance and brand authenticity any event that's rooted in community has a great chance of succeeding.'
Also, Angel Maldonado, Founder and CEO of Empathy.co reveals how 'The most successful online retailers create experiences that evoke joy and connection to the brand.' In order to experience growth around key retail events, Angel highlights the power of 'customer trust through ethical personalisation.'
For example, retailers can put their shoppers 'in control of their personal preferences and the data they share with brands. Through Search & Discovery tools, retailers can empower their customers to decide what shopping experience they want. Customers love sharing if a culture of trust is nurtured.'
Creating a culture of trust has become more important for online retailers trading in the UK given the struggling economy. James Dye, Country Director UK/I at Talon.One shares, 'Even during key shopping and gifting events, the cost of living crisis means customers are looking for deals and ways to save money.'
To incentivise customers 'during big events, instead of mirroring offers in-store, we recommend focusing on personalised offers, which save margin and elicit a stronger customer response. Retailers can target offers based on segments or real-time on-site behaviour. This is especially powerful when combined with scarcity urgency: never underestimate the power of a countdown. If an offer is limited, your tech can have an API that lets your customer know exactly how many items are left.'
Personalisation in campaigns and offers can be enhanced through video. Jennifer Smith, at Brightcove says, 'Given that the vast majority of shoppers (70%) now consider video to be essential when shopping online, retailers might start to recognise and embrace the power of video for their customers' purchase journey.'
'Taking a video-first approach will help businesses stand out from competitors and ultimately reach and retain audience numbers during these busy retail events.'
2.Omnichannel selling
Since the pandemic, omnichannel sales have increased. The closure of brick-and-mortar stores led retailers to invest more in ecommerce. Thus, both are great sales avenues that can boost revenue during peak trading periods.
Karl Stone, UK Regional VP at Voyado reinforces the value of omnichannel selling, 'say someone buys online, think of ways you can encourage them to visit you in-store. How about in-store Easter events, promotions, or limited-time discounts?'
Simultaneously, 'Store customers can become online customers with exclusive Spring offers. Since we know shoppers that purchase both online and offline are considerably more valuable, it's worth taking an omnichannel approach.'
Reinforcing the value of having an omnichannel strategy, Heath Barlow, VP EMEA, at Emarsys shares that, ' In a costly and competitive world where consumers are quick to switch allegiance to retailers offering the best deals – 49% of UK shoppers have abandoned a brand they were once loyal to due to cost considerations – omnichannel offers an emotional defence, enabling brands to connect with consumers through their preferred channels at pivotal moments.'
Heath continues, 'Retailers must ruthlessly prioritise to build higher customer lifetime value. If offering deals during key retail events can boost customer loyalty and overall engagement, it's a compelling investment.'
3. Delivery performance
IMRG has recently shared extensive customer research into delivery, including performance, returns, click & collect, and packaging. In our survey of 1000 participants, 4 percentage points more customers answered yes to 'do delivery concerns ever prevent you from shopping online?' compared to last year, totalling 44%.
Therefore, retailers might start to consider ways to enhance their customers' experience with delivery and see higher conversions in busy calendar periods.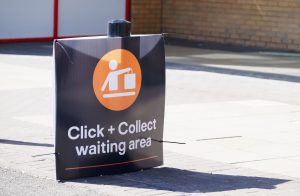 Nicole Morton, Cross-Border Solutions Manager at Avalara says 'Convenience can play a big role in drawing customers to your store instead of your competitors during key retail events. Offering delivery options like ship from store, Click & Collect, or pick up/drop off collection can put orders in customers' hands much faster and ensure customer satisfaction.'
'In addition, delivery companies can be overloaded during these peak times. If your carrier is unable to provide its usual service, having a contingency plan can be the difference between keeping and losing customers.'
Looking at Click & Collect, customers tend to prefer collecting from a convenience store/supermarket (60%) as opposed to the retailer's store (48.7%). We can then infer that there is value in using third parties, especially when customers might be hesitant to visit busy stores in large sale periods.
4. Payments and profits
Retailers can look at their payment options and profit boosting strategies, sufficiently providing customers what they want, when they want. This is integral around key retail events when most retailers are running some kind of discounting campaign, and when most customers want to find the most convenient journey to purchase.
Okan Ozatin, General Manager of Payment Solutions at Signifyd exclaims, 'customer journeys need to be as seamless as possible, especially when it comes to payments. With the first Strong Customer Authentication (SCA) anniversary having just passed, many retailers are still struggling to get to grips with the new legislation. Signifyd's State of Commerce report revealed that over a third of UK consumers have had to abandon purchases because of trouble with SCA.'
'In these challenging economic times, retailers can't afford to be losing out on revenue. Every transaction matters and potential sales during key retail events are no exception.'
Monica Eaton, Founder at Chargebacks911 suggests for retailers to 'concentrate on the bottom line. The greatest customer experience in the world isn't going to compensate for your funds being wasted on unnecessary expenses, so take an honest look at every expense and see if there are any costs that can be reallocated to improve the customer experience, such as offering discounts or accepting alternative methods of payment.'
It is also an idea to give each customer the experience they want. For example, 'allowing customers to use digital technology to access your goods or services, but not forcing them to download apps or scan QR codes if that's not their preferred shopping experience.'
To increase profits, Abby Wong, VAT Consultant at Sovos recommends retailers to 'think about brand collaboration or co-branding. Aligning with a complementary brand with matching values can provide a great way to attract and reach new customers and boost revenue at the same time.'
'A good example is the crossover of high street fashion brand H&M with high end Simon Rocha to excite fashion lovers. Also fashion label Forever 21's collection with restaurant chain Taco Bell.' But, while retailers can incorporate these strategies to boost sales, Abby says 'understanding VAT implications will be key to protecting profit margins.'
It's all in the strategy
Many retailers opt for discounting items during key retail events, but much fewer think about strategies to improve the customer experience and see long-term growth off the back of them. Retailers that prioritise performance are more likely to generate customer loyalty.
---
Did you find this blog interesting? Then why not check out other IMRG blogs which cover a range of ecommerce topics. Here are the latest 5:
The US Data Privacy Landscape, And Changes For 2023 – IMRG
Being On-Brand: How To Build A Strong eCommerce Brand & Identity – IMRG
5 Tips To Succeed At Omnichannel Selling – IMRG
How UK Fashion Brands Can Style Up Their Marketing With Automation – IMRG
Revealed: Six Trends Shaping The UK Fashion Industry – IMRG
Published 29/03/2023