Fashion is part of everyday life, yet fashion trends come and go faster than you can say "catwalk".
That's why many fashion marketers, especially in the highly competitive UK market, constantly deploy new tactics and strategies to remain ahead of the curve – and that includes innovative uses of marketing automation.
Fashion marketing is all about staying on top of style trends and matching them to the target markets through creative, highly personalised advertising. Sales channels are no longer restricted to brick-and-mortar and ecommerce.
As a fashion marketer, your plans may also include flash sales, pop-up concepts, in-app purchases, marketplaces, and social shopping. In other words, a true omnichannel strategy.
Marketers can also anticipate seasonal changes and the need to stay in tune with consumers as they prepare to purchase for the next season. All these factors make marketing automation a logical solution to keep your customers engaged.
Why use marketing automation in fashion?
While marketing automation is not 'new', it's still one of the most effective ways to personalise communication and be relevant to every customer offering. It can help you scale up communication without having to do the manual work all the time. Plus, it's always evolving to become even more sophisticated.
With slick, effective automated journeys, you can consistently keep your customers engaged and active and, in turn, have the potential to generate more revenue. Marketing automation tools can track potential customers across multiple channels and campaigns.
You can collect, store, and act upon your customer data to send bespoke messages to each individual based on your business – it's a powerful way to build customer loyalty and boost sales.
Other crucial benefits of marketing automation in fashion include:
Increase cross- and up sales by sending out recommended complementary items such as jewellery, handbags, belts, sunglasses, etc., to increase the add-on value.
Boost loyalty by reinforcing the customer's decision to pick your brand over competitors.
Determine the most effective channels to increase open and click rates using A/B tests.
Retain sales – abandoned cart automation will ensure fewer lost sales.
Inspire shopper loyalty by managing your loyalty program efficiently – you can reward loyal customers and follow up on unredeemed campaigns.
Re-engage customers on the verge of leaving by setting up successful win-back campaigns, and anti-churn automation flows based on predictive churn scores.
Fashion marketing automation: five top tips
As with nearly everything in marketing, well-planned strategies will help you to succeed with marketing automation.
Here are five smart ones to kick off with.
1. Abandoned cart automation
This is one of the most effective automations fashion retailers can work with. Many leave something in their abandoned cart instead of checking out. But these are not lost opportunities – the fact that a customer placed items in their online shopping cart signifies their interest. Sending them an email a few hours later reminding them of their abandoned cart might reignite their interest in the item.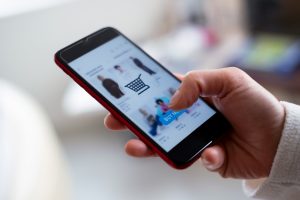 Statistics show that these reminders typically have an open rate of 50%, with 10% of customers subsequently completing the purchase. You could also include recommended products in the email that may be more suitable than their original choice.
2. The purchasing journey
This is a great automation to build customer loyalty. You can tell them that a purchase is only the start of their journey with you. For example, you might send a "We hope you enjoy your new item" email with recommended fashion accessories, followed by a "How to care for your new garment" communication.
UK-based clothing retailer Boden does this well: it used marketing automation to send personalised product recommendations of their swimsuits with balmy beach images at the start of the Spring season. Coupled with a discount incentive, the timing of the Facebook campaign was spot-on.
This is a golden opportunity to show that you care about your customers, irrespective of whether they make another purchase or not.
3. Social media automation
Integrating social media ads into marketing automation with what you want the customer in the workflow to act on is also popular.
Let's say you create a flow for customers who just bought a pair of leather boots, and the goal is to make them purchase winter accessories. After recommending these accessories through a few contact points via automation, you can add that customer to a list of people targeted with a social media ad. And guess what? The ad talks about the accessories!
It's also possible for the segments you use for social media advertising to be signposted as you go, depending on whether your contacts engage with your adverts. Use these signposts in your automation to send emails to those who have purchased from an advert, but take care not to repeat the same ad to them.
You can also flag contacts who have clicked on something but didn't buy anything and reroute them in your automation flow. Social media automation is a great ally for your social media strategy, as you can see where each contact ends up in the sales funnel.
4. Customer churn reduction
Another option is to segment customers that have been inactive for a certain period, then try rekindling their excitement for your brand. You can start with a simple "We miss you" email and if it doesn't elicit some interest, you might try offering a discount or voucher if it's part of your strategy.
This approach has paid dividends for UK department store chain House of Fraser. It uses marketing automation to carefully segment its customer base and target specific demographics to launch personalised campaigns and promotions.
Some brands are also starting to incorporate predictions into their workflows using churn scoring. This gives you a number between 0.00 and 1.0 (where 1.0 is a churning customer). Customers with a 0.75 churn score automatically get an email or SMS with an attractive offer and product recommendations module to activate and inspire a new purchase.
There are several other steps you can set up in your automation, but if the response is low, you might have to let them go at some stage. Inactive, unresponsive customers can hurt your campaigns down the line.
5. Transactional emails
Research shows transactional emails have a much higher open and engagement rate than traditional marketing emails. You can use it to your advantage!
For example, prompt added sales and revenue by setting up automated "Thank you" emails after a purchased item has been shipped, or an account has been created. Recommending some accessories or other items the customer might enjoy is a good method. Why not also follow up on a purchase to see how they liked it?
---
Cash in on marketing automation for your fashion brand
There's a wide range of marketing automation solutions and strategies available to fashion brands.
Discover the possibilities and let Voyado to help you deliver the personalised journeys your customers expect.
Published 08/03/2023