By Ellie-Rose Davies, Content Executive at IMRG
Branding is an integral part of any ecommerce business and strong branding versus weak branding can have all the effect on your performance. It is not only about the name you choose to give your business, and the products you sell, it is an accumulation of everything – your mechanisms and persona.
Consistency in branding and identity might just be the reason a customer keeps going back; it can create that familial feeling, a step into the comfort of the known. This blog offers you four ways to make your business unique and easily recognisable, with expert advice on how to give your brand an identity customers wish to know and love.
1. Be consistent
If your customer knows what to expect in their next interaction with your ecommerce business, then you have paved the way for a smoother purchasing journey, which, in turn, can improve conversion and loyalty.
Reinforcing the value of this is Hayley Clover, Marketing Manager at Intersoft, who exclaims, 'Consistency is key. Keep your brand colours and messaging simple across all your digital channels and make sure brand guidelines are accessible to all members of all teams to be certain everyone stays on the same page.'
'The more consistent your branding is, the more people will associate the brand with certain features.' In a moment of self-reflection, Hayley shares, 'Intersoft is often associated with the colour yellow, for example!'
Carla El Gawly, Retail Strategy & Partnerships Director EMEA at Salsify expresses how consistency in product experiences helps retailers to 'foster credibility and trust with their customers.'
'Salsify's Consumer Research revealed that shoppers are loyal to brands that deliver the best online product experience. 73% of British consumers are more likely to buy from a personally relevant product page and more than half of all consumers said they wouldn't buy a product with poor product content.'
Carla concludes that 'retailers can provide accurate, compelling and consistent, high-quality product information via relevant images, videos, text, enhanced content, and product reviews – across all digital touchpoints.'
2. Think of your customers
While consistency is key to growth, you might consider if your repeated messages and experiences are fulfilling their purpose, which is often to entice the people who purchase your products.
Lee Metters, Client Partner for Brand Partnerships at Awin says, 'Brand affinity goes a long way. Strong branding is the culmination of consistency, clarity, and creativity. Fostering emotional connections with customers beyond a transaction or sale via tailored onsite experiences or value-added rewards can help to drive loyalty, encourage repeat purchases and develop a brand identity.'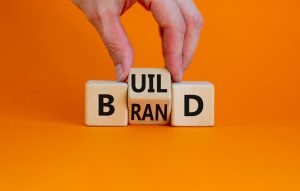 Adding to this is Francisco Gomes, Senior VAT Consultant at Sovos, sharing, 'As a company's main goal is to retain customers and avoid churn, strong branding with relatable content should be the focus. Additionally, operating in several markets and jurisdictions help to grow brand awareness and increase revenue.'
Sean Sherwin-Smith, Post-purchase Product Director at nShift also urges retailers to prioritise customer retention; 'Brands work exceptionally hard and often invest huge sums to acquire and convert customers. Yet all too often create a disconnect from the relationship by handing it over with the parcel to third-party carriers for tracking and communications post-purchase.'
To make your ecommerce brand more favourable, Sean suggests, 'The updates people receive should look as slick and professional as the brand's website that they bought from and should also be communicated where the customer is, whether that is email, SMS, or through the social channels that people use in everyday life.'
3. Use your data
Building your brand around your customers is not always easy, especially when it can be hard to understand their preferences. This is where using the data you have on them can be helpful.
Heath Barlow, VP EMEA at Emarsys exclaims, 'Customers make or break businesses on sentiment alone, so many successful retailers build their brand as a reflection of their customers. Those brands are emblematic for their community of customers, reflecting their values, desires – and continually personalising to accommodate both nuance and wider change.'
An example of an 'accurate, timely assessment of what customers want is first-party data.' Heath says, 'with no barriers between customer and brand, it's an honest way of ascertaining what shoppers want. Developing and evolving branding based on that data, and communicating it in an omnichannel way, will allow consumers to feel represented by a brand.'
'Strong brands make the customers feel like they belong', adds Karl Stone, UK Regional VP at Voyado. 'In a split second, a customer will identify a brand, immediately assign values, and decide on their preference. Today, brands have the luxury of knowing each customer. Smart brands know how to use data to optimise sales and marketing activities, but also to use that data to guide their brand identity.'
Karl states, 'Optimised marketing contributes to sales revenue – strong branding builds customer loyalty and preference over time. As your customers evolve, your branding can too.'
4. Look inwards
'The answers are in the room', says Kai Bossom, Senior Marketing Manager at Avalara.
Too often retailers look over simpler yet categorical steps to building their brand. There is something in utilising your team and recognising your current processes that might slow brand recognition and bring customer engagement down.
Kai argues that 'it's likely you'll find the answers for what you need to reinvigorate your messaging with the people who are living and breathing the brand every day. And what's so great about marketing versus any other part of the company is it's where you're supposed to test stuff.'
'Testing should be considered as a part of your budget. So, if the current image doesn't feel authentic, you can take an easy first step to revisit and test the messaging with the people who know the brand the most.'
Rob Griffin, CEO at MIRACL, describes how 'Brand loyalty is paramount for success.' But that loyalty can be hard to come by if your processes aren't working in the way you desire. For example, Rob reveals that 'in a YouGov survey that MIRACL commissioned only last year, 56% of people admitted to having negative feelings towards a brand if they had experienced frustrations with its logging-in process.'
'Too often, when confronted with an account login, it ends in failure for the customer, leaving a negative impression of the brand – however big they are.' This is why Rob encourages retailers to prioritise the login experience and recommends a 'passwordless, single-step multi-factor authentication' to create a secure brand.
Being on (top of your)-brand
The industry experts have given their advice. Feel free to return to this blog during moments when you feel your current image doesn't feel right, when you feel it lacks authenticity or consistency, and when you want branding to catalyse growth in other areas of your ecommerce business.
---
Did you find this blog interesting? Then why not check out other IMRG blogs which cover a range of ecommerce topics. Here are the latest 5:
How UK Fashion Brands Can Style Up Their Marketing With Automation – IMRG
Revealed: Six Trends Shaping The UK Fashion Industry – IMRG
As Margins Get Tighter, What Is The Future Of Retail Promotions? – IMRG
'I'm Loyal Babe': Are Loyalty Schemes The Money-Making Machines? – IMRG
Light Up The Runway: What's Happening In Fashion? – IMRG
Published 15/03/2023