By Lee Metters, Brand Partnerships Client Partner, Awin
2022 instilled a sense of optimism amongst retailers and consumers alike after a long period of uncertainty. The successful vaccination rollout promised to bookend two years' worth of covid turmoil and there were signs that life would, at long last, go back to something that resembled pre-pandemic normality.
Fast forward to H2 and that optimism has disintegrated, with retailers facing yet further challenges. Consumer confidence is at its lowest level since records began in 1974, with a catalogue of factors fuelling the highest level of inflation in 30 years. The war in Ukraine has only intensified supply chain issues, whilst stagnant wages and rising costs of fuel and energy have contributed to a cost-of-living crisis.
Shoppers are adapting and reacting to economic uncertainty, with many prepared to switch to cheaper brands in order to save some cash. Within the grocery sector alone, more than a third (38%) of shoppers have already started to swap branded products for value ranges or cheaper alternatives. This change in consumer behaviour isn't just isolated to grocery shopping. A further 19% of shoppers say they will 'definitely' switch brands as the year progresses, with another 28% willing to consider it.
Product value is becoming increasingly important for customers. Just 18% of shoppers believe that the UK's top retailers will make products more affordable for customers in response to the crisis. Alongside the increased cost of manufacturing, exportation, and delivery costs it's clear to see the conundrum facing retailers.
How can retailers support their customers through the cost-of-living crisis?
Using brand partnerships to offset increased cost-of-living
Retailers can provide their existing customer base with an offer from an additional non-competing retailer to enhance the shopping experience for their customers. A brand partnership is a mutually beneficial relationship where you and another brand partner collaborate to achieve mutual success. By providing your customer base with a targeted, and value adding reward, you can improve customer loyalty and recognise consumer economic uncertainty.
The concept of rewarding customers isn't new. Airlines have long offered frequent flyer benefits via air miles, and smaller businesses, like coffee shops, customarily offer stamp cards, unlocking a free gift after so many purchases. The added benefit of digitally sourced partnerships is that retailers can monetise onsite inventory to drive additional revenue into their marketing budget via commission payments. This earned revenue can then be used to reduce product costs with targeted discounts, supporting customers through the cost-of-living crisis.
An example of a brand partnership is between Myprotein, Europe's leading sports nutrition brand, and SimplyCook, one of the fastest growing start-up food brands in the UK. The campaign saw Myprotein offer their shoppers a free trial recipe box, containing four unique recipes from SimplyCook, at the basket page as a 'gift with purchase'. Once selected, the free trial was added to the customer's basket and tracked as an additional product SKU. Following completion of their Myprotein purchase, customers were invited to redeem their SimplyCook free trial through a post-purchase email notification. Myprotein referred over 56,000 customers to SimplyCook with over a quarter (26%) redeeming the free trial.
Throughout the campaign, both Myprotein and SimplyCook provided customers with a tangible solution to the cost-of-living crisis, whilst earning inbound revenue through commission payments, and driving new customers.
Provide customers with essential value
What made the Myprotein and SimplyCook example so powerful was that both brands were able to provide their customers with essential value. Partnering with another retailer to provide your customer base with a value-added reward is actually the simple part, it is finding a brand that has strong audience alignment and will provide your customers with essential value that is a little more difficult. If you get it right, you might be onto a winner.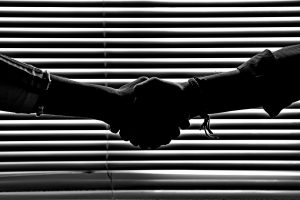 Other partnered brands across different sectors includefashion retailer Boohoo and food subscription service Gousto, and MoneySuperMarket with mobile phone resellers Buymobiles and Mobiles.co.uk. MoneySuperMarket offered customers a free credit check with each handset purchase, generating an increase (+31%) in the number of credit check applications, whilst supporting customers with their handset purchase and providing a service that supports shoppers through the cost-of-living crisis.
Integrate retailer rewards into your customer loyalty strategy
A brand partnerships campaign isn't isolated to a brand's order confirmation or basket page. Online retailers can strategically promote a non-competing retailer at almost any stage of the customer purchase journey.
A great example is tastecard, who have adapted their business model to provide subscribing customers with retailer rewards in addition to their custom restaurant discounts. Upon logging in to their tastecard account, subscribing customers gain access to market-leading retailer exclusives. Not only does this allow tastecard to provide essential value to loyal customers, but it also helps them to reduce subscription churn, especially if customers decide to cut back on dining out experiences amidst the cost-of-living crisis. This strategy has already improved customer experience, and, by utilising brand partnerships, tastecard have increased inbound revenue by +399%.
A well-managed customer rewards programme can be incredibly powerful. With 60% of Gen-Z consumers stating their brand loyalty has changed since the pandemic; repeat purchase behaviour is an increasingly essential part of brand strategy. Value-added rewards, in particular, help to accelerate the loyalty life cycle.
The power of partnerships
Brand partnerships provides opportunities for retailers to support customers during the cost-of-living crisis. By providing your customers with a value-added reward, you can bring essential value that goes beyond their initial purchase.
---
Awin recently integrated with Tyviso and Propello to enable brands to seamlessly build bespoke customer reward programmes and increase customer retention. With access to templated layouts and a public library of offers, brands can create a customisable customer reward portal within minutes. Rewards can be managed in real-time and integrated into your customer shopping app, providing a truly scalable customer reward proposition.
For more information on brand partnerships and how your brand can benefit, please get in touch with [email protected].
Published 01/09/2022