By Ellie-Rose Davies, Content Executive at IMRG
In 'Black Friday 2022: IMRG'S Preview Part 2', we gave you our Black Friday forecast, which doesn't look too promising, to say the least. We predict that the total market, and every category, will experience a decline, ranging from roughly -3% to -5% (with the exception of clothing, which may be flat). Now, you might be thinking, how did IMRG get to these numbers? You're in the right place, as this article will take you through our thought process.
Total Market
This year, the year-on-year (YoY) growth in revenue for the total market has mostly remained under 0%, with very few moments of positive growth – even then, growth wasn't significantly high. Since January 2022, the first moment of positive YoY growth that we saw in the total market weekly was w/c 12th June at +2.2%, and hereafter we saw the highest revenue growth of the year in w/c 10th July, which was +5.7% (we'll discuss the catalyst later). Ever since, the growth rate has been very low and very flat, not showing great promise for Black Friday 2022.
Looking at the week-on-week (WoW) results, which measures whether the amount of money spent online increases or decreases compared to the previous week, the total market experienced strong growth in revenue on w/c 25th Sept, at +18%. This growth was driven by categories such as health & beauty and electricals, and is typical at this time of year as retailers launch their '100 days to Christmas' campaigns. Trading conditions are very difficult, but retailers might take some heart from the fact that these campaigns did generate a response; if they had not, it might have been time to panic.
Also, when we consider the YoY changes in a monthly time interval for revenue, the total market growth presents something much worse. There hasn't been a single month in 2022 where growth stepped into positive territory, and September marked our 17th month in a row of negative-on-negative growth. Therefore, unfortunately, we forecast a -5% decline in total online market growth for Black Friday week.
Now let's look at some of the thinking behind the category forecasts.
Clothing
Out of all of the categories in our forecast, you will notice that in 2021, clothing was the only category in positive growth, albeit still low, sitting at +3% YoY. Also, clothing was the category that seemed to outperform the rest of the market for YoY growth, whereby the subcategories womenswear, clothing, and footwear all reached close to, or above, +5% in September 2022. This data suggests that there was still a considerable demand for this category, despite a cost-of-living crisis whirlwind.
A subcategory of clothing that has seen relatively positive YoY growth is footwear, which, in a monthly time interval, only saw negative revenue growth twice since November 2021, that being March (-3.6%) and August (-2.5%). Footwear experienced good growth in May 2022, +13.7%, and July 2022, +9.8%. In comparison, accessories has been a low performer, staying below 0% growth YoY every single month since its peak in December 2021 (+6.5%). In September 2022, we might have expected more from this category given that Halloween, and spooky attire, is commencing. However, the YoY growth was -10.9%.
When we look at the broader picture and take a week-on-week (WoW) view of clothing performance, we will notice that it heavily fluctuates between positive and negative growth, with every weekly result hovering close to 0%. Thus, as of yet, things don't look like they'll get much better, or worse, for the clothing category.
Beauty
In comparison, the demand for beauty has been weak. The YoY revenue growth has been quite low, starting at -31.4% in January, with things looking slightly more promising in August, -2.3%, but in September, growth started to plummet again, sitting at -7.6%. While the WoW growth in beauty presents some positive peaks, such as when w/c 21st August saw +31% growth, there have also been some steep drops. For example, -22.8% at the end of May and -23.9% in the first week of September.
Since the beginning of July 2022, month-on-month (MoM) growth in beauty has stayed flat. Perhaps, with the rising cost of living, people have begun switching to the essential purchase, making the most of the beauty products they already have in their make-up bags. Hence, we predict a -6% decline.
However, since the release of our forecast, beauty did see YoY growth in the first week of October, skyrocketing to a whopping +34.5%. Around this time, Christmas beauty advent calendars got released, perhaps generating growth for this category; Look Fantastic's calendar went on general wholesale on 1st October, and at the end of September, Charlotte Tilbury, Liberty, and Mac released their advent calendars.
Yet, while this seems great news, we have to put this in context, as in the same week during 2021, growth was down -17.5%. It is still significant growth nonetheless. However, this could have just been a good week for sales activity, whereby things might rationalise a bit as we get closer to the peak.
Home & Garden
Home & garden hasn't been doing too well either. We did see two peaks in YoY growth in the total market during the second weeks of June (+2.2%) and July (+5.7%), most likely because of the scorching hot weather. This growth could have been driven by the subcategory garden, which saw positive WoW growth in these periods (June 2wk – +27.5, July 2wk – +21.2%).
By September, the demand for the garden category decreased, which was to be expected now that Autumn is in full swing. Nonetheless, on w/c 18th September 2022, WoW growth for home & garden was at -1.4%; following this, in the next week, w/c 25th September, there was a growth spike that reached +14.1%. At this time, the garden subcategory was still in the negative, at -7.3%, whereas the home subcategory was the driver of growth, at +14.1%.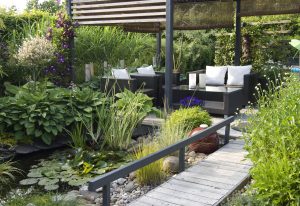 Considering this further, the subcategory homewares & decorations saw a peak of +21.5% –  chances are more people were doing up their homes in time for family coming over for Christmas. While the drive for home & garden is typically weak around Q4 (Oct, Nov, and Dec), a -7% forecasted decline doesn't seem too bad in the context of things (*ahem*…a cost-of-living crisis).
Electricals
Throughout 2022, electricals had an ok time, yet, despite not experiencing many steep declines, growth remained relatively flat. Not once, since April 2021, was there growth that took electricals into positive YoY territory. We have got close since June 2022 and the months of hot weather, which saw great WoW growth in July and August (Jul 2wk – +27.5%, Aug 2wk – +23%). Albeit, all those customers who bought fans for their homes and offices wasn't enough to get us there.
In September, this demand for electricals dropped away towards the -5% figures. Not for long though! In w/c 25th September, WoW growth in revenue for electricals was +27%. This very week, the new FIFA game came out on pre-release, and growth could have been catalysed by the recent release of the new iPhone 14.
However with big, Black Friday-esque, deals getting earlier in the year (like Amazon Prime days 1, and 2), we could expect less spending in the electricals category during the traditional peak period, towards the end of November.
Therefore, customers might have already spent their fair share of money, and given the ambiguous state of the economy right now, retailers might not see as many repeat purchasers towards Black Friday. Again, in the context of things, our prediction of a -5% decline doesn't sound horrendous, albeit not ideal – though the fact some electrical retailers have reported a dip in customer interest in bigger ticket items such as TVs will be a concern that could push growth even lower.
ABV and ACR
We started the year with a monthly average basket value of roughly £180 in electricals, whereas since July, the average has been around £160, presenting a £20 decline as discounting and switching to lower-cost items evidently outweighs any inflation. However, considering a cost-of-living crisis, the decrease in basket value could have been expected, and retailers might have prepared for an even worse drop than this.
For health & beauty and clothing, the monthly average basket value is sitting pretty much where it has been for the entire year; around £45 for health & beauty, and £75 for clothing. As of September 2022, the monthly average basket value for home & garden was at its highest, and the subcategory furniture experienced a £67 increase to £394. This data reinforces the likelihood that customers have started doing up their homes in good time for the festive season ahead.
Yet, when we look at monthly average conversion rates in September 2022, furniture declined, suggesting that supply chain issues are persevering, where it's become more expensive to ship such large items. In turn, many retailers increase their prices, lessening customers' propensity to complete a purchase.
Have a think…
Considering the World Cup clash and the many customers who fear the bleak winter ahead, do you think our forecast is accurate, perhaps even too kind? Or, do you have hope that the newly introduced 'energy cap', and the first, to an extent, Christmas unaffected by Covid-19, will inspire more spending than we anticipate? We'll have to wait and see.
---
Since our forecast, the first week of October presented an interesting twist for ABV and ACR, making the peak season ahead more ambiguous.
Have a read of 'Black Friday 2022: IMRG'S Preview' Part 1 and Part 2, to gain more insight.
Published 24/10/2022