By Ellie-Rose Davies, Content Executive at IMRG
Black Friday has come around rather quickly this year, so there is no better time than now to discuss this big extravaganza. Retailers across the country are talking about how to best approach November after a year of financial turbulence, and with the British pound decreasing in value, the chance for a very merry Q4 seems further out of reach.
Yet, if you joined one of our Peak Connect 2022 events, one of your key takeaways might have been that there are ways to grab the opportunities and learn from what lies ahead.
This blog guides you through the peak season commencing, including these Peak Connect highlights:
The Current Market: Take a quick look at what the data tells us about this year's performance so far
Black Friday: Conversational and data-driven analysis on Black Fridays of the past and future
The World Cup: Considering if it will well and truly impact Black Friday, with a thought for how retailers can best overcome these slight hurdles
Customer Focus: Foregrounding the importance of "putting the customer first" by fulfilling their needs
The Current Market:
Negative Negative Negative Negative Negative – It's all a bit repetitive right?
Andy Mulcahy, strategy and insight director at IMRG, reflects on the unfortunate truth: the market has recently seen five weeks in a row where 'the amount of money spent online kept decreasing.' While we have grown to accept and expect online market growth to fluctuate at times, five weeks in a row of negative growth is rare. Now, why might this be happening?
In short, everyone is under pressure.
As we all know, there is no exaggeration in the claim that this year has seen tremendous pressure on both customers and retailers. For the average person, the current crumbling economy might have triggered less frequent spending, with more customers pushing back their budgeting timeline to earlier in the year, hoping for a less tight financial squeeze in Q4 – the season for giving. In the monetary sense, to give is also to lose, so for some people, the band-aid of discounts might not cover the strain on their wallets as we approach Christmas.
Increased electricity bills, supply chain issues, energy price ambiguity, and the extortionate price of petrol this year – just to name a few – have left multiple retailers lost in the disorientating maze of Black Friday 2022, with many looking for ways to up the ante. Retailers might start with educating themselves on current market performance. So let's go from there.
When we compare YoY percentage change for revenue between August 2021 and 2022, there is negative on negative growth, -5.7% vs -4.1%, and therefore, the premise of increased positive spikes towards the peak is looking unlikely. During this period, footwear and womenswear have driven some positive growth for clothing, whilst electricals and home & garden are ultimately falling behind. Nonetheless, these short-fallen categories have experienced growth in the first week of September, up by a respectable +2.8% and +5.1%. Considering the energy price cap in the UK was announced that very week, improved customer confidence could have been a catalyst. Though, it remains too early to say.
The customer funnel, which tracks the progress of visitors across websites, is another example of how online retail is experiencing a decline in growth, and it works as an aid for retailers to understand the extent of the problem.
Customers go through four stages when completing a purchase; the percentage of visitors that view a product page, add to basket, proceed to checkout, and complete payment.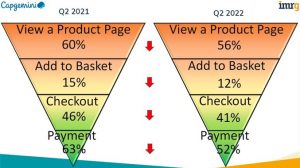 This leaves plenty of time for thought (do I really need this?), whereby customers might reconsider and bail on the purchase altogether. You might also get a few customers who use their basket as a wish list, putting items in their basket as a 'save for later'. Then, as time goes by, the basket might refresh (especially for baskets with a countdown timer), and the item/s which were once there will disappear back into the vault of products, gone and forgotten. Although, there are ways you can prevent this.
If you take a look at Figure 1, you will notice four red arrows pointing downwards between the customer funnel for Q2 2021 and Q2 2022. This alert highlights how every single stage presented here has experienced a year-on-year decline; customer engagement and conversion on online retail sites is decreasing. Add to basket rate was closer to 20% pre-pandemic, and now it is down to 12%, and to top it off, payment is down a whopping -11 percentage points.
Now we have a base understanding on how the total market is performing, it's time to shift our attention and look ahead to Q4, at that big event which customers tend to go crazy for year after year…
Black Friday 2022- It's nearly here!
You can't go over it, you can't go under it, you have to go through it
Never has a nursery rhyme quote seemed more apt than now. Black Friday isn't disappearing, it is not something that retailers can easily avoid or filter out of their calendars, especially now that it is spreading.
Muktar Mahama, head of digital product at The Very Group, nicely explained that 'Black Friday is no longer a day, it's the month of November…customers are looking for deals throughout that whole month.' Each year this is becoming more and more of the truth. Yet, while this event remains constant and increasingly poignant, that doesn't mean to say it is not malleable. The event used to be very electrical focussed, says Muktar, but since the removal of lockdown restrictions, there is an offering across entire department stores, where subcategories such as partywear now have a bigger role to play in peak trading.
When we take a look at Chart A, presenting a comparison of conversion rates across 22 categories in 2020 (blue line) and 2021 (orange line), retailers can see that while electricals are generally consistent with their conversion rates year-on-year (sitting at roughly 5%), it's among the worst categories, alongside garden, for conversion. Chart A, therefore, amplifies Muktar's claim that suggests electricals is losing its limelight. Previously, in 2020, lockdown ensured many people were spending the majority of their time indoors, so it is no wonder that furniture did exceptionally well, close to 8%. The categories that tend to convert very well year-on-year are makeup and skincare, which both experienced a higher conversion rate in 2021.
Going back to the notion of a spreadable Black Friday, let's take a look at when campaigns will launch in 2022, with consideration for how they can be successful.
The very colourful Chart B shows a sample of 181 retailers tracked over five years, where we logged onto their websites every day to see when they switched on their Black Friday campaigns. If you look at the very tiny green line on the far left, you will notice that one retailer in 2017 felt inspired and started their campaign three weeks prior to the Black Friday day itself. Only for them to quickly turn it off day later (Thu – 3Wk) after realising that no one else had the same idea.
Yet, the yellow line (2020) skyrockets early in November, showing how the trend to campaign early was catalysed by the year of the pandemic. During which there was online-centricity, with physical stores being shut, or at the least restrictions on customer behaviour, such as the incorporation of one-way systems and the two-metre rule. More people began shopping online, so retailers began starting their digital campaigns earlier, which was an opportunity for multichannel retailers to increase revenue.
Since then, in 2021, this trend seems to have stayed. Even with the opening of in-person stores, there is a very narrow decline in early campaigning, suggesting that this year will more than likely follow suit. I guess, if it works well, why stop?
We should also consider if Chart B demonstrates the true extent of Black Friday campaigning:
While you know when to expect Black Friday campaigns, it is time to consider what actually makes a campaign good. Here's some insight from industry experts, and our Peak Connect panellists:
Max Mirra at Lengow: You can plan 'ahead of strategy on marketplaces', where you might wish to 'contact account managers to attain their deadlines' to increase the likelihood of a fulfilled campaign timeline. When it comes to campaigns, Max argues, you can 'diversify it, highlight new products as well', where retailers might typically be drawn to discount older, or less popular items.
Simon Akufo at Esendex: 'Our research shows that 51% of customers want to hear about Black Friday a couple of weeks in advance and that 78% of those polled will reduce their spending a month before so they can splurge.' Simon suggests that 'retailers look at a mobile-first and multichannel strategy.' He also says that 'SMS should be an integral part of that strategy as 40% of consumers would opt-in to receive Black Friday SMS.'
Ben Thoy at Trustpilot: 'Make sure you're really clear on why you' and it might be worth remembering that 'consumers don't mind when things go wrong, but they do mind if it's not solved quickly.'
Yet, there's a new variable thrown into the mix this Black Friday, so you might think, while this advice is good, how can I really shoot my best shot when there's a big event clash this year?
The World Cup, aka The Distractionist
If you are a regular follower of IMRG, you might already know that the FIFA World Cup is happening over Black Friday week; what exactly does this mean for online retail?
Not to raise alarm bells…but it could quite literally be the most watched World Cup ever, with multiple games running from 10am to 9pm. Then again, people might be more aware of the electric bills that have gone up, so this questions, will they feel comfortable or able to have their TV running all day, every day for a week?
Retailers might also consider being more aware of the consequences of big games. Customers' mood might be altered; if their favourite team wins, then this might make them more prone to celebrate and indulge in spending activities. Alternatively, if their favourite team loses, they might be in a big strop and disengage with online activity and the media, or any place that would serve as a constant reminder of the loss. The takeaway here is that you might notice a difference in customer's engagement.
Let's try to not let the 'what-if's' get the better of us, instead have a read of our panel's top tips to subdue any turbulent event clashes:
Brogan Savage at Emarsys: Brogan highlighted that retailers 'do have some historical data' to help them prepare. They might check their analytics from previous big events. For example, taking a look to see if customers are using their apps during big games. Retailers can capture their customers' attention by putting more focus on SMS marketing, for example, and not forgetting physical advertising.
Tom Chandler at Mediaworks: 'They might not make a purchase when a match is on, but they could make the purchase earlier.' Tom suggests retailers 'respond to intent', using things such as automated technology in real-time to see when the intent is there.
Through awareness and preparation, this clash can be more like a translucent mask whereby Black Friday shines through. What might be more of a tackle is increasing customer expectations.
Customer Focus
'You have to put the customer first'
We've all heard this phrase multiple times. It remains an omnipresence for retailers, which can sometimes be challenging.
Alex Shepherd at Adobe exclaims, 'as we look at moving beyond peak, it is about getting loyalty from customers acquired during peak events, to enable repeat purchases at better margins. We need to see what we can do to really maximise that.' Alex states that one way retailers can do this is by making sure that personalisation and choice are balanced. For example, personalising product recommendations and offers, but providing choice with regards to delivery options and payments, will likely lead to a painless and much improved customer experience.
Amiee Stroud at Epsilon continues this conversation around customer-centricity as she speaks of the growing importance of a connected identity; 'being able to recognise and identify your customer over multiple metrics.' With a strong identity, retailers can offer data-rich, personalised systems, that could allow retailers to build a more direct relationship with their customers. For Amiee, the strategic imperatives that may help retailers to win are thinking about legal ramifications, making the most of customer loyalty so far and collecting utilisable data, building on third-party partnerships, and being transparent with results. Retailers can always 'keep learning.'
Trustpilot similarly reveals the ways you can get loyalty and drive new customers, specifically by acting on customer feedback on reviews.
As Chart C shows, customers will be more likely to, or they might, buy from a brand that has both positive and negative reviews, but has handled complaints well. Very few, under 10%, would still avoid the brand, demonstrating that a good rapport with customers is normally a crucial element of becoming a well-respected and popular business.
Chart D reveals that most customers would be somewhat likely or very likely to change their negative reviews if the company followed up and rectified the problem at hand. This implies that bad reviews do not necessarily guarantee decreased loyalty, plenty of customers would give a company the benefit of the doubt. There is a human aspect of business, which many customers sympathise with so long as issues get rectified (To find out more, click here).
That's all from me for now! Just remember – while 2022 is one of the worst years in the index, and Black Friday might be a humbling experience for some, by foregrounding company goals, the customer, and navigating event friction, retailers might be able to navigate the dark path ahead.
---
Want to find out more about Black Friday 2022? Read Part 2 next week which includes IMRG's Black Friday forecast and predictions, followed by peak season tips and tricks from your fellow industry peers.
For those that attended Peak Connect, the whole team at IMRG thank you for your contribution and company, and for those who could not make it, we hope to see you at one of our next events, which you can find here: Events – IMRG
Published 12/10/2022