By Ellie-Rose Davies, Content Executive at IMRG
Predictions, Forecasts, and Advice for Peak
You are now reading part two of 'Black Friday 2022: IMRG's Preview' (you can read part one here). We hope you enjoyed part one, unless, of course, you felt rebellious and skipped to the numbers. Let's get into it.
Do you find yourself wondering what to expect when you're expecting Black Friday?
You're not alone. This year retailers have experienced numerous 'things' that have made the outcome of the peak period quite ambiguous; 2022 has been flooded with economic crises, putting a strain on customer confidence and engagement. This blog questions: what does this mean for peak-trading ahead?
Part two of our Black Friday preview includes discussions on the following topics, based on insight and content at IMRG Peak Connect, held in mid-September:
Predictions and forecasts: What are the outcomes we expect?
The final numbers: The calculated numbers IMRG has forecasted for Black Friday week performance (per category)
Advice: Tips and tricks to aid retailer confidence as we approach Q4 peak trading
Predictions and Forecasts
So, how is Black Friday really looking?
Louisa Nicholls, former Chief Customer Officer at M&Co, asked an important Black Friday question during a Peak Connect panel session. That being, 'can we see it becoming a non-thing and slowly fizzing out?' The general response was that Black Friday will probably always have more of a buzz than normal sales. There will still be boxes flying around the nation left, right, and centre because people tend to love picking up a bargain, even if they do not necessarily need what they have purchased.
Yet, while Black Friday may never entirely go away, we conducted a survey of 118 ecommerce leaders who have offered their opinions on what could sway the overall performance this year.
We asked these leaders to think about Black Friday and the external variables that come into play when considering retailer's success rate. As shown in Chart A, out of 118 respondents, most ecommerce leaders (34%) believe that the World Cup clash will reduce spend for online retail, whereas only 9% think that it will increase spend. Interestingly, 43% predict the cost-of-living crisis will encourage shoppers to seek bargains and increase overall spending. Alternatively, 47% can imagine the crisis will overshadow Black Friday and reduce overall spending.
This divide reverberates the overall feeling of uncertainty surrounding performance this year. Customers might take a calculated approach, such as reducing and/or delaying their spending on things such as Christmas gifts and expensive gadgets throughout the year, waiting for the day the Black Friday sales begin to subdue financial impact. Others might turn a blind eye to the influx of campaigns in their inboxes because the allure of the discount might not override the financial consequences of what is for many customers, impulsive buying. In this case, the World Cup might be the distraction they desire.
Online retail was a distraction for many customers during the 2020 Covid-19 pandemic, greatly owing to the closure of non-essential stores. Customers could not visit and purchase from their favourite in-person only stores. It most definitely was a very strange world.
Look at the left-hand side of Chart B (which presents the total market YoY comparison for revenue between Jan 2020 and Aug 2022), you can see how in March 2020, the total market revenue for online retail was low (roughly +3%). Hereafter, there was significant growth when the high street closed in May, sitting at a respectable +35% (see the first green circle).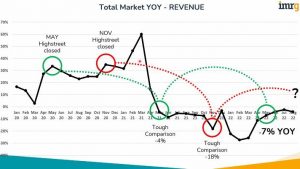 Although, when the stores reopened, you can see a slight downward curve in the growth of revenue. However, this only lasted until November (see the first red circle) at the time of the second closure of the high street, where the percentage of growth that month sat pretty much parallel to May.
The dotted lines that eject from both circles guides you to jump to exactly a year later, to May and November 2021, which presents a tough comparison of -4% and -18% growth in revenue. By analysing the year-on-year difference, we can infer that online retail got majorly side-lined in 2021 when the high street opened, and people started to be social again. Thus, we have two years behind us, a very good year, 2020, and a not so good year, 2021 (as presented in Chart B). Therefore, two years later, Black Friday 2020 is something of a good dream.
From the second red circle in Chart B, November 2021, ejects another dotted line which leads you directly into the pit of Black Friday 2022. You will notice a big question mark, an eerie, enigmatic icon that makes you think, what should we expect? Luckily enough, we have done the thinking for you.
The Final Numbers
Warning: This forecast contains results that retailers might find upsetting…
Factoring in the cost-of-living crisis and the World Cup clash, this is what we predict:
Sorry to be the bearer of bad news…we do not predict positive growth for Black Friday week 2022. We expect clothing to have no growth, sitting at 0%, and we predict categories, such as beauty, home, garden, and electricals to decline by roughly -5% to –7%. The total market outlook for retailers (-5%) is not ideal. At this stage in the year, and against a sharp fall in 2021, we would have hoped to predict positive growth, but the current market is not looking overly generous as we head into the gift-giving season.
Advice
Our panel at Peak Connect communicated the ways retailers can increase their Black Friday success:
Talking of being where your customer expects you to be, what about in store vs online?
Many retailers have said that their in-person stores are doing ok, relative to 2019. This is no wonder, as more customers have had the opportunity to be social since the pandemic, with fewer rules and restrictions on how and where they can shop.
Our panel provided their insight as to whether there is too much focus online:
Tom Chandler at Mediaworks: There are ways for advertisers to increase foothold in stores; 'leverage, for example, Google Maps to direct customers to make an in-store visit.' Retailers might want to think about omnichannel, with 'online and offline working together.'
Brogan Savage at Emarsys: 1/3 (29%) of customers shop in-store, where 'a lot of people have missed the in-store experience in the last few years.' In that case, people might want to put their focus both online and offline.
Ciaran Byrne at Scurri: Retailers could put further consideration into advertising their click-and-collect option, which navigates the balance between online and in-store.
There is a unanimous view that retailers can prepare in-person and online Black Friday sales. Offering more options may increase customer satisfaction, providing them with plenty of opportunities to access great deals with few barriers.
Now, let us think about what to do once the Black Friday dust has settled, with advice from some of our final panellists:
Natalie Firth at Criteo: Retailers can look at retention possibilities, 'taking everything you can from this period to build loyalty' from your customers. Natalie voices the value of first-party data, and not missing the opportunity to take the data you have and market it to customers.
Ben Scherpenbergs at PFS: Black Friday is something that retailers can begin prepping in January 2023. Taking note of all the struggles they have experienced during the peak, retailers can use this to find ways to overcome these hurdles. Also, the customer experience can remain in the foreground, as responsibility 'doesn't end when the customer clicks the buy button.' Retailers might wish to keep on hand a pool of customer service agents.
Gabe at Metageni: It might be a mistake to look at historic data and presume it will be replicated in the future. Also, 'the competitiveness isn't going to go away.' Therefore, retailers might think about customer segments and high-quality fulfilment. Remember: 'Whatever you learn, you'll need it for next year.'
In the words of Matthew Walsh, Data and Retail Director at IMRG, 'Black Friday has shown it can react to extenuating circumstances.' So, with that in mind, we do hope that retailers prove our forecast wrong.
There is always hope, the final element in the box, that we can all hold onto.
---
For those that attended Peak Connect, the whole team at IMRG thank you for your contribution and company, and for those who could not make it, we hope to see you at one of our next events, which you can find here: Events – IMRG
Did you like what you have read? If so, you can check out other articles, covering a range of topics and insight.
Published 19/10/2022