By Andy Stephen, Managing Director UK, Retail Media, Criteo
If you look at any big-name retailer and marketplace in the industry, you will notice they've built, either on their own or with the help of a tech partner, a retail media business. It's an industry set to be worth $6 billion in the UK alone by 2025.
A retail media approach enables retailers to act as media owners, creating personalised advertising opportunities for brands. It often brings a new, high margin, and valuable stream of media revenue alongside the core retailer business. According to our recent research of 251 UK CMOs, where retailers are already offering advertising space across their online properties, the revenue from such ads had risen 24% over the past 12 months alone.
Retail media's accomplishments come from its use of first-party data to deliver highly relevant ads to shoppers. Using audience & ad engagement insights drawn from a retailer's first-party data, retail media campaigns can meet advertiser objectives at scale, such as identifying in-market, new shoppers. Advertising on retail sites is also considered an inherently brand safe environment, relying on long-established, trusted retailer domains.
The benefits are such that according to Criteo's study, 96% of retailer businesses in the UK now have a waiting time for brands who want to place ads on their site.
What does a successful Retail Media look like?
Retail media typically falls into three broad categories: onsite (ads displayed on retailer's website or app), offsite (ads displayed on the open web, social channels & email) and in-store (ads in the physical store environment).
Of the three, onsite advertising offers the highest margin for retailers and the greatest level of precision, measurability, and performance for advertisers. The two most common onsite ad formats are:
Sponsored products – the promotion of products in category, search result and product pages. Sold via CPC auction, this is all about driving conversion and securing share of the digital shelf.
Display – banners where advertisers can target specific shopper audiences with static or dynamic (including product data and CTA) branded content. This is a mid-funnel format targeting shoppers in the consideration phase, sold via CPM or tenancy.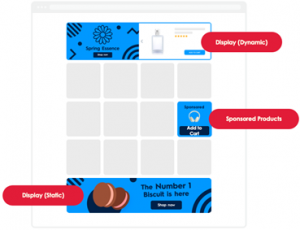 By blending these advertising formats through the customer journey, retailers are creating engaging and relevant experiences while ensuring advertiser objectives are met.
Is now the time for retailers to enter the market?
In keeping with the overwhelming interest from retailer CMOs in retail media solutions, 70% of our survey respondents expressed retail media is a 'strategic priority'. Among the services on trial or currently being sold to advertisers, 44% say they offer onsite sponsored / promoted products, 35% say they offer onsite display such as banner ads, and 32% also offer brands other offsite opportunities, including video ads.
The renewed focus from retailers could help with supply challenges currently impacting the world of retail media. A previous study by Criteo identified around half of media agency respondents in the UK (52%) felt too few retailers were offering brands attractive advertising environments.
For retailers weighing up introducing ads to their properties, the customer experience is a key consideration. But advertising and a positive customer experience are by no means mutually exclusive, Amazon's booming advertising business certainly demonstrates this. With brands & sellers queuing up to pay for eyeballs on just about every search term and sub-category imaginable, they can serve predominantly advertising content without disrupting the customer experience by showing irrelevant products.
Of course, not every retailer can expect the same advertiser demand as major players like Amazon, ASDA or Boots from the word 'go,' however, we're seeing retailers (including pure-players) with a smaller pool of addressable advertisers build impressive retail media programmes by executing correctly and taking a data-driven approach.
Tip to toe transformation
As you might have guessed, realising the revenue potential of retail media is no overnight project. Until now there has been a gap between how retailers want to sell and how the ad industry is used to buying. The traditional ad tech approach worked hard to adapt retailers to their way of thinking. Now, it is starting with the retailer in mind, building tech that serves the unique needs of retailers, their suppliers, and their customers.
Retailers have different visions of how retail media will work for and support their primary business. For example, some retailers work with technology partners to power their entire retail media solution whereas others work with partners in a limited capacity or combine different levels of service for their suppliers and brands.
A huge accelerator in getting the integration right is engagement in retail media at the board level. Embedding a top-down approach to the concept of retail media presents the opportunity for businesses to move beyond a front-end transformation. This strategy typically generates a mindset change about how to connect customers with products. When that thinking is included in the retailer's overall strategy, profitability and long-term future growth are likely outcomes.
This often calls for new, shared roles and responsibilities within the boardroom. On this matter, nearly half of the CMOs responding to Criteo's latest study expressed retail media is a shared responsibility with the CEO. The Chief Data Officer was also identified as an important contributor, whom 64% of CMOs agreed holds responsibility for first-party data management. The findings highlight just some of the hurdles to overcome in reorganising and redistributing leadership roles to take advantage of retail media opportunities.
Retail media could escape the trap of becoming another 'adtech' by allowing retailers to do what retailers do best, prioritise the customer. Retail media poses exciting new challenges and holds the potential to address many of the flaws in the industry as it operates today.
Published 20/09/2022