By Ellie-Rose Davies, Content Executive at IMRG
Peak trading is drawing close, and retailers are working hard to skyrocket their performance this year.
Compared to last Black Friday, which was affected by the FIFA World Cup and delivery strikes, this year is expected to be relatively "normal", par the continued impact of the cost-of-living crisis.
We have conferred with our community of industry experts to provide you with proven methods that can help you experience growth this peak trading season. Read on to find out what they had to say.
Offer impeccable customer experiences:
Recent IMRG data has shown that most customers believe the average level of customer experience offered by UK retailers is a 7/10 (where 1 is very bad and 10 is very good). This score is good and suggests that retailers have put much time and effort into curating a good experience.
But as good experiences have become the standard, to really stand out retailers have to offer impeccable customer experiences that would rate them a 9 or 10/10, and since the conversion rate for the industry has been declining steadily, standing out has become increasingly important.
According to Bhavesh Patel, Senior Global Account Director at Awin, 'Conversion rates will be a big challenge this Black Friday as consumers browse more and look for value during the cost-of-living crisis.' Bhavesh says that many brands will focus on 'delivering the right message or offer at the right time to help improve conversion rate and acquire new customers during peak.'
Amal Ahmed, Director of Financial Services & EMEA Marketing at Signifyd reinforces the value of foregrounding the customer experience, sharing that, 'To capture growth, merchants will need a sharp focus on enhancing the customer experience not just for a one-time sale, but for long-term customer value.'
Implementing great experiences can be done through 'protecting the business from fraudulent orders while eliminating friction for good customers, which balances risk and experience in a way that builds trust with shoppers and drives continued growth,' says Amal.
Foreground marketing and merchandising strategies:
A great part of ensuring Black Friday success is through foregrounding and optimising your marketing and merchandising strategies. It is important to market your campaigns effectively, but it is also useful to offer relevant products, presented nicely across your website when customers arrive to inspire them to browse, and hopefully convert.
Offering key marketing tactics for growth, Chris Gorman, Head of Professional Services at Esendex, starts by saying, 'Communicate often and early. Esendex consumer research highlights that 56% of consumers are happy to receive promotions up to two weeks in advance with a further 27% of us wanting these notifications three to four weeks ahead of time. Shoppers also rein in their spending up to a month in advance so that they're ready and willing to splurge.'
Chris also says to 'Tap into mobile-based marketing' this peak. He highlights how '79% of consumers would consider purchasing products from a marketing message sent via text/SMS or WhatsApp. And when it comes to permission, over 40% of us will willingly opt-in to receiving targeted SMS messages from our preferred brands.'
On top of marketing effectiveness, Chris demonstrates that the customer experience can be complemented by 'features such as a 24/7 chatbot that can improve how you triage and manage returns, complaints, and product and delivery updates.'
As noted, together with marketing, merchandising is a crucial part of selling online.
Linda Ersbacken, Marketing Manager at Voyado states that 'the right online merchandising strategy can boost your sales, engage your shoppers, and guide them towards exciting products. But it's almost impossible to track everything and control your online merchandising in real-time.' Linda reminds retailers that they can automate the process to make things easier.
She also urges retailers to 'Respond quickly to emerging trends and seasonal assortment changes. The more relevant your products are, the more you can increase your sales. Show the right products, at the right places, at the right times.' Her closing statement rings true for products on the website and products displayed in marketing campaigns elsewhere.
Consider the post-purchase experience:
Often retailers are motivated by generating a high number of sales during the search and browsing stage, but many forget to make the post-purchase stage as finely tuned to their customer needs. To experience sustainable growth, retailers can put more consideration on their post-purchase experience to have a good peak trading period as well as a more prosperous 2024.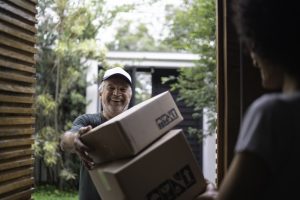 Exploring how to achieve both effective campaigns and good delivery, Heath Barlow VP EMEA at Emarsys says 'Discounts and free deliveries will be a recurring theme in pursuit of a competitive advantage this peak trading season. SAP Emarsys research shows that 27% of purchasing decisions around Black Friday are impacted by the size of deals and 25% by free or low-cost deliveries.'
'With consumers on alert for the best deals possible, an omnichannel strategy allows retailers to package those deals and offers into a curated message delivered on a customer's preferred channel,' says Heath.
Cheap delivery and deals are attractive to many customers, but it is also important to be able to uphold delivery satisfaction post-purchase.
Gavin Murphy, Chief Marketing Officer at Scurri exclaims, 'No doubt the disruption to delivery services experienced by many during Peak 2022 will be front and foremost of retailers' minds this year. To avoid missed and delayed deliveries in 2023, retailers can implement multi-carrier shipping to enable them to act – and react – quickly and to provide the best possible customer experience.'
With more options available through delivery management, brands 'can switch peak delivery volume' and 'respond to delivery shipping issues immediately and spread the risk.'
Try to make returns work, they are inevitable:
Last year (2022), IMRG data showed a +26.6% increase in returns during November compared to the same period in 2021. Also, Black Friday weekend itself saw a +20.3% increase in returns. During peak trading, customers may be more likely to overspend and regret their purchases, leading to refund requests.
Another reason, particularly for the fashion sector, is that customers may be more likely to purchase more than one size of item during the discounting season, resulting in them returning the ones that do not fit.
While there are effective ways to limit returns, retailers should still optimise the process, offering an excellent customer experience so that their customers feel comfortable to shop with them again.
Nick Williams, Director of Parcel Services at PayPoint, shares that '2021 data from returns platform Loop analysed more than 500 brands and hundreds and thousands of orders. It found that customers who requested refunds saw a +17.8% increase in repeat purchases compared to shoppers who did not. It's testament to the fact that every step of the customer experience has the potential to drive further sales if handled efficiently.'
Providing further insight is Tobias Buxhoidt, CEO and Co-Founder of parcelLab. He says, 'A streamlined, hassle-free returns process is no longer a luxury but a necessity.'
Tobias continues, 'parcelLab research showed that brands still have work to do when it comes to offering a high-quality post-purchase experience. For example, 56% of D2C brands don't provide a delivery forecast in the shopping cart and 54% of corporate brands don't send status updates after shipping.'
By not considering the post-purchase experience, retailers can miss out on 'transforming one-time shoppers into loyal, long-lasting customer relationships.'
Think of how you can be sustainable:
There has been greater customer focus on sustainable retail, with rises in usage of apps such as Vinted and preference for retailers that promote their environmentally friendly initiatives.
Many retailers have picked up on this and wish to become more sustainable themselves. An IMRG survey on 95 ecommerce leaders showed that 61 are genuinely invested into becoming more sustainable but have much work to do.
Keeley Burridge, Marketing Assistant at Intersoft says, 'Studies show that 85% of consumers have shifted toward more sustainable purchasing in the last five years.' That means that more retailers will begin to 'invest in eco-friendly delivery practices, such as working with carriers with electric fleets, using more sustainable packaging options, and adopting paperless returns.'
Additionally, Sean Sherwin-Smith, Product Director Post-Purchase at nShift explores how 'retailers can add more carriers to their distribution network to meet the anticipated increased volume and clearly demonstrate they are aligned to customers values, particularly around sustainability.'
He says this can be done by 'offering and clearly badging a range of lower-emissions options at checkout. Lower-emissions choices could include low or zero emissions carriers or PUDO (pick up/drop off) locations.'
---
How will you skyrocket your performance this peak? Come along to one of our upcoming peak-themed events where you can reflect on your approach to Black Friday and Christmas trading with your retail peers: Events – IMRG
Want to read more? Here are some other IMRG blogs that cover a range of ecommerce topics:
How to Refine Your Returns Strategy to Increase Customer Satisfaction – IMRG
Growth Unlocked: Discover How to Get Your Customers to Add to Their Basket – IMRG
New Industry Data: Is Retail's Future Cookieless? – IMRG
Next-Gen Ecommerce: How AI & LLMs Revolutionise Search Experiences – IMRG
Direct Mail: Can It Put Retailers In The Right Direction? – IMRG
Published 26/09/2023