By Anton Eder, Co-Founder and Chief of Staff at parcelLab
Retailers are already gearing up for what is expected to be a busy Christmas shopping season. To maximise profitability, the goal is to keep existing customers happy, especially since Salesforce is predicting that one in three online holiday orders will come from repeat buyers.
While brands have been heads down looking for ways to ensure they meet customer needs during Peak season, one crucial aspect that they may be overlooking holds immense potential for revenue retention and customer satisfaction: returns.
January will be here before you know it
It comes as no surprise that the month of January is notorious for a surge in product returns following the Peak season. Customers are often scrambling between different retailers – navigating physical receipts, order numbers, and sizing exchanges to find the right product they're looking for. Whether it be a fit issue or perhaps a family member who hasn't seen your style in a while, retailers can have a well-thought-out plan to deal with the post-holiday influx of returns.
Retailers often focus on ensuring customer engagement before the initial purchase. But for seasons of heavy gifting, retailers that offer personalised returns and keep customers informed on their options can create a delightful returns experience and maximise revenue retention.
The importance of a transparent and easy-to-understand returns policy
A recent study by parcelLab revealed that a staggering 92% of customers are influenced by brands' return policies. So, make sure your returns policy is clear, understandable, and easy to find. This will be beneficial to customers and your customer service agents who receive an influx of calls post-peak.
Additionally, 54% of shoppers now expect access to the status of their return at any given time. With increasing customer expectations, retailers might expand their returns process to include convenient ways that allow consumers to register, track, and be notified about their return.
Shoppers already view returns after the holidays as bothersome, and unfortunately, returns are inevitable. Don't miss out on recovering revenue and boosting brand loyalty by providing a difficult or confusing process. 62% of customers are unlikely to reengage with a brand after a poor or inconvenient returns experience. Try to uphold a well-managed returns experience that will encourage customers to return to the brand for additional purchases or recommend your brand to friends and family.
Implementing an effective returns strategy
Re-evaluating your returns strategy ahead of the Peak season is important to have smooth operations amidst the high demand. There are several options for retailers to enhance their strategies, including:
Proactively evaluate and enhance processes: Looking at previous returns management successes and roadblocks is important to understand where your brand can improve. Creating an engaging and delightful customer experience is about providing your customers with all the tools they need ahead of time to navigate systems during Peak season.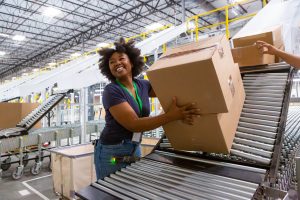 Streamline operations: Oftentimes, returns processes can be clunky and require multiple steps from the customer. Pre-empting these challenges by offering customers detailed instructions, returns labels, or QR codes alongside their original order puts the power back in the customer's hands to initiate returns themselves.
Optimise customer satisfaction: Customers often experience order anxiety while waiting for their packages – the same goes for the returns process. To increase customer satisfaction, retailers should leverage returns communications. This allows customers to be informed of the status of their return from when it leaves their hands to when their refund is processed. This transparency both boosts customer satisfaction and decreases where is my return (WISMR) requests, cutting down on overhead costs for customer service.
Promote exchanges or store credit: Returns are not the end of the customer engagement journey; they are an opportunity to secure a loyal customer. Framing returns as a chance for customers to exchange sizing or get a more suitable alternative empowers the customer to find new offerings they may have not seen before. Self-service returns portals can be very useful in this scenario, especially if they can be configured to ask for returns reasoning. This gives your brand an easier and more convenient opportunity to promote alternatives or store credit while customers register their return.
Recover revenue and boost customer loyalty
Based on an estimate published by Forbes, the cost of returning a $50 product is roughly $33 because of processing, transportation, losses from liquidation, and product discounting. While there isn't a way to get your brand's return rate down to zero, there are ways to recover revenue.
One way to do so is by personalising the returns experience the way your brand would personalise the pre- and post-purchase experience. Take a look at your returns strategy and identify areas where personalisation can be improved or added in. For example, a customer submits a return online and gets their return label or QR code. Do your communications stop there? If the answer is yes, there could be a few touchpoints your brand is missing out on that can be opportunities for recovering revenue. Notifications can also be sent once the return is being processed at the carrier facility, when it is received at the warehouse, and when the refund has gone through.
In each of these touchpoints, your brand has the opportunity to target the customer with sales you may be having, items they may like based on previous purchases, popular items, or even special coupons like 10% off their next purchase with you.
Another way to better personalise your returns experience is through a returns portal. This is a convenient, helpful resource that can empower customers to register returns. It also empowers retailers to leverage every opportunity to recover revenue and provides the personalised returns experience that customers are expecting.
Not only is having a returns portal a good part of any returns strategy, it also helps drive traffic back to your site. As a customer is looking to submit a return, this portal can be personalised to reflect any sales that your brand is running and content that is relevant to the person trying to make the return. Additionally, the customer should be able to select a reason for why they are submitting the return. This provides brands with insight on why customers are returning items and provides the opportunity to suggest personalised offers based on reasoning.
Make the most out of Peak season
This Christmas shopping season is going to be a busy one – retailers might start to think of this as an opportunity to increase brand loyalty and entice customers through a seamless returns process. Engaging customers with effective returns, planning ahead of Peak season, can take an element of stress off a customer's plate. Whether it's a size that doesn't fit or a less-than-ideal style choice from a relative, retailers can work to make sure everyone gets what they're looking for this Christmas shopping season.
---
About parcelLab
parcelLab is the only truly global enterprise post-purchase software provider, enabling brands to increase top-line revenue, decrease operational costs, and optimise customer experience in an unprecedented way.
Our returns product suite, Retain, helps retailers transform their returns, warranty, and exchange process. By leveraging this product, brands enable their customers to easily register returns, get a label or QR code, track returns online, and receive proactive communications based on data-defined segmentation.
Published 21/09/2023