By Ellie-Rose Davies, Content Executive at IMRG
It's January, which means many of you would have hit the refresh button – however – the consequences of the year gone by will have seeped through to 2023, so let's hit rewind and explore the outcome of Christmas and Boxing Day sales, 2022. You might even learn a thing or two that will complement or inform your growth strategies!… New year, new me and all.
December performance in context
Black Friday week (Mon 21 – Mon 28 Nov 2022) was back in Black, at +0.3% Year-on-Year (YoY), a small sigh of relief after eighteen months of negative-territory online retail growth. Yet, as sales were pulled forward, December saw the consequences, bringing total market growth back down to a humbling -12% YoY.
After what has been a tremendously taxing year for many UK retailers, there was hope and aspiration for a more prosperous Christmas 2022. Yet, by looking at Chart A above, representing 24 months of total online market YoY growth, you will see that December 2022 dismantled the trended edging-positive growth line of the previous 6 months, where -12% YoY was on par with the negative figure of last April, -11.4% YoY.
Unfortunately, nothing had come close to the revenue growth seen in late 2020 to early 2021, where reduced customer confidence in 2022, consequential to the UK's struggling economy, was a leading barrier to positive-territory growth in the final month of the year.
Callum Campbell, CEO at Linnworks, complements our findings that customers were purchasing earlier during 2022 peak season, exclaiming, 'Our internal data shows that the gross market value (GMV) for our December retailers was essentially equal to their GMV between Black Friday and Cyber Monday. However, sales peaked on December 12th this year in the UK and the US compared to December 14th of last year.'
'This shows that shoppers continue to shop earlier, compare deals and be price-conscious as both markets experience hardships and economic uncertainty. For retailers, this stresses the importance of preparedness at all times, across channels, to not miss any sales opportunities when consumers are ready to make a purchase.'
Online retail category performance
Looking at online retail category performance during the w/c 25th December 2022 (as shown in Chart B), health & beauty was up +4.1% YoY relative to 2021, and the subcategory makeup led the way for growth, at +56.8% YoY. These figures suggest that makeup was the most popular Christmas gift and Boxing Day sale choice of 2022.
For that same week, gardening, after consistent YoY weekly declines, had a fairly good time, achieving +15.7% YoY growth. In contrast, electricals were unpopular, at -22% YoY, suggesting an appetite for cheaper items during a cost of living crisis. Interestingly, gifts were the poorest performing category for revenue growth that week, at -38.3% YoY, followed by men's beauty, at -32.1% YoY.
Was demand pushed elsewhere?
One might question whether demand was pushed elsewhere, such as on the high street, given that this was the first Covid-19 unaffected Christmas for many customers. Though, recent research shared by the BBC reveals that brick-and-mortar had its fair share of disappointment; footfall in UK Boxing Day sales in 2022 was significantly less than pre-covid times in 2019.
Scurri's CMO, Gavin Murphy, exclaims that 'In comparison to Boxing Day last year, the shopper tracking service Springboard reported a 50% increase in the number of shoppers out on Monday. However, foot traffic was still 30.5% lower than in 2019.'
All retailers, multichannel and pureplay, 'are already under pressure from a lacklustre winter that was impacted by transport and postal strikes, winter weather, and rising energy, food prices, and cost of living inflation. The standard for the customer experience has now been enhanced as a result.' Looking ahead to 2023, Gavin explores how 'the eCommerce post-purchase experience will likely serve as the standard by which all retail initiatives will be measured to remain competitive in today's market and expand their businesses.'
Providing positivity to this conversation is Ben Scherpenbergs, Director, Business Management at PFS, who says that 'Although Boxing Day did not quite reach the financial heights of Black Friday, UK retailers did see an online sales increase of +26% (Wunderkind's Marketing Pulse Index). Prestige brands continue to see demand and have not been impacted as greatly by the cost-of-living crisis, and in terms of footfall, it appears shoppers were happy to stay at home to browse and buy over actually going to the shops in-person.'
Is it now time to act on the consequences?
Heath Barlow, Regional Vice President & MD for EMEA North at Emarsys, reflects on how 'brands including Next, Greggs, B&M, and Aldi performed well' last Christmas, 2022. As with Black Friday, customers awaited deals rather than not shop, with the British Retail Consortium's Sensormatic IQ footfall monitor reporting a 15.1% jump YOY.
'71% of UK shoppers remained loyal to stores offering discounts, incentives, and rewards, while 10% planned to complete most Christmas shopping during Black Friday, including 18% of those aged 16-24.'
As December 2022 saw less demand for online retail sites relative to November 2022, Heath shares that 'we may see leaner spending in the coming months. As January sales begin, retailers may decide to prioritise omnichannel strategies that get the best deals in front of shoppers in order to secure a post-Christmas boost.'
Another post-Christmas focus point is explored by Hayley Clover, Marketing Manager at Intersoft; 'Whilst sales for the Christmas period were predicted to fall by as much as 23%', returns are currently keeping carriers busy.'
'Post-Christmas returns have increased by around 24% since 2021, with some retailers even experiencing up to a 40% in the number of packages sent back. That's great pressure on a system already under heavy demand, but this may change in the upcoming months. Many retailers are now introducing returns fees, and we've yet to see the effect this change may have.'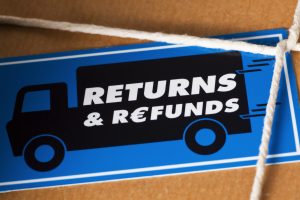 Hayley stresses that 'of equal importance is the environmental impact that returns have.' Having worked with third-party returns platforms, Intersoft's Marketing Manager has hope that more retailers will opt for 'sustainable solutions like paperless QR returns, reducing waste and extending returns windows.'
As a closing point of action for post-Christmas and Boxing Day performance, Rob Griffin, CEO at MIRACL comments, 'we urge all retailers to urgently take the time to reflect on their login success rates during this period. Thousands of pounds are lost every year by retailers across all sectors when customers are unable to access online accounts smoothly because of poor login accessibility.'
'Reviewing your login success is one smart and simple way to analyse how you can uplift your sales even more. For example, by updating logins for customers – to be passwordless, single-step, and easy to use – ahead of next Christmas, you are more inclined to reach your strongest ever profit potential in 2023.'
Retailers, let's make next Christmas and Boxing Day merry and bright.
---
If you are interested in taking a deep dive into IMRG's digital dashboard for more data insight, click here.
Also, be sure to register for IMRG's next webinar where we'll discuss December performance in greater depth.
Want to read more? Here are 3 of IMRG's latest blogs:
Spendthrift or Penny Pincher? How are Consumers Spending this Festive Season?
Back to Black: IMRG's Black Friday Review 2022
A Wave of Parcel Theft is Sweeping Across the UK, How Should Retailers Respond?
Published 12/01/2023