By Gavin Murphy, CMO at Scurri
With Black Friday having taken place last week, it is safe to say UK retailers are firmly placed in peak season, one that is uncertain and fraught with new challenges, as has been the case for many peak seasons in recent years past. A new challenge, separate from supply chains and macro-environmental factors, has raised its head and may impact customer/retailer relations at this busy time. According to the first worldwide report on parcel theft, sponsored exclusively by Scurri and commissioned by Penn Elcom, a wave of doorstep parcel theft is sweeping across the UK.
The findings of the survey revealed that nearly one in every ten persons worldwide reported having at least one parcel lost or stolen between May 2021 and April 2022, totaling 1.009 billion packages at a cost of £33.6 billion. While UK citizens reported a nationwide rise in parcel difficulties over the previous year, with 12% of respondents reporting a parcel lost or stolen, up from 7% between May 2020 and April 2021, the UK had the highest growth worldwide.
The regional results of the parcel survey revealed that package thefts and losses increased fourfold in Wales during the two survey periods, rising from 4% to 16%, making Wales the worst-affected location in the UK. Year on year, parcel thefts and losses increased by 6%–12% in Scotland, 6%–12% in the Midlands, and 5%–10% in the East.
According to the analysis, 32% of persons polled in the UK have had a delivery lost or stolen in their lifetime, amounting to 21.5 million packages, with this figure predicted to climb unless preventive measures are implemented. Full-time employees were identified as the most vulnerable to occurrences since they are not there to answer the door. These crimes are usually carried out by professional thieves. They have been observed following delivery vans and stealing products minutes after they are dropped off, while opportunistic crooks take advantage of parcels left on doorsteps.
Deeper themes were emerging in how UK citizens felt and responded to escalating parcel concerns. 60% of the 17% of British people who are concerned about package theft are women, and 7.4 million individuals in the UK are concerned that the goods they ship and receive will be stolen.
When the last stage of the delivery process fails, the customer experience falls short of expectations, and customers may be discouraged from making another online purchase from that firm in the future. Despite the boom of ecommerce, the poll found that one in every ten consumers globally is now afraid to shop online for fear of theft, causing merchants to lose out on potential customers.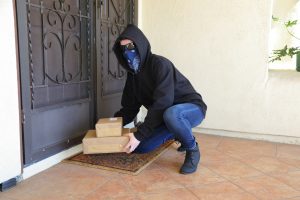 Searches for "parcel theft" have risen in recent months, according to Google Trends, as shoppers continue to order online, particularly during the Christmas season. Customer anxiety is at its height when an order is awaiting delivery, and this form of delivery anxiety is much more prevalent during peak season.
For gifting in particular, since the majority of what is sent out does not go to the individual who purchases it, there is a larger emotional connection surrounding delivery. Customers respect dependability as much as they do speed when it comes to delivery. Because of the increasing anxiety about delivery, any delay or tracking issue may result in extra WISMO (where is my order) questions. Given that tracking is often conducted by the carrier rather than the online retailer, this split might harm the consumer experience. To provide a more proactive experience, businesses might explicitly inform clients that delivery times may be affected by events beyond their control.
On the other hand, being able to offer various delivery alternatives over the Christmas season will be important in avoiding theft this year. Price-conscious customers will look for less costly delivery options, but they will also be particularly anxious about gifts being on time. Real-time data is critical. It is inadequate to just indicate that an item has been dispatched or is in the hands of a last-mile delivery truck. Many customers nowadays anticipate receiving their delivery on a specific day or time. In reality, the majority of customers choose firms that offer many delivery alternatives and speeds. Offering a variety of shipping options, such as same-day, overnight, 2-day, click and collect and scheduled delivery slots, helps boost customer trust that their product will be delivered on time and safely.
The chance of package theft occurrences may be decreased by reducing friction by seamlessly integrating all components of the purchasing, shipping, and delivery processes and systems. This should also assist in defending against global supply chain difficulties that are wreaking havoc in the UK. Supply networks can become more nimble, and they should be data-driven in order to create insights and make choices. It is now more important than ever for online merchants to take control of their delivery management from a single point of contact.
Published 06/12/2022