By Ellie-Rose Davies, Content Executive at IMRG
You might be thinking about expanding your horizons, or you might already have started shipping your items internationally. Either way, if you are thinking about how to optimise or benefit from this opportunity, read on and learn from industry experts on four great ways to do so in 2023:
Payments And VAT Optimisation
Delivery and Returns (+ Fraud Prevention)
Localised Ecommerce – Tune Into Culture
Social Media and Effective Communication
Payments And VAT Optimisation
One way to achieve successful cross-border ecommerce is by considering how to effectively manage tax and create a secure payments strategy that protects margins.
Monica Eaton, Founder and CEO at Chargebacks911 voices how 'Doing business internationally is a great decision for almost any business. Increasing your company's addressable market can only be a good thing – provided that companies keep an eye on how international commerce changes how fraud, chargebacks, and compliance work.'
'For example, although Strong Customer Authentication (SCA) is required across much of Europe', Monica says 'a large part of the world doesn't use it. This is where 'ecommerce systems should adapt to the different rules in different countries.'
Chargebacks present a similar situation; Monica reveals that 'Although the majority of payments you will receive will come through Visa, Mastercard, and other major international card schemes and will therefore have a singular chargebacks systems, there will be other forms of payment that are popular in foreign countries that have different systems in place, and if you want to succeed there you will have to adapt to them all.'
Senior VAT Consultant, Francisco Gomes at Sovos provides some advice relating to tax – 'After over two years, Brexit is still posing some hurdles to UK retailers trying to expand into the EU*. Our advice, where consignments are above €150, is to focus on one EU Member State as the port of entry into the EU and use the OSS regime. This will allow you to sell to private individuals everywhere in the EU and will reduce the number of EU VAT registrations needed.
Francisco exclaims that 'For consignments below €150, the IOSS scheme can be more interesting. A combination of these two optional schemes might be needed, improving the overall customers' experience.'
*IMRG data has recently revealed that out of 500 customers from Ireland, 37.55% are less likely to buy from a UK retailer since Brexit. Nonetheless, this has proven less of a deterrent for customers further afield in Australia (31.2%) and the USA (47.2%), who mostly answered that Brexit has made 'no difference' to their purchasing habits from the UK.
Delivery and Returns (+ Fraud Prevention)
A major part of selling cross-border is ensuring that you know how to get the product to your customer efficiently, all the while fulfilling customers' expectations around returns to generate trust and inspire loyalty.
Kath Brameld, EMEA Industry Solutions Advisor, Wholesale and Retail, at Oracle NetSuite highlights that 'Having a great product is only part of the equation.' She advises international retailers to 'orchestrate a robust supply chain – whether shipping directly or using local fulfilment partners – and optimise the allocation of inventory across multiple sales channels' (e.g. marketplaces, physical stores, or ecommerce).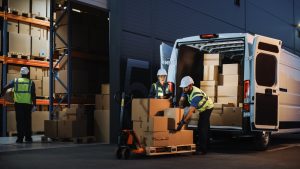 Regarding shipment, IMRG research shows that most customers in the USA and Australia expect their standard delivery from a UK retailer to arrive within 5-10 business days. Whereas, as might be expected, customers in Ireland expect their deliveries sooner, within 3-5 business days.
'As ecommerce hits $4tr globally, cross-border opportunities and returns emerge as a key competitive strategy for retailers', shares Amal Ahmed, Director, Financial Services & EMEA Marketing at Signifyd. 'Our recent survey found 59% of UK consumers prioritise a good returns experience for increased loyalty, but managing returns fraud poses a challenge.'
Amal says, 'Retailers can solve this problem by using data to authenticate instant returns for genuine consumers based on their return history and product condition.' Retailers might consider this as it 'can eliminate the usual 5-14 day refund period and satisfy consumers' needs for seamless returns.'
As a significant 46.64% of respondents across three territories in IMRG's recent customer survey revealed that 'faster and more reliable delivery and returns' would make shopping from a UK retailer more attractive, finding ways to improve the process and beat the competition can be beneficial to growth.
Steve Sneath, Sales Director at Intersoft reinforces that 'retailers should always be looking towards growing their ecommerce.' Steve explains how 'Over 49% of 205 ecommerce businesses in 2022 cited changes to international shipping rules as a key obstacle, and a further 30% said this was compounded by inaccurate data through customs.'
Retailers can 'prioritise soft solutions that can help simplify cross-border shipping requirements such as HS codes, duty & tax calculations, and restricted screen and landing costs.' Concluding his advice, Steve urges retailers to complete 'thorough research into the international market they wish to expand into before expansion, allowing them to be aware of cultural, regulatory, and legal issues before they become hurdles to operations.'
Localised Ecommerce – Tune Into Culture
It is all well ensuring that your business can operate cross-border, but this operational win should be met with good practice to avoid shortfalls in conversion, such as embracing culture.
Lee Crank, Director of Business Development at Kammac starts this conversation by declaring that 'For retailers, an important part of the puzzle is making sure your partner organisations in other countries share your values and understand who you are as a company.'
'Differences in language and law can be overcome but trying to force partnerships with companies who don't share your values will make international expansion harder than ever', says Lee.
Jonathon Huggett at Salesupply states that there is a benefit to be had in cross-border ecommerce for UK retailers as it 'helps them to spread risk. Whilst our national economy is suffering, ecommerce is still growing elsewhere.' Johnathan addresses retailers, telling them to 'Treat every new market like your domestic market: Adapt to local standards and preferences as cross-border ecommerce has endless potential when you compete like a local everywhere.'
Reverberating the value of cross-border ecommerce is Tony Preedy, Managing Director at Fruugo, who voices the value of 'internationalisation as a service'; While 'a retailer that has good assortment, that is well described and well-priced, can succeed online both domestically and internationally', there is complexity in the need to 'translate product content to both the local language and each target market, and to reprice items to local currencies.'
Alongside 'the administration of import and sales tax compliance', Tony says 'It's not sufficient to simply be able to have a localised website, the retailer also has to be able to efficiently generate sales. Therefore, they need to be able to understand and operate localised digital marketing.' In turn, retailers can be relevant to international customers and boost key ecommerce performance metrics.
Social Media and Effective Communication
When asking the respondents of IMRG's cross-border customer survey where they tend to see most product advertisements from UK retailers, 'On social media, e.g. Instagram, Facebook, and TikTok' was the most popular answer (25%) out of nine options.
Alfie Staples, Global Insights Manager at Awin says that 'given the recent growth in the ecommerce marketplace, social media and general decline in the traditional high street means that businesses, large and small, must look cross-border for new consumers, revenue streams and sales.'
'For smaller businesses, the rise in social media and direct-to-consumer consumption presents a prime opportunity to enrich your brand, for larger businesses, given the challenges of recent years presents a moment to diversify risks in preparation for when the next global obstacle arises.'
Revisiting the topic of international deliveries and returns, Heath Barlow, EMEA at Emarsys says, aside from unexpected customs expenses, the biggest challenge that brands face is time.'
'Emarsys research indicates that 15% of consumers wish items could appear the second they're purchased; even next-day delivery is too long! Meanwhile, 19% suggest that distance from stores is a reason not to return items – they prioritise their time over chasing money.'
In the essence of being "social", Heath recommends that retailers 'give consumers a feeling of being prioritised. 'Omnichannel communications help here, supporting consumers on their cross-device journey at their speed. Personalised messages make shoppers feel 'seen' despite waiting for their product.'
Branching out your UK-based ecommerce business cross-border can be somewhat daunting. Despite this, industry experts suggest that managing each step can make it a growth catalyst rather than a hindrance.
---
If you wish to learn more about cross-border ecommerce, then look no further than IMRG's Digital Dashboard, newly optimised to include international market data.
Want to read more? Here are some other IMRG blogs which cover a range of ecommerce topics:
Hot Spots For Online Retail Growth This Summer – IMRG
Avoid These 5 Common Mistakes Retailers Make – IMRG
Product Pages: An Ecommerce Success Driver For Brands And Retailers – IMRG
How To Create A Winning Loyalty Program That Builds Emotional Bonds – IMRG
Supplier-Funded Offers: The Driving Force Behind Retail Media? – IMRG
Published 25/05/2023