By Sam Panzer, Director Industry Strategy at Talon.One
Loyalty practitioners – especially the technically-focused like me – often get wrapped up in specific feature functionality and lose sight of what loyalty means to the consumer. We fail to see the forest for the trees and deliver programs that let users earn and burn points without building any emotional connection. That's why so many programs look and feel the same, with mediocre results that leave practitioners stuck either continuing with lackluster results, running expensive replatforms, or killing loyalty together.
Ultimately, loyalty is not about points. Loyalty is about building an emotional bond with your customer that engineers a repeat purchase. In this post, I'll write about the knowledge and the best practices of leaders in customer loyalty. I'll also touch on the psychological forces behind the loyalty of a customer to a particular brand. My aim is to help you think about how you can build a winning program by combining good business practices, a deep knowledge of your user, and consumer psychology.
1. Know your user and support their emotional journey surrounding your brand
Loyalty is often grounded in customer experience and satisfaction. In their book Customer Loyalty and Supply Chain Management, Ivan Russo & Ilenia Confente state that "customer satisfaction leads to affective commitment, and this emotional attachment is what influences a customer's subsequent purchase behaviour." Leading brands know the wider emotional journey their product supports, and leading loyalty programs should support and acknowledge that emotional journey.
US-based David's Bridal's loyalty program, Diamond, is a great example of a brand that understands its customers' emotional journey in the lead-up to their big day. Wedding dresses are not the high-frequency purchase you might expect for loyalty, and the brand has been open about its struggles due to decreased demand for wedding dresses and high inflation. Despite that, they've built a hugely successful loyalty program that's brought in over two million customers in under two years. Here are three things I love about their loyalty mindset:
Loyalty is about taking great care of the bride: The loyalty program is free to join, with helpful discounts and complimentary gifts. They also have amazing activations like a 24/7 YouTube live stream of happy wedding moments to help shoppers relax and look forward to their big day – for many brides-to-be, that is what loyalty looks like to them.
Loyalty is about partnerships that deliver amazing value to the bride: There are so many moving parts to planning a wedding, and David's has built strong partnerships to help brides manage it all. They've launched 6,000 vendors onto their Pearl partner platform ($50/month), including partnerships with restaurant chains for donut walls and late-night pizza, as well as home improvement retailers. These are strong value-adds to the bride but also help partner brands efficiently access incredibly high-intent buyers – for example, many brides will be buying items for their new home shortly after their wedding.
Loyalty is about crowd-sourcing value to reward the bride: A recent survey in the US found that wedding guests spend an average $274 on attire and grooming – a big opportunity for retailers across the board. But if the bride directs guests to buy their dresses with David's Bridal, they earn points they can redeem for a completely free honeymoon. To date, David's has given away 500 honeymoons in just a few months for users spending $5k+ with them.
2. Serve the aspirations your brand fulfills with relevant program partners
An effective way to differentiate your loyalty program is the use of portable points, which users can redeem at other partner businesses. Creating an ecosystem of loyalty program partners helps retailers increase customer retention, offer a compelling mixture of rewards and shift focus from monetary to experiential rewards.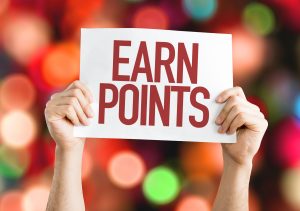 Bilt Rewards is a loyalty program and credit card that rewards users for paying rent. With a network of over two million homes, customers can earn points on rent without fees, using their points to travel, pay rent, work out, and — more importantly — build a path towards homeownership. Their partners in the travel and hospitality category include Hawaiian Airlines, Turkish Airlines, World of Hyatt, and IHG Rewards. In the fitness category, they've partnered with SoulCycle, Y7 Studio, Rumble, and Solidcore. Members can also earn ridesharing points by linking their Bilt and Lyft accounts or use their points to cover part or all of their purchases at Amazon.
Bilt Rewards launches new partners for external point redemption every week, and establishing partnerships with hotels, airlines, gyms, and restaurants is a key part of Bilt's mindset to help users achieve the lifestyle they want. It is a holistic approach to nurturing attitudinal commitment through carefully curated experiential, meaningful rewards.
3. Use your loyalty approach as a journey to understand and evolve your positioning
Building a winning customer loyalty program isn't a one-and-done project, and instead needs to evolve over time. There are three key steps to building on your loyalty scheme:
Testing
Iteration
Optimisation
Testing allows you to iron out any issues or unexpected campaign irregularities before you go live. Once your loyalty program is up and running, you should iterate and optimise its design and features, based on data-driven insights and customer feedback. To fine-tune this three-step process for the best possible results, remember to:
Define clear KPIs and metrics: Right from the start, define what success looks like for your loyalty program and how you plan to measure it. Member acquisition rate, churn rate, point redemption rate, repeat purchase rate, CLV, AOV, NPS, and incremental margin are some of the most common KPIs to track loyalty program performance.
Consider a Customer Data Platform: Your loyalty program is a gold mine of first-party customer data, look for ways that enable you to leverage the data to create bespoke offers and incentives.
Introduce new features: The speed at which you add new features to your loyalty program is essential to retaining members. A dynamic, forward-thinking scheme motivates customers to expand and deepen their interactions with the brand.
Use a variety of rewards: Ultimately, rewards are the driving force behind all campaigns. Rewards and incentives vary significantly from campaign to campaign. Some are much more effective than others at helping businesses achieve certain objectives.
Optimize your program performance: Monitoring and optimizing campaign performance as you go can help you avoid losses from an underperforming or even overperforming campaign. You and your tech stack can be ready to embrace all sorts of quick adjustments to achieve optimal results.
In conclusion
Brands shouldn't treat loyalty as a side project: it's a marketing discipline that needs strong buy-in from technical leadership and a deep understanding of your brand's path to an emotional connection with customers.
By gaining a clear understanding of your technical capabilities and the psychology behind customers' behaviors, as well as their motivations to stick with your business, you'll be able to build a loyalty program that goes far beyond earning and burning points – instead offering rewards and incentives that build true emotional connections with customers.
---
For more loyalty program best practices, download Talon.One's Definitive Guide to Customer Loyalty.
Published 03/05/2023