By Ellie-Rose Davies, Content Executive at IMRG
IMRG data reveals what happened in H1
As seen in IMRG's Online Retail Index, throughout H1, Year-on-Year (YoY) revenue has been wholly negative, albeit gearing closer towards positive territory growth (see Chart A). Online retail categories such as clothing and gifts have been key preventatives of growth, where clothing has experienced declines since December 2022, and gifts has seen consecutive declines since January 2022.
However, one of the reasons why total market performance is improving as we delve further into 2023 is that the health & beauty category has seen astronomical growth and is currently standing at +17.3% YoY. Home & garden has also progressed from -4.5% in January to +2.8% in May YoY, with the subcategory garden being the driving force here – This result is no wonder considering that we have experienced many sunny days in the UK.
IMRG curated a forecast for online retail performance in 2023. If you divert your eyes to Chart B, you can see how the total market has fared against expectations in H1. The blue line, representative of actual performance, from March 2023 is closer to the yellow line, which is what we thought could be the best-case scenario. Therefore, if performance continues to be in line with current trends, growth can be on the cards for H2 this year, though more likely towards peak season.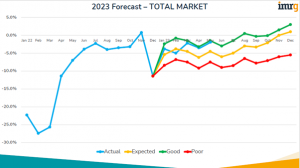 Chart B: IMRG's Online Retail Forecast & Current Progression, Total Market, 2023
Nonetheless, according to industry experts, there are ways retailers can experience growth more quickly. Queue Cliff Richard…
They're all going on a Summer holiday
As inflation eases up slightly, and this being the first summer where Covid-19 is a less topical conversation in the UK, many more people will likely be taking trips within the UK and abroad. As a result, consumers may be more inclined to spend in the clothing category, which, despite revenue drops, has seen weekly traffic growth since May.
Nick Williams, Director of Parcel Services at PayPoint, still conscious of how the cost-of-living crisis will impact customer behaviour, says, 'Retailers will have to be smart in how they engage customers in H2.'
'One notable trend expected this summer is that Brits will still go on holiday for some well-earned respite, albeit more people may travel within the UK or go on shorter breaks. Either way, this could heighten the need for consumers to collect items bought online from convenient locations when they're not at home.'
Nick suggests that retailers 'increase their appeal to shoppers who want to pick up items at a time and location of their choosing, whilst also earning commission on the transactions they process.'
Echoing these thoughts, Charley Hackerson, Chief Revenue Officer at Botify exclaims, 'With strong job creation, a resurgence in mainstream workforce participation, and inflation easing, the 2023 holiday season holds promise with modest tailwinds. This positive trend also sets the stage for a slow and steady recovery to continue into 2024.'
There may be increases in holiday-related product categories, but Charley also anticipates 'a resurgence in spending on homes, benefiting the furniture, DIY, and home electronics industries. High home prices will likely encourage individuals to stay in their existing homes for longer, further driving demand in these sectors.'
Throughout Summer, and beyond, 'To maintain a competitive edge, companies will continue investing in customer loyalty programs to capture a larger share of the wallet, especially as new customer acquisition lags behind', says Charley.
Reducing cart abandonment and increasing conversion
Since consumers are beginning to make more considered purchases and are less likely to indulge in discretionary spending, many retailers are hoping to improve cart abandonment and conversion rates in H2.
Monica Eaton, Founder at Chargebacks911 says, 'Ecommerce continues to grow at an unprecedented rate, but we're still seeing high abandonment rates. About 75% of all online orders are abandoned before completion.'
'There are factors that can cause cart abandonment, such as unclear pricing, too much information or questions at the checkout, a slow checkout, or an untrusted site.' Monica explains how 'providing excellent customer service is perhaps the most important thing to note when trying to eliminate shopping cart abandonment. Doing this will help to boost a business' conversion rates, improve the customer experience, strengthen a brand's reputation, produce a greater ROI, and will help retain more customers.'
Looking deeper into how gaining trust and protecting customers can improve performance, Rob Griffin, CEO at MIRACL comments, 'You'd be amazed, but customer fall-out in protracted authentication journeys like resetting passwords on accounts can result in 10 or even 20% loss in potential revenue simply through cart abandonment and user frustration.'
Rob says, 'To help to improve these conversion rates, implementing a super quick and simple login that's preferably passwordless and secure is ideal. In a tight economic environment, it's not the time to find users stuck at the front gates of your app, unable to log in and frustrated, resulting in significantly higher potential for cart abandonment and your company losing sales – especially not with the Christmas shopping season round the corner.'
As we approach peak 2023, Inci Razakyazam, Agency Development Executive at Awin, reports 'an increase in sales by 6.5% in H1′, but noted a 'percentage point drop-in conversion rate YoY'.
Inci says, 'In H2, we expect the conversion rate to increase with Black Friday and advise a strategic approach in these deals. Consumer confidence and faith in getting the best deals may drop with month-long deals. Full journey tracking, including in-app and S2S options, can maximise the efficiency in understanding consumer behaviours and sales and mitigate the loss of data and insights.'
Keeping up with AI and personalisation
For a significant period, AI has been used to personalise online retail sites and subsequently offer impeccable customer experiences for both existing and new customers.
'Emarsys research suggests 56% of UK shoppers have changed their brand loyalties due to economic concerns', shares Heath Barlow, VP EMEA, at Emarsys. 'To pre-empt a switch to lower-cost competitors, retailers should demonstrate that they care and understand each customer as an individual. This is best achieved through data-driven personalisation, supported by an omnichannel strategy that can target a customer's preferred channel – delivering the right message, to the right device, at the right time.'
Rory O'Connor, CEO and Founder at Scurri shares that 'While ecommerce sales can expect a rebound overall, retailers seeking to return to pre-pandemic sales levels will turn to maximising profitability of their customer data.'
'As sales and marketing teams will remain under pressure to keep their cost per customer acquisition at an all-time low, there will be an increased focus from retailers on activities that maximise the profitability of their existing customer database and turn otherwise one-off customers into repeat purchase brand advocates.'
An example is offered by Gavin Murphy, CMO at Scurri, who explores how 'The focus on AI will intensify because of what it promises across the sales and marketing value chain.'
'As retailers start to exploit first-party data to personalise, they should be able to do that much quicker with AI in terms of the offer and the content of the campaigns they develop; split testing will become so frequent and rapid that it may simply be an automatic function of marketing activity.'
Gavin says, 'This automation will empower sales and marketing to deliver more value more quickly, ultimately enabling them to deliver harder KPIs faster.'
AI can also be used at the post-purchase stage, says Angus Knights, Head of Product Success at parcelLab; 'Investing in technologies like AI-powered chatbots and order tracking systems will give brands control over customising the customer's journey. By doing so, they can exceed customer expectations, build long-term relationships, and drive growth.'
However, retailers must also be mindful of the dangers of AI.
Xavier Sheikrojan, Sr Manager of Risk Intelligence at Signifyd speaks of how 'In the past 6 months the world has been gripped by AI, but while a lot of the focus has been on fun and positive business uses, retailers are firefighting as fraudsters use the tech to their advantage.' They are 'writing more realistic phishing emails and creating malicious code to hack servers.'
However, more retailers in H2 will be 'fighting AI with AI' as they 'detect and stop fraud in real-time and defend themselves while providing their customers with the best shopping experiences.'
The new legalities of ecommerce
For those retailers that sell beyond the UK, it is important to stay abreast of any changes that will affect trading.
Christoph Gerber, Co-Founder, and CEO at Talon.One describes how 'A new EU policy on pricing transparency is shaking up how retailers display and manage their pricing and promotion strategies, with some calling it the "new GDPR".'
'The Price Indication Directive states that all retailers announcing a price reduction must also indicate the lowest prior price from the last 30 days. The Directive recently made headlines, with a French consumer group filing a complaint against leading retailers, among them ASOS and Zalando.'
'The Directive introduces added complexity for retailers, namely increased documentation to track historical pricing information. Crucially, the policy applies to all retailers targeting EU customers – meaning British retailers selling to EU shoppers also need to comply.'
Christoph continues, 'As consumer groups generate more awareness on the topic, the issue is only set to become more important in H2 – and retailers will need to ensure compliance, or risk fines of up to 4% of their annual turnover.'
More change is to come, says Karolina Fialkowska, Senior VAT Consultant at Sovos. 'In H2 retailers will see a significant change affecting any exports of goods from the UK. From 30 November 2023, it will no longer be possible be submit export declarations via CHIEF (Customs Handling of Import and Export Freight).'
'We'd recommend any retailer still using CHIEF to start using CDS (the Customs Declaration Service) to submit their declarations. By subscribing to the government gateway user ID to the customs declaration service, exporters can submit their export declarations using the relevant software.  This will ensure they're compliant ahead of the cut-off and avoid any potential disruptions to supply chains.'
---
For further insights on ecommerce performance, check out IMRG's Digital Dashboard, and to help you better prepare for H2, register for IMRG's events and weekly webinars.
Want to read more? Here are some other IMRG blogs which cover a range of ecommerce topics:
Gamification In Retail: How & Why It Works – IMRG
Optimise Your Data & Hit Key Customer Touchpoints – IMRG
Taking Promotions From Physical To Digital – IMRG
How To Reap The Benefits Of Cross-Border Ecommerce In 2023 – IMRG
Hot Spots For Online Retail Growth This Summer – IMRG
Published 27/06/23