By Ellie-Rose Davies, Content Executive at IMRG
With April's payday in the pocket and a nice long bank holiday weekend for the coronation of King Charles III (06 May), retailers can start to think of how to tune in to customer demands and use trended data during this time to make the event a crown jewelled success.
After all, every national event affects online retail in one way or another. So, it becomes more integral that retailers who sell in the UK begin to navigate the tightrope between customers' attention being pulled elsewhere and the opportunities that exist to experience growth during this time. Throughout this blog, industry experts give their advice to help you best prepare for the festivities weeks ahead of time.
Online retail can see the benefit
Some retailers might experience more growth than others, which rings true when we reflect on the outcome of the Queen's Platinum Jubilee in June 2022. The week leading up to this event (w/c 22nd May) was a big success for beers, wines & spirits retailers, that is according to IMRG's Sales Index, as this online retail category saw a growth of +6.3% Week-on-Week (WoW – comparing this week's growth to the previous week) in revenue.
Similarly, substantial growth was seen in the subcategories of home & garden, homewares and decorations (19.8% WoW), and garden furnishings (18.1% WoW), that week.
It is no wonder that Paul Dodd, Co-Founder, and Chief Innovation Officer at Huboo, recommends retailers to 'tap into typical consumer bank holiday behaviours to help drive sales.' He says, 'We know that gardening plays a pivotal role in bank holiday sales so spotlighting specific garden items, or running special offers on these would be ideal.'
He continues, 'We are anticipating an increase in retail sales volumes, especially as a recent YouGov poll revealed that shopping is the fourth most popular bank holiday activity. The royalty element of the holiday is likely to boost sales as the 2018 royal wedding bank holiday helped to increase sales by 4.7%.'
'But what about online sales? We know shopping is largely a leisure activity for consumers, so how can retailers provide the same offering to online shoppers to increase sales? Tapping into previous retail trends and data and offering discounts, flash sales, or even free shopping' is useful in 'getting your store noticed.'
Also reflecting on the propensity for growth in physical retail around King Charles III's coronation is Monica Eaton, Founder at Chargebacks911; 'We can expect a major surge in sales in a number of verticals over the week before the coronation. Groceries, hospitality, and alcoholic beverages are all likely to experience an uptick, but we also might see a brief surge in travel as people go to see their families over the long weekend.'
Monica says that 'Many of the best performers will be physical retail – people will be stocking up on food for parties at supermarkets or buying a nice bottle of wine at an off-licence. The impact on online retail may be relatively minor unless companies – namely food and grocery delivery companies – can offer deep discounts that make them more attractive than their physical alternatives.'
Buyers intent is there
Although customers might be more inclined to visit the store throughout the celebratory period, online retailers can use the demand they do have and optimise their performance by using clever marketing and merchandising techniques.
Nick Jones, GM International at Lucidworks, shares, 'From memorabilia to coronation-themed party food and drink, consumers will be searching with active buying intent. IMRG data points to search users converting at 3x the rate of non-search visitors. Retailers that can interpret consumer signals to match them with relevant products will be the retail winners.'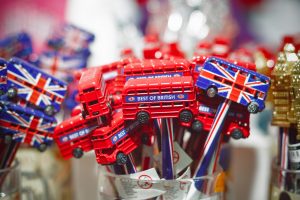 With the government's big push on coronation events through their interactive map that allows the public to promote their event with others, retailers are even more likely to benefit from increased buyer intent – particularly those in fashion, beverage, and outdoor sectors.
Nick exclaims, 'The challenge is that there is little time to experiment and optimise merchandising. Systems should be adept at self-learning as these unique queries pick up speed – this is where AI plays the winning hand.' This IMRG Report has more best practices on search navigation and personalisation.'
Heath Barlow, VP EMEA at Emarsys reinforces the value of hooking those customers. According to Emarsys research, '40% of the British public are excited about the King's coronation. With that national excitement will come additional retail spending with 32% of Brits planning to make a purchase to celebrate.'
'Last year saw 57% of UK consumers making a purchase as a direct result of the Queen's Platinum Jubilee, with party food, alcohol, and decorations topping the list of pre-event purchases. To mark King Charles's coronation, the average Brit is set to spend £86 preparing for the event.'
Heath recommends that retailers 'get smart with marketing plans, using data and personalisation to reach those 40% of customers who are most likely to be stocking up for a party and then giving them a reason to keep them coming back after it's over.'
This coronation is a once-in-a-generation opportunity that will allow you to be creative with your online retail store. Though the coronation may distract customers, the bank holiday weekend and celebrations may also make it a happy and glorious catalyst for revenue.
---
Check out our recent blog post which is a cohesive guide on How Retailers Can Experience Growth On & Around Key Retail Events – IMRG.
Here are some other IMRG blogs which cover a range of ecommerce topics:
Published 14/04/2023