By Ellie-Rose Davies, Content Executive at IMRG
It is no news that it is harder to get customers to convert this year, with many customers reluctant to part with their hard-earned cash amid cost-of-living skews in the UK. However, to inspire purchases, a stand-out method used by many is to use and create authentic content that sells.
What exactly is authentic content? Authentic content is a form of communication with your customers that feels more real, honest, and helpful. Authenticity can come from sticking to brand values, guidelines, and messaging while creating something that prospective and existing customers can be at a point of recognition.
To heighten their level of authenticity, the greatest tool a retailer can use is their humanity. Customers will be able to associate with a brand more easily if humans are at the forefront of it, and some of the most effective person-focussed approaches to marketing your brand are:
Video marketing
Social media marketing
User-generated content
Consistent communication
Read on to discover just how powerful these methods are at boosting conversion and loyalty.
Video Marketing
With the help of technology, retailers have been able to market their products in more advanced ways than ever before. Gone are the days of stagnant product images with plain white backgrounds, because now customers want to feel the real experience of owning the products they're browsing.
A great way to provide customers with this authentic experience is through the incorporation of video. Electronics retailers such as Apple have been doing this for years, but many other retailers have started to use this strategy more, such as make-up giant Charlotte Tilbury.
Retailers can include videos on their product pages, which can be particularly beneficial for fashion retailers as customers can get a better feel for how a product will look and feel on themselves. It also adds a level of excitement to the shopping experience and is a good technique to reduce quick bounce rates.
Video is not limited to product pages, however. Retailers can also include a video of, as well as a link to, their current bestselling product/s on their homepage and other key customer touchpoints to increase traffic and revenue performance.
Considering this further, an interesting talk by Brett Goodyear, Head of Enterprise Sales EMEA at Vimeo at the Ecommerce Expo this year revealed that the average person spends 100 minutes a day watching online videos in 2023. This suggests that customers will be more than likely to positively engage with this form of marketing.
He noted that retailers can optimise video in three ways:
Interactive video – e.g., clickable shopping which converts at 2x the rate of passive video
Immersive overlays – e.g., place a store finder overlay on top of a product video
Branching – e.g., use one video that hosts the product story, which will then take you to another video
While the desire is often to go 'viral' on these social media platforms, it is hard to do so without authentic and liked content.
Nick Williams, Director of Parcel Services at PayPoint says, 'The rise and emergence of social platforms such as Instagram, Threads and TikTok – coupled with an increase in 'fake news' – has made consumers more discerning about the brands they follow and engage with.'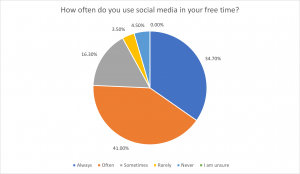 He continues, 'Content must be aspirational and entertaining, but it also must be authentic. To that end, businesses should stick to key messages that they know to be credible among their audiences.'
This is an important point, because while there is the goal to be liked by the social media algorithms that help to achieve viral content, they do not always resonate with the brand, and can rid brand identity. Consequently, retailers might find their acquisition high but may experience customer retention difficulties.
Heath Barlow, VP EMEA at Emarsys shares that 'Jumping on the latest viral trends is a creative way for retailers to reach new audiences and increase sales. However, understanding the type of content needed to make this approach feel authentic and engaging for customers isn't easy. It requires a deep understanding of not just the trends, but also the customers themselves and their buying habits. Having a way to efficiently collect these insights — before joining in with the latest trend — will be essential.'
'An omnichannel strategy can centralise all the data that would otherwise be overlooked or lost across silos,' says Heath. 'Retailers can then use this data to curate the right content for each platform and convert as many sales as possible using viral content.'
Using trends that fit the brand identity, retailers can then repurpose content across multiple platforms, including their websites. Content does not have to be self-made; retailers can also use content from their mentions and tags if they get permission from the customer.
User-Generated Content (UGC)
Retailers are becoming aware of the power of user-generated content. This is content that is created and shared by their customers, or by someone who doesn't have a direct link to their company, such as influencers.
The reason why many customers prefer this type of marketing is because they can live vicariously through the content. This content tends to be less formal and more trusted by customers because they feel less sold to – these are real people who are benefiting from the product.
In order to grow interest in their products, retailers can post user-generated content on their platforms with permission from their customers and in partnership with influencers. According to Gordan Glenister, an influencer marketing expert, influencer marketing delivers 11x more ROI when done correctly.
To understand the performance of the video content, retailers shouldn't solely rely on social media analytics, says Theo Hildyard, VP of Demand Generation at Brightcove; 'Social media platforms provide an overview, but not the richer analytics that comes from integrating your online video player with your marketing automation platform.'
Theo continues, 'User-generated videos provide strong social proof that people are buying, using, and loving your product. But it's not as simple as just posting a video – retailers can compare video performance across channels and platforms to learn what works and what doesn't. You want video content to actively sell for you, and that means constantly improving your strategy.'
Space NK is a great example of a brand that does UGC well. At the top of their website, they have a carousel of UGC with the option to add to the basket. In order to enhance customer interaction, retailers can also group UGC by theme. Furthermore, they have included UGC on their product pages, providing customers with authentic content at critical touchpoints.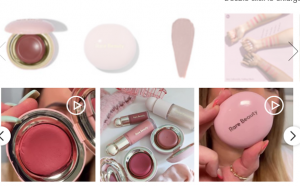 To increase the number of customers that post about your products, you can provide a bunch of them with free products in return for UGC. This way you have a consistent stream of brand advocates.
Consistent Communication
Consistent communication is key to developing an authentic brand identity. Maintaining tone, language, and messaging frequency helps customers recognise and trust a brand that upholds its image and values.
For a retailer to be recognisable, they can use a few distinct words or phrases, like 'darlings' for Charlotte Tilbury. Hollister is a great example of maintaining a consistent tone, being informal and fun on social media, particularly Instagram, where they use product memes.
To have a competitive advantage, retailers can speak to their customers often, but with messaging that feels valuable and useful, rather than the pestering type. This is particularly important as just under 67% of customers expect online retail to be more bespoke to their wants and needs than brick-and-mortar shopping.
'The challenge is living up to your name,' said Tom Barton, Co-Founder at Honest Burgers. Strong communication is valuable here.
Tobi Buxhoidt, Founder and CEO at parcelLab exclaims, 'Creating authentic content is about integrating your brand's narrative into every phase of the customer journey, especially the post-purchase stage. The power of consistent messaging that not only engages customers but also fulfils their expectations is paramount.'
He says, 'By leveraging post-purchase software, retailers can seamlessly integrate their brand story into order tracking and delivery communications, ensuring that customers feel connected to the brand long after they've made a purchase. This not only drives loyalty but also turns every shipment into an opportunity to reinforce brand authenticity and win repeat business.'
---
Want to read more? Here are some other IMRG blogs that cover a range of ecommerce topics:
Utilising Your Technology Stack for Your Ecommerce Brand – IMRG
Ecommerce Payments 'Done Right' According To Industry Experts – IMRG
'% Off' vs '£ Off': Which Works Best? – IMRG
The Ultimate Checklist For Creating Stand Out Influencer Boxes – IMRG
Facts Not Fiction: Black Friday Realities From The Retailer Perspective – IMRG
Published 24/10/2023