In today's social media landscape, it's becoming increasingly important for brands to find innovative ways to connect with their audiences. Enter influencer boxes, the curated packages of products that brands send out to social media influencers to showcase their wares. But with so many brands vying for attention, how can you make your influencer box stand out?
Here's our simple checklist to help you plan the perfect unboxing for your next influencer marketing campaign. From using storytelling to create a 'soft sell' strategy to choosing a standout box design, there are a few key elements to consider that can make your influencer box successful.
1. Bring your campaign to life with storytelling
Firstly, use storytelling to create an authentic narrative around each product that resonates with followers. Consumers don't always want to be sold to on social media – they want to be entertained. An influencer who can craft a compelling story around your product is more likely to connect with their audience and generate buzz.
Influencers help brands by bringing trusted reviews and recommendations to the forefront of a customer's purchase journey. 61% of people say they are likely to trust recommendations from a friend, family member or influencer, against 38% who trust recommendations from a brand on social media (Matter Survey 2020). This gives influencers an authenticity not typically associated with social media content and highlights the importance storytelling has through your influencer box design and your product presentation inside.
2. Striking box designs that stand out
When designing, why not go for something eye-catching that will make an excellent first impression. Unusual boxes stand out, so think about creating something different that will fit easily into a portrait video – the most-used format across TikTok and Instagram.
With influencers live streaming box openings, it's important to consider the structural design of your box. Can it be opened one handed? Does it elevate your products correctly when live streamed? Considering how your box will be handled on and off the camera is essential to designing the influencer box.
3. Elevating your products to delight
Curate your product selection carefully – consider which products to display, whether they will be loose in the box or standing upright, and highlight the hero product for new launches. Additionally, consider how you can engage followers through your box – discount codes, competitions, and other incentives can help encourage people to follow you and engage with your brand.
When it comes to product elevation, creating theatre through structural engineering or specific product placement is crucial. For example, if you're highlighting a series of related products that you want the influencer to engage in a particular order. The box design can signpost the influencer to this.
Striking the perfect balance between functionality, aesthetics, and storytelling results in a captivating unboxing experience.  This helps to amplify your brand through online engagement, which can help drive greater product sales.
4. Ensure your design highlights the key brand messaging
Include key information such as web addresses, QR codes, and relevant hashtags to further your brand messaging. Don't forget the importance of sustainability – you can go green by ensuring your box is recyclable and consider eco-friendly finishes that give that extra 'wow' factor.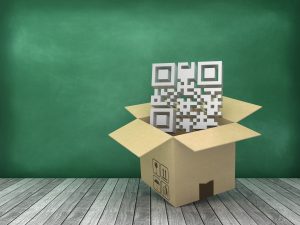 5. Measuring ROI for influencer boxes
When measuring success, consider the targets that align with your brand's long-term objectives. You can use SMART goals to ensure your targets are specific, measurable, achievable, relevant, and time-bound. Feedback can also be beneficial when working on influencer marketing campaigns – communicate with each other in your team and reflect on your goals throughout the campaign.
6. Personalisation is here to stay
Most of us have seen the rise of personalisation in marketing, whether through digital marketing channels such as emails or social media ads, but personalisation is also gaining interest in physical outreach channels, such as influencer marketing.
In influencer marketing, personalising each box helps foster a relationship with influencers and creates a positive impression. Each influencer is unique, so customising each box's content can help increase engagement and build long-lasting relationships.
So, what are you waiting for?
By following these steps, you can ensure your influencer box makes a splash and helps to achieve your marketing goals. It's all about finding the right balance between creativity, strategy, and authenticity to make a lasting impact.
---
Influencers are now an established part of the marketing mix – and one that your brand cannot afford to ignore. Making an influencer collaboration work for your brand requires a good deal of thought, research, clarity, and creativity. That's where we can help.
Who are Linney? We're a creative omnichannel production agency working with top retail brands on their influencer campaigns. Our team of experts will help you reach new audiences, drive sales, and grow your brand following.
Published 04/10/2023