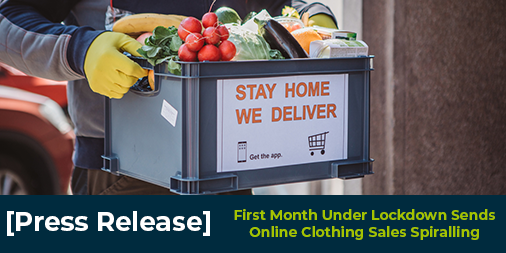 By Andy Mulcahy, Strategy and Insight Director, IMRG 
Online sales growth for clothing was down -23.1% Year-on-Year (YoY) in March
Overall growth was also down -5.1% YoY, however up +2.6% Month-on-Month (MoM)
Despite a disappointing start to the year, March's results still fell far below the 12-, 6- and 3-month rolling averages (+4.5%, +6.7% and -2.1% respectively)
Last month saw multichannel retailers outperform online only for the first time since April 2019 – recording a dip of just -4.0% vs. -5.5% YoY
LONDON UK – April 15, 2020: As the Government's new 'home isolation rules' came into force throughout March, the fashion industry was sent into a whirlwind of unprecedented uncertainty. In a month where Spring buying would typically set in, online clothing sales were down -23.1% Year-on-Year (YoY), according to the latest IMRG Capgemini Online Retail Index, which tracks the online sales performance of over 200 retailers. Digging deeper into fashion sales, menswear was down a staggering -42.9% and footwear was down -32.8%.
Indicative of a very mixed set of results on a category level, the warmer weather and increased amount of time spent in the garden during the lockdown sent online garden sales soaring to +94.4% YoY. Beauty also continued to build on strong February sales, spiking to +36.0%, while electricals recorded March's third standout performance – surging by +40.2%. In fact, during week 2 of the month when the Government raised the outbreak risk from moderate to high, electrical retailers saw sales jump by +47.7% YoY as consumers turned to home entertainment and raced to set up their offices.
With the category results doing their best to balance each other out, the overall growth for March limped in at -5.1% YoY – well below the 12-, 6- and 3-month rolling averages (+4.5%, +6.7% and -2.1% respectively) but still above last month's performance by +2.6% (MoM). Perhaps marking the start of stockpiling, March started off with poor online sales for the first fortnight, but seemed to recover in weeks 3 and 4 following the Government's announcement of official home isolation rules on March 17.
Meanwhile as they are forced to shift more operations into the digital sphere, multichannel retailers outperformed their online only counterparts for the first time since April 2019, recording growth of -4.0% versus -5.5%.
Lucy Gibbs, managing consultant – Retail Insight, Capgemini: "Online sales performance this month is a mixed story, as retailers are faced with a multitude of challenges. 'Non-essential' stores closed their doors on the high street which led to the majority of multichannel retailers gaining a boost in online performance in the latter half of the month as consumers channelled their demand into digital.  However, the changing demand and customer needs has also polarised impacts on different product categories where the appetite for fashion dropped off significantly compared to garden, home and electrical which are seeing unusually high demand as we spend more time at home.
Next month we are likely to see a continued rise in online demand however it has never been more important to listen to consumer needs to respond to new spending patterns, communicate in a way that resonates with the concerns and needs of customers and using datapoints to inform next steps as we navigate through the changes"
Andy Mulcahy, strategy and insight director, IMRG: "There is a bit of a myth going round at the moment that online sales are booming. It's more accurate to say some online retailers are experiencing huge demand, outstripping even that seen over Black Friday, because so many people are in the exact same situation – ie stuck at home. That has created very lopsided demand among product categories.
"People simply don't have much need for new clothes or shoes at the moment, which is why at the overall level sales growth is down. How and when a stronger balance in demand might be established is a pressing question for retailers currently on the wrong side of that divide."
-ENDS-
About the 'IMRG Capgemini Online Retail Index'
The IMRG Capgemini Online Retail Index, which was started in April 2000, tracks 'online sales', which we define as 'transactions completed fully, including payment, via interactive channels' from any location, including in-store.
*Please note from January 2020 the Index no longer includes data from the travel sector
About IMRG
For over 20 years, IMRG (Interactive Media in Retail Group) has been the voice of e-retail in the UK. We are a membership community comprising businesses of all sizes – multichannel and pureplay, SME and multinational, and solution providers to industry. We support our members through a range of activities – including market tracking and insight, benchmarking and best practice sharing. Our indexes provide in-depth intelligence on online sales, mobile sales, delivery trends and over 40 additional KPIs. Our goal is to ensure our members have the information and resources they need to succeed in rapidly-evolving markets – both domestically and internationally. www.imrg.org
About Capgemini
Capgemini is a global leader in consulting, digital transformation, technology and engineering services. The Group is at the forefront of innovation to address the entire breadth of clients' opportunities in the evolving world of cloud, digital and platforms. Building on its strong 50-year+ heritage and deep industry-specific expertise, Capgemini enables organizations to realize their business ambitions through an array of services from strategy to operations. Capgemini is driven by the conviction that the business value of technology comes from and through people. Today, it is a multicultural company of 270,000 team members in almost 50 countries. With Altran, the Group reported 2019 combined revenues of €17billion.
Visit us at www.capgemini.com. People matter, results count.