Online shopping has exploded, with an estimated strong growth of 20.5% in 2021, pushing ecommerce sales to £185.22 billion. But it's not just this rapid growth that has forced fulfillment operations into overdrive, heightened customer expectations are also adding pressure on ecommerce businesses to adapt and evolve their logistics and shipping strategies.
There are a multitude of challenges to consider before even shipping the order to the customer as well:
Aligning inventory and orders across multiple channels
Complex shipping schedules and order profiles
Tracking fulfillment
Back-office reporting and analytics
To ensure an optimal experience, multi-channel and online retailers must fulfill ever-increasing order volumes quickly, cost-effectively, and seamlessly. This is no easy task at a time when supply chains are stretched, and consumer expectations are heightened.
The increase in consumer demand has also been met by increasing new entrants to the ecommerce landscape (including those that have had to move from bricks-and-mortar). With each new offering, faster services, free delivery, and an overall seamless experience, are just a few areas in which customer expectations are rising.
These issues can quickly overwhelm all but the most sophisticated operations. As a result, many retailers are looking for automation solutions to help streamline many fulfillment operations, in order to attract new customers, scale business growth, and keep ahead of demand – particularly where logistics and shipping is concerned.
Dave Pickburn, CEO & Founder of Stream shares his thoughts: "Shipping and fulfilment plays a major role in the customer journey, especially when you consider that the point of delivery can often be the only face-to-face interaction customers will have with your brand. Online retail, by its very nature, makes it difficult to make a personal connection with your customer.
Retail operations are complex enough when you're managing sales and inventory across multiple channels.
We often talk to businesses who manage that element of their operation very well. But that complexity, and the problems associated, only grow if you're managing the delivery of goods and products in your own vehicles; you've got long lead-times between purchase and delivery as is often the case with furniture; or your operation provides assembly or installation services.
Having logistics technology as part of your integrated software ecosystem, enables retailers to not only meet, but exceed the expectations of those 'on demand' consumers. Those systems can literally 'speak' to one another in a two-way dialogue.
All the information your customers might need about their order, and the subsequent delivery is available, at their fingertips, exactly when they need it."
Streamlining logistics and shipping
Traditionally, most retailers could get by partnering with one shipping carrier to deliver their products. Today, however, carrier services and customer expectations are rapidly changing. The shorter the delivery times, the better the consumer response.
Strategies such as "Express delivery" or "Next day delivery" are all prominent crowd pullers and this puts pressure on your logistics teams – particularly during super busy times such as Black Friday. We're even seeing a rise in specialist urban micro fulfillment 3PL's that are providing sort after same-day delivery options.
Unfortunately, we are also continuing to see parcel costs rising which causes further implications. Major parcel carriers once again instituted a sizeable General Rate Increase for 2021 and continue to impose substantial peak season surcharges.
When it comes to your shipping strategy, you should have 3 things in mind: couriers, customers and competitors.
Couriers:
Your ecommerce and fulfilment requirements can be efficiently improved by using a choice of carrier specialists, rather than relying on a sole courier. Whilst you may be tempted to lock in otherwise variable rates and forge a loyal partnership with just one courier, if you are too quick to settle into a commercial agreement with a solo courier company, you will rob yourself of the power to negotiate and stunt your ability to offer infinitely better (cost saving!) options and wide-ranged services.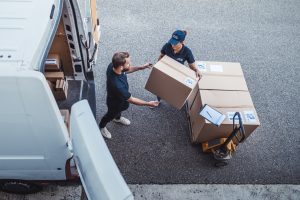 Leveraging different options as part of a multi-carrier shipping strategy can be useful for maintaining competitive advantage and providing a good experience. Having access to multiple shipping providers to choose from means you have a better chance of offering the faster shipping times, and quality customer experience for every order, all while keeping rates lower.
Customers
When it comes to customer service, it's important to remember that it doesn't end the moment the customer clicks 'place order'.
Your final shipping and logistics strategy considerations must include the needs of your customers and might look like:
Free standard delivery
Same- or next-day courier service
LTL freight
Your decisions will depend on the market data you have researched and what your target consumers want, but you might offer competitive local or expedited shipping rates or economical international shipping. If you have a brick-and-mortar storefront, you can offer free in-store pick-up.
If in doubt, conduct a consumer survey and ask your customers directly what services they value most in any brand.
Delivery shouldn't just be an added expense once a customer gets through to check-out. It should be a selling tool. Give your customer the choice from the get-go, and you'll make more sales. Striking the right balance between speed and affordability is also key.
Competitors:
Looking into what your competitors offering their customers can also help evolve your own offerings and stay ahead of competition. Are they offering real-time rates, or live rates for same-day, second-day delivery? Standard, flat fees, or free shipping? LTL Freight for large, heavy, bulk orders? What is working for them? Adopt those strategies or improve on them.
---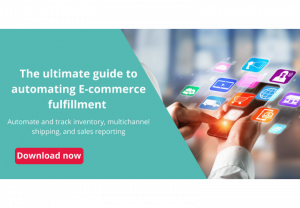 Want to find out more about automating fulfilment processes? Download Mintsoft's eBook: The Ultimate Guide to Automating Ecommerce Fulfilment.
Published 21/02/22