AI + AR Tech: Key to Retail Success
Picture this: your customers are going shopping at your brick-and-mortar store. They walk up and down the aisles and fill their cart with makeup, accessories, and other essentials when all of a sudden, they decide that they don't want to try anything on. It's too laborious of a task, so they just leave the cart in the middle of the store, filled with everything they wanted to buy, but didn't want to bother making sure it fit or actually looked good on them. The image is more jarring when you think of it that way, but that's essentially what happens to many people when they're online shopping. They abandon what's in their cart or don't bother adding anything to their cart at all, wondering what's the point if they can't try anything on?
As technologies in the beauty and fashion industries continue to evolve, the significance of digital transformation is more prominent than ever. With that transformation, we're seeing both artificial intelligence (AI) and augmented reality (AR) playing much larger roles. As for the keys to any retail brand's success, reducing cart abandonment is surely one of them.
What Is Cart Abandonment?
Cart abandonment occurs when someone visits a webpage and then leaves that page before completing a certain action. Typical cart abandonment includes someone who may have added items to their shopping cart but did not complete their purchase. When we see high cart abandonment, there's often a correlation between that high statistic and noticeable gaps in the shopping experience.
What Is Browse Abandonment?
In addition to cart abandonment, it is also important to take a look at browse abandonment. This happens when a consumer views category pages or products, but does not actually place any items in the basket and continues to leave without making a purchase. In cases of browse abandonment, building a strategy aroundconversion rate optimisation can assist with converting more browsers into buyers. The conversion rates will increase and, subsequently, the revenue will as well, helping to close the gap in the shopping experience.
How Can AI and AR Help?
Using AI and AR technology, such as virtual try-on, can significantly improve and streamline the shopping experience. With this technology, brands can see a reduction in cart abandonment, leading to higher conversion rates and increased revenue. If your brand isn't already using this technology, it's may be worth considering whether it might work for you. For those who want to shop from the comfort of their home to try on eyewear, accessories, jewelry or makeup without having to actually try on any physical product, virtual try-on can offer a useful option.
AI + AR Tech Creates Personalised Shopping Journey
With AI- and AR-powered virtual try-on features, customers receive a personalised shopping experience. When they're moving through their online shopping journey, they'll feel like they've been immersed into a lifelike and engaging shopping experience like no other. Buyer's remorse will be a thing of the past as consumers will be able to virtually try-on dozens of products and styles to find their perfect fit.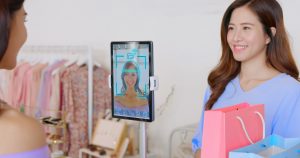 You'll have happier customers, and they're more likely to keep buying from your brand whenever they get a chance to try on new products. Your customers can virtually try on hundreds of different beauty and fashion items at their convenience. Integrating this technology into your brand's ecommerce journey helps consumers ensure that they're picking the right product, subsequently reducing cart abandonment on your site.
Increasing Purchasing Confidence With Virtual Try-On
It is quite evident that integrating a virtual try-on tool into your retail experience is a great way to increase purchasing confidence. Implementing AI and AR helps consumers visualise exactly what a certain product will look like when worn or applied. There are no more guessing games about whether that watch is too big or too small for one's wrist. There's no more uncertainty about whether that shade of red lipstick looked better in the light of the store than it does in broad daylight outside. Virtual try-on technology is becoming more precise and realistic by the day and is available across a wide range of product categories for beauty and fashion brands.
Increase Customer Satisfaction
In addition to virtual try-on helping your customers make more confident purchases, you can also help your customers feel good about what they're buying. It's no secret that AI and AR technology positively impacts your brand's sustainability efforts. Virtual try-on technology reduces product waste as customers are able to try on specific shades of foundation and makeup with no need for physical product samples. Additionally, when customers feel more confident about what they are buying, your business will have fewer returns as well as reduced carbon footprint associated with shipping handling. Such a sustainable approach leads to more packaging consciousness all around. Your customers will feel good about proceeding with their purchase instead of abandoning their cart if they know they are being eco-conscious when using AR and AI technology.
Although online shopping has been around for decades, we see just how much consumers' buying habits have changed since the introduction of virtual try-on technology. This technology has quickly emerged as a must-have in the beauty and fashion retail world, increasing consumer purchasing confidence, diminishing carbon footprint, and leading to reduced cart abandonment and higher sales. Virtual try-on has become essential to engage customers in the age of digital transformation and there's no denying how likely it is to remain an expectation for today's savvy shoppers.
---
Get expert advice from Perfect Corp. and stay ahead of the beauty tech trend. Start a free trial or contact us for details on beauty tech solutions trusted by over 400 brands globally.
Published 15/08/2022