By Linda Ersbacken, Marketing Manager UK at Voyado
2023 is just getting underway, and if 2022 was anything to go by, the only thing we can say with any certainty is that anything can happen. We've had a pandemic, war, a supply chain crisis, and strikes to contend with and, according to IMRG, we are in for another year of declining growth online, thanks to inflation.
But while all of that might be out of our control, how we respond to it is very much within our control. And the resilience, agility and creativity that retailers and brands have built up in recent times will set them in good stead to emerge from the next set of challenges with a healthier, growing business and a bigger, more engaged consumer base.
Trends experts at Voyado, developers of the leading customer experience platform for retailers, have consulted their crystal ball to tell us what they think this year has in store for the market and to give us their action plan for success.
While some of the tools we talk about in this report may be new for 2023, the principles are the same as they have always been: make sure your customers get the best possible experience of your brand.
In 2023, you can offer the best possible experience by harnessing the information available to you, such as in data and AI. A seamless brand experience will engage your customers and help you to retain them.
The Voyado trend guide is packed with tips on how to expand your customer base, and maximise the relationships you already have. Below are some of the key insights:
1. Make it count in every channel.
If you are not thinking of retail as one experience yet, you might want to start. With omnichannel experiences that combine the best of on- and off-line shopping, customers often expect rich support across all touchpoints.
For instance, in 2023, brands can deliver consistent information across channels. Your consumer might be reading a tag in-store or looking at the same product on one of your partner's websites, but they still want to know if the cotton in the shirt is organic or whether it should be washed at 30°C or 40°C.
Done well, a seamless brand or product experience across your website, stores, and partner channels will increase brand loyalty and, ultimately, revenue.
2. Prioritise your best customers.
Have you heard of clienteling? Whether or not you've heard of it, you should consider implementing it as a key part of your strategy for 2023. Let's take a 1950s department store analogy to explain: back then, the clients who came to the store and spent big got extra attention from the sales associates. These customers probably made up 20% of a customer base but contributed 80% to a brand's revenue.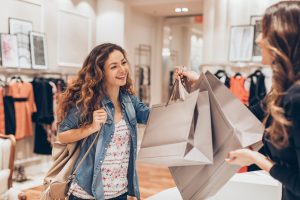 These big-spending VIP customers still exist and are still of enormous value to brands, but in 2023 their experience of a brand is enhanced by data and AI – and this is what is known as clienteling.
Online and in-store systems can be programmed to recommend, upsell, and provide empathy to this customer and their needs. So far, clienteling has mainly been the realm of more premium brands, but in 2023, it's going mainstream. Successful clienteling makes valued customers feel just that: valued. When done right, it can increase brand loyalty.
Clienteling may take many forms, such as automated after-care communication, like 'How did you like that cashmere pullover?' or it could be a simplified return process. However you reward their loyalty, it is all about building good relationships with high-value customers.
3. Social commerce expands, don't get left behind!
Social commerce continues to grow and, globally, the social commerce market is expected to grow to more than $2 trillion by 2025, according to McKinsey. Needless to say, in 2023 it is high time to sharpen your social game. You know your customer base, so you know their online habits.
You can carefully choose channels and influencers that will allow your brand to get in on the social selling transformation.
4. Let's get personal!
Personalisation is all about using the right channel to deliver the right message to the right audience at the right time. In 2023, most customers expect their experience of brands to be personalised,  so those brands that respond to this desire will likely see growth in 2023.
Also, with many customers heading straight to the search box on a website, you can ensure that the search function on your site provides personalised results. Using AI-driven site search is a powerful component in creating experiences tailored to individual visitors on your site.
---
For more detailed information and advice on these trends, please download your free report here.
Voyado is a customer experience cloud for e-commerce players and retailers, providing the no.1 solution for personalized and relevant experiences—across all channels. Get in touch if you're looking to create an action plan to really engage your customers and increase growth in 2023.
Published 19/01/2022