By Cameron Rooney, Account Director, Awin
The past 18 months have been a whirlwind for the entire retail landscape. The closing of non-essential retail changed consumer behaviour and accelerated online growth. Some brands over-performed and benefited during this time. Amazon, for example, experienced 220% growth, whereas other retailers struggled to offset lost store revenue.
Ahead of Black Friday, brands are feeling more pressure to accelerate and thrive during what will likely be the biggest shopping event of the year. And while this presents even more opportunities, it also exacerbates challenges endured within the sector.
In this article, we'll look through three issues your business is likely facing at the moment and the practical ways to resolve these before peak trading.
Diminishing returns
Retailers constantly strive to reduce returns to protect revenue and margins. In bricks and mortar settings, the customer has the opportunity to try on garments and touch physical product, all to ensure satisfaction will be present post-purchase, reducing the likelihood of a return.
This experience is harder to replicate for online purchases, where typically the customer is solely relying on product images and perhaps a video to make a decision. In IMRG's Returns Reviews 2020, it was found that 25% of shoppers are thought to be frequent returners, with younger consumers being the worst offenders.
Within the fashion space, brands often have size charts to assist users in buying the correct size. The issue here is that they can often be unreliable, bespoke to brands and, on occasion, miss out the sizing of certain product ranges.
One way to combat this is with advanced technology that recommends sizing based on the individual customer.
The affiliate channel affords plug-and-play access to partners that can offer this technology. Users can enter their sizing for personalised recommendations based on product data and shopping behaviours. More advanced solutions allow the consumer to scan their body to analyse their measurements, ensuring the highest level of accuracy with recommendations. With these solutions, return rate decreases – thereby allowing brands to safeguard any sales and revenue generated. It even helps increase the likelihood of a repeat purchase as it improves the overall customer experience.
Managing customer service
With stores closed during the pandemic and consumers pushed to shop online, customer service enquiries previously answered by in-store staff were now being directed to call centres and live chat agents. In fact, call centre volumes increased by 69% in 2020 compared to the year prior.
An efficient after-care process is vital in ensuring that customers make a repeat purchase and increase their lifetime value, but the typical setup is expensive in terms of both cost and resource.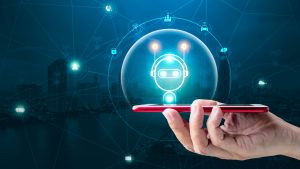 During Black Friday, retailers recruit a wave of temporary staff to help handle the increased pressure from customer queries. This pushes up the overall acquisition cost of a customer and increases the risk of a less-than-pleasant consumer experience as they're dealing with seasonal staff less familiar with the brand, its products, sizing and policies.
Having an automated chatbot live on site helps tackle this challenge. Users receive instant responses, resolving some of the queries that would have otherwise gone to call centre agents and lessening the burden on internal teams.
The main blocker for brands with implementing a chatbot is the in-house time and resource needed to build and test a new solution. Even large brands with increased manpower struggle to take on a project of this scale.
This is where the partner marketing landscape comes into play, offering retailers direct access to outsourced, white-label solutions. Some technology providers also use the live chat function to serve product recommendations to increase basket size and AOV. And the value of outsourcing these specialists is evident in the results – with these tech partners growing basked size, on average, by 15%. Given the average consumer spends £400 on Black Friday, capturing that increase can lead to a big impact on your bottom line.
Removing subjective forms of measurement
Time and time again retailers struggle to agree on a 'single source of truth' when it comes to attributing influence of a sale across partners, campaigns and channels. Attribution tracking and measurement varies widely, with some brands relying on standard options from the likes of Google Analytics and Adobe, others favouring paid attribution models.
It's crucial to agree on a single source of truth so that actionable insights can be implemented to grow performance and spot opportunities of potential. With many retailers using multiple independent data sources, a holistic and true form of measurement for all channels is critical.
Effective attribution solutions should include a number of key characteristics.  All consumer journeys should be tracked (including non-converting users) so insights and optimisations can be made to decrease bounce rate and increase conversion rate. All digital channels should be represented, too, allowing dots to be connected across all activity based on influence regardless of first or last click. In excellent cases, insight sessions should be offered as part of the attribution package, to allow for an initiation period into the new source of truth. And as a bonus, the attribution platform should offer an easy-to-use interface so insights can be pulled quickly and in real time.
Examining one real world attribution success story, a leading UK retailer wanted to identify affiliate partners driving true incremental value and free up budget to trial new channel activity. Using an effective attribution solution, the brand was able to realise a 5% increase in overall attributed revenue contributions, a 12% saving in overall spend within the affiliate channel, a 16% saving in CPA investments and a 19% increase in ROAS. Ahead of Black Friday, retailers should ensure they're also using a comprehensive attribution model to experience the same reductions across partner, campaign and channel activities based around accurate, robust data.
We previously wrote an article that explains more on how retailers can use multi-channel attribution to prove their marketing activity warrants its cost. Read more here.
Utilise partners for a successful peak
With Black Friday fast approaching and residual challenges and opportunities present from the settling pandemic, it's going to be interesting to see how the overall sector performs.
One thing is certain: any concerns individual retailers may have need to be addressed and actioned before peak trading to capitalise successfully on increased traffic during the period.
Affiliate and partner marketing offers a valuable opportunity to implement new technologies fast, increase conversion rate, grow digital revenue and deliver results.
By Cameron Rooney, Account Director, Awin