By Sophie Grender, Director of Business Development, Royal Mail Marketreach
Why? Mail will get your brand noticed
Mail sent by beauty, cosmetics and perfume retailers achieves an engagement rate of 100%.  Brands like Loreal, Lancome, Clarins, Neal's Yard, Aveeno, Jo Malone, Space NK, Lookfantastic, Avon and L'Occitane – to name just a few!
Engagement means opening, reading, sorting, putting aside to look at later, filing, putting on display or putting in the usual place.
With JICMAIL data households record the mail they receive and then track their interactions with it – recording both physical actions like opening and reading and commercial actions such as buying something or going online to find out more.
Using the data from the beauty brands sending mail we can see that mail drives 32% of those getting mail go on to take a commercial action.
Of those taking a commercial action:
30% either use a voucher or discount code, buy something or plan a large purchase. So imagine, if you mail 100 people 30 of them are likely to take some form of buying behaviour.  That's higher than the rest of the retail sector at 21% – so engagement is really high.
65% of those receiving beauty or cosmetics mail interact online either going to the sender's web site, going online generally, using a tablet or smartphone or look up their account details. That's compared to 20% for all of the retail sector.
35% of people getting mail from beauty and cosmetics brands discuss the mailing they received with someone else in their household, that's against 12% for the retail sector as a whole.
Research that Marketreach undertook using WARC's renowned marketing effectiveness database demonstrates that brands using mail as part of the marketing mix.
Campaigns are 43% more likely to report revenue uplifts when mail is in the mix.
Campaigns are 75% more likely to report profit uplifts when mail is in the mix.
Campaigns are 64% more likely to report market share uplifts when mail is in the mix.
Campaigns are 52% more likely to report ROI benefits when mail is in the mix.
Here's just some of the ways the magic of mail is being unleashed for beauty and cosmetics brands.
Programmatic mail, re-target customers with physical mail
Benefit Cosmetics noted that many customers were browsing online but not buying.
Customers – who had signed into their Benefit account online – were sent a triggered mail pack containing the eyebrow products they had browsed but not purchased.
A unique code was applied to the free delivery offer to track and monitor performance.
This personalised approach increased sales by 37%.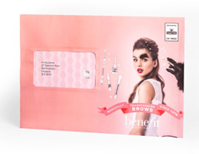 Source: Paperplanes
Sampling – get your brand into people's hands
Donna Karan worked with SoPost with the goal of driving trial of their Cashmere Mist fragrance  with a social sampling campaign.
Donna Karan created a Lead Ad on Facebook, inviting consumers in the target audience to request a Cashmere Mist sample. All consumers had to do was provide their shipping address in the form, and SoPost took care of the rest. While having control over the ad creative,  targeting and spend, the brand was able to utilize SoPost's Facebook Lead Ad integration for its data, fulfilment and analytical capabilities.
6,000 targeted consumers received a sample and 64% of consumers opted in to receive further marketing.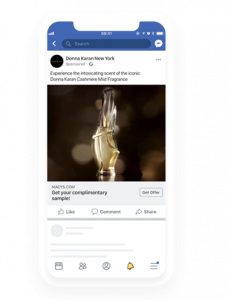 A bit more about the benefits of sampling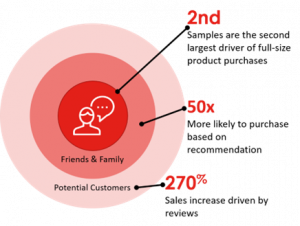 Source: Internet Retailing, McKinsey, Spiegel
Targeted sampling is a key tool for driving your overall marketing strategy, impacting brand awareness, building audiences and driving sales uplift.
Relevant interactions – reaching people in the right environment while limiting wastage from low quality engagements
Highly branded experiences – delivering a seamless on-brand consumer journey, both online and offline
Data quality – receiving high quality opt-ins and detailed campaign insights
Digital image recognition – take the reader straight to the product
Make your printed item interactive by adding digital image recognition.  Argos's Christmas catalogue last year deployed Phuzion's technology.  The reader scans a QR code and then the entire catalogue becomes "shoppable".  All the consumer has to do is point their phone camera at a product on any page and it will take them straight to the product check out page.  Making a seamless offline to online experience.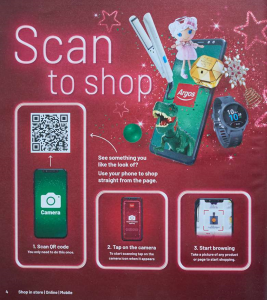 Mail needn't be slow or difficult to do
Gone are the days where mail used to have a 6-week lead time, it can now be married seamlessly to your automated marketing stack.  Think about how you do your emails, you have a wireframe and you simply populate the areas in your template with words and images appropriate for the individual or customer segment.  Mail can be produced in pretty much the same way!
Did you know?
Over half (51%) of companies worldwide have implemented some form of automation.*
Now you can automate the mailing process in the same way you can with digital – driving measurable results more holistically alongside other channels.
This approach enables you to engage with customers who are unresponsive or non-permissable, whilst driving down costs and boosting speed of activation.
Leverage your first-party data to trigger personalised communications in a single view SaaS environment with social, email, SMS & push.
*Source: Emailmonday "The Ultimate Marketing Automation stats" (2019)
Think about how you can really engage consumers in a really immersive way
Use physical mail to get your brand in consumers hands and offer them value added opportunity with a skin test.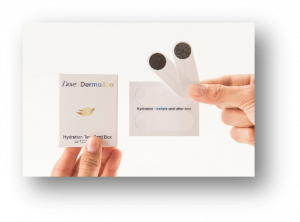 Get a UV Index detector into consumers hands, which correlates the level of ultraviolet radiation with the degree of risk for skin and eyes.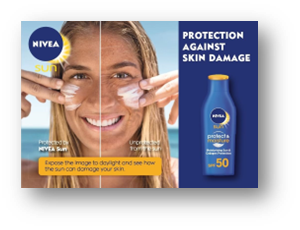 Re-incentivise those customers that visited grooming site but failed to convert. Achieved a 25% recovery on abandoned cart.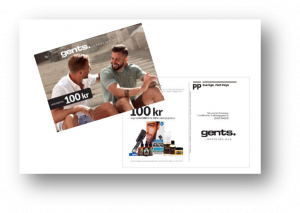 Gen Z added mail as a friend
And I know we all think mail is just for old people!  But it isn't the case, Gen Z love mail!
9 out of 10 Gen Z – or 88% – prefer brand experiences that combine physical and digital.
15 to 24 year olds are more likely to trust mail than any other age group.
And in the last 12 months 15-44 year olds have searched for more information after receiving mail.
Source:  CMO Council & Pitney Bowes, Royal Mail Marketreach, Trinity McQueen
Capturing consumers' attention
At the beginning of 2019 a Worldwide Business Research (WBR) survey of digital marketers found 80% were under more pressure to meet acquisition and revenue targets than the previous year.
This is difficult in a crowded market where consumers are being bombarded with messages 24/7. A rough estimate suggests consumers are exposed to around 5,000 ads a day, so how can a brand achieve cut-through and achieve differentiation with its message in this landscape?
Encouraging someone to try your product or service for the first time relies on creating a positive perception of your offering is increasingly the biggest issue for many brands, imagine how magical mail might help grab that all-important attention.
Combining the right media mix with an experience that adds value to the potential customer should lead to a much higher conversion rate.
Published 17/05/2022