By Jordan Westley, Ecommerce and OMS Expert at Mintsoft
Online shopping has exploded with an estimated strong growth of 20.5% in 2021, pushing ecommerce sales to £185.22 billion. This rapid growth has forced fulfillment operations into overdrive, especially during peak seasons.
In fact, data from Mintsoft shows that there was an average increase of 221% in orders received on Black Friday in comparison to other days throughout the year: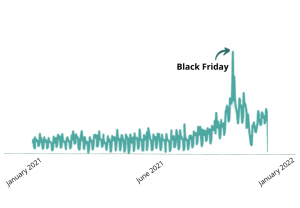 Peaks like this show why it is so important for online retailers to ensure fulfilment processes are as efficient as possible, and to be prepared for both expected and unexpected busy periods.
Now that peak season is over, it's worth ecommerce businesses reflecting on their fulfilment processes and seeing where improvements can be made. To ensure an optimal experience, multi-channel and online retailers must fulfill an ever-increasing order volume quickly, cost-effectively, and seamlessly. This is no easy task at a time when supply chains are stretched, the industry is experiencing staff shortages, and consumer expectations are heightened.
Mintsoft explores five actionable strategies to streamline order and fulfillment management, allowing you to save time and focus on other business functions.
1. Automate the order fulfilment process
Today, order management requires a multi-dimensional system that touches nearly every facet of how your business operates. As your business grows to hundreds or thousands of line items, automation could be considered. Having an automated order management process in place can reduce errors and help deliver a more responsive and consistent service by allowing you to take control of the full dispatch process from picking, packing, to shipping orders.
When implemented well, technology can help to deliver major time, efficiency, and money-saving returns on your investment.
2. Seamlessly manage inventory across all channels
The past 18 months have been a period of extremes. Whilst some companies have seen record ecommerce growth, order intake has likely plummeted or fluctuated for others.
With volatile and unpredicted demand likely for the foreseeable future, fulfillment operations must be ready to change course at short notice – ramping up or down as volume dictates.
Accurate forecasting, as well as having a clear picture of your inventory management, means you can better plan for what stock you'll need. This is important when it comes to optimising warehouse space, or avoid stock outs.
Fulfilment operations must also be prepared for high return volumes. To keep customers coming back, returns, exchanges, and refunds must be fast and hassle-free.
3. Increase shopping and systems integrations
To keep up with demand and competition, retailers must manage a growing number of sales channels – web stores, mobile apps, online marketplaces, and more. Providing seamless customer experiences across these channels can be challenging an often creates a lot of admin work.
Whether you sell on Etsy, Amazon, your website, or WooCommerce, with an order management system you can consolidate all your channels into a centralised place to keep an eye on what matters most – fulfilling customer orders on time. In addition, by connecting online stores and marketplaces into one account you could capture new audiences and sell wherever you are.
You can also manage other back-office functions like accounting and invoicing without ever leaving the platform. You'll be able to gain insight on accounts payable and receivable, as well as automate invoice and purchase order creation. Removing the need for manual data entry and the risk of errors.
4. Streamline logistics and shipping
In the past, retailers could get by partnering with just one shipping carrier to deliver their products. Today, however, carrier services and customer expectations are rapidly changing and in short; the shorter the delivery times, the better the consumer response.
Strategies such as "Express delivery" or "Next day delivery" are all popular options, but put pressure on your logistics teams – particularly during super busy times like peak seasons.
Leveraging different options as part of a multi-carrier shipping strategy can be useful to maintaining competitive advantage and providing a good experience.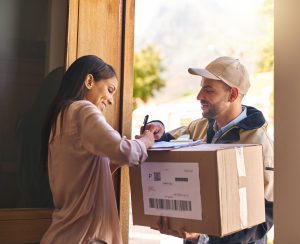 Leveraging different options as part of a multi-carrier shipping strategy can be useful to maintaining competitive advantage and providing a good experience.
5. Exceed customer expectations
Consumers are demanding; and they want to stay informed about every step of their purchase journey. In response, retailers are increasingly seeking to better manage inventory, handle order velocity, and meet fulfilment requirements. That's why things like live order tracking for customers, and dynamic pricing to quickly compete with competitors, might support you in managing expectations.
With automated order management technology, you can keep all the customer and order information in one place. This can be used to keep your customers fully informed through a complete view across multiple sales channels. Additionally, the shipping delivery, return of the order, or even cancellation details can be easily passed across.
In addition to tracking the entire order process internally, with the right OMS, you can also provide tracking information directly to your customers. By integrating your online stores with your chosen couriers, automatic updates, tracking numbers and despatch status are provided instantaneously, so your customers will always be kept in the loop about their order.An Order Management System allows users to automate processes, save time, and reduce costs, and is becoming a popular approach for many ecommerce businesses. Implementation of technology is a great way for online retailers to keep up with demand of ecommerce and multi-channel selling and scale their business as needed.
The right OMS for you is one that eliminates as many manual processes as possible from your order management process, saving time and effort. Determine which tasks you need to automate and invest in an OMS that can efficiently automate these features and more.
Published 03/02/22