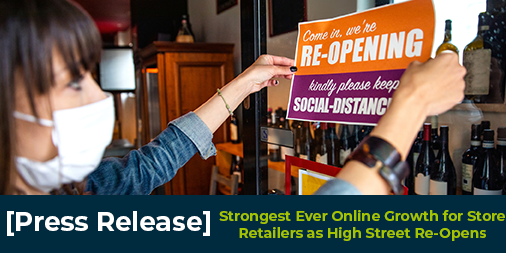 By Andy Mulcahy, Strategy and Insight Director, IMRG 
Online retail sales growth continued to soar by +41.3% Year-on-Year (YoY) during the week commencing June 14 (the week non-essential stores reopened)
Even as bricks & mortar stores began trading once more,  the amount spent that week was still +1.8% higher than the week previous
Despite the re-opening of their physical outlets, multichannel retail sales were up a record +71% YoY
LONDON UK – June 26, 2020: With COVID-19's long-term impact on consumer behaviour still unclear, the week that high street stores reopened saw online retail sales surge by +41.3% Year-on-Year (YoY) and +1.8% Week-on-Week (WoW). This marks the second strongest YoY growth since lockdown measures were put in place, according to the latest IMRG Capgemini Online Retail Index, which tracks the online sales performance of over 200 retailers.
Despite the reopening of their physical stores on June 15, multichannel retailers recorded online sales growth of +4% WoW. Compared to 2019, this represented a staggering increase of +71% YoY, which is the highest growth ever recorded for this group.
Taking a closer look at how the categories performed, the weekly results were primarily driven by strong sales in Home & Garden and Electricals – up +114.7% YoY and +99.9% YoY respectively. Health & Beauty sales also rose by +70.5% YoY, but were down by -2.5% WoW. With many Health & Beauty stores open during lockdown, however, this dip may not have been influenced by the high street reopening. Meanwhile, despite some steep discounting, online clothing sales plateaued at 0% growth WoW.
Lucy Gibbs, managing consultant – Retail Insight, Capgemini:
"Multichannel retailers saw online sales go from strength to strength despite a hypothesis that the ability to spend in re-opened stores would decrease the reliance on online shopping. As lockdown eases in an attempt to shift back towards the former pre-COVID-19 norm, the question remains which consumer behaviours and trends will return, and which will have changed for the long term? Have consumers shopping habits irreversibly swung towards Online shopping rather than Instore shopping?  Right now, it may be too early to unpick the patterns from consumers' pent up demand being released by Governments decision to relax these measures, alongside an increased drive for consumer spending; it appears moving retail front of mind is also potentially causing a halo effect in digital sales."
Andy Mulcahy, strategy and insight director, IMRG:
"At first glance, it might seem a bit odd that the multichannel retailers – those with stores – recorded the highest online growth ever (+71%) in the week that their stores reopened. It seems that all the fanfare around high streets opening again did spur an increase in sales activity, as people perhaps start to feel things are returning to something a bit closer to 'normal', but what that normal is going to be received some clarity. The bulk of that activity remains focused online, with shoppers visiting stores in much lower numbers but with a clearly focused intention to complete a purchase, as opposed to just browsing. It's early days and the 2m rule is set to be reduced to 1m+ soon, but a revealing indication of how shopper behaviour is now structured perhaps."
-ENDS-
About the 'IMRG Capgemini Online Retail Index'
The IMRG Capgemini Online Retail Index, which was started in April 2000, tracks 'online sales', which we define as 'transactions completed fully, including payment, via interactive channels' from any location, including in-store.
*Please note from January 2020 the Index no longer includes data from the travel sector
About IMRG
For over 20 years, IMRG (Interactive Media in Retail Group) has been the voice of e-retail in the UK. We are a membership community comprising businesses of all sizes – multichannel and pureplay, SME and multinational, and solution providers to industry. We support our members through a range of activities – including market tracking and insight, benchmarking and best practice sharing. Our indexes provide in-depth intelligence on online sales, mobile sales, delivery trends and over 40 additional KPIs. Our goal is to ensure our members have the information and resources they need to succeed in rapidly-evolving markets – both domestically and internationally. www.imrg.org
About Capgemini
A global leader in consulting, technology services and digital transformation, Capgemini is at the forefront of innovation to address the entire breadth of clients' opportunities in the evolving world of cloud, digital and platforms. Building on its strong 50-year heritage and deep industry-specific expertise, Capgemini enables organizations to realize their business ambitions through an array of services from strategy to operations. Capgemini is driven by the conviction that the business value of technology comes from and through people. It is a multicultural company of over 200,000 team members in more than 40 countries. The Group reported 2018 global revenues of EUR 13.2 billion.
Visit us at www.capgemini.com. People matter, results count.