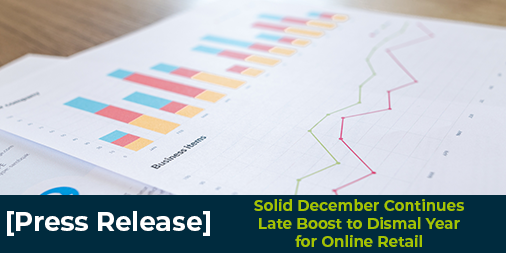 By Andy Mulcahy, Strategy and Insight Director, IMRG 
Following November's standout performance, online sales rose by +9.4% Year-on-Year in December
This growth brings 2019 to a more positive end after a difficult start – with H2 sales growth beating out H1 by +7.6% vs. +5.4%
Online only retailers performed significantly better than their multichannel counterparts, with sales growth of +10% vs. +5.9%
Despite the boost, online retail sales growth for the full year hit an all-time low, up +6.7% vs. +11.8% in 2018
Forecast for online sales growth in 2020: 7.8%
LONDON UK – January 22, 2020: UK online retail sales growth spiked unexpectedly to +9.4% Year-on-Year (YoY) in December, bringing 2019 to a positive close with a surprisingly strong Christmas trading period, according to the latest IMRG Capgemini Online Retail Index, which tracks the online sales performance of over 200 retailers.
Unlike the high street, online retail defied forecasts of poor turnouts during the festive season, with Q4 recording a growth rate of +11.3%. This was largely boosted by November's peak performance of +16.4% and the slightly later Black Friday sales period. Comparatively, December's sales growth fell sharply versus November, however, down -20.0% month-on-month (MoM), which was the greatest December decrease since Black Friday first really grabbed widespread attention in the UK in 2013.
Despite a good Q4, the final surge was not enough to save online retail from the lowest annual performance seen on record. Whilst the stronger year-end figures boosted growth in the second half to +7.6%, a series of disappointing results during the first 9 months of the year contributed to a discouraging growth rate of just +6.7%. With shopper confidence in the current climate low this failed to match the start-of-the-year forecast of +9%.
Breaking down the results, December's slightly more positive performance was mirrored in a number of categories, with health & beauty increasing by a huge +45.1% and clothing up +9.5%. There was also a small glimmer of hope for electrical retailers, who saw their sales rise to +11.9%, rebounding from their steady plummet throughout 2019, and marking their first positive growth since November 2018. In a year where the clamour over Black Friday was louder than ever, this was not the only result which bore its fingerprints – clothing's performance in December also masked a fall in Average Basket Value (ABV) of -17.6% YoY. Meanwhile overall ABV for 2019 was down -22.5% versus 2018.
Andy Mulcahy, strategy and insight director, IMRG: "If online retail in 2018 was characterised by strong growth in the first half and weak in the second, 2019 is the year when Black Friday quite possibly papered over retail's cracks. Demand was low earlier in the year, particularly over summer, and growth for the year was running at just +4.9% up to October. A solid December, albeit against weak Year-on-Year growth in 2018, off the back of an explosive November have made the full-year result look much better at +6.7%; lower than our forecast of +9%, but nowhere near as bad as it was looking a few months' back.
"So, where does that leave retail heading into 2020? The final quarter has been a lot more positive for online sales growth than it has looked for a long time, plus we've had the election and Brexit should actually, finally, become something. There are also major sporting events galore in 2020 which could stimulate retail spending. Have we turned a corner then, or is it the case that the fundamental problems affecting retail are still yet to be solved in any meaningful way? Time will tell."
Lucy Gibbs, managing consultant – Retail Insight, Capgemini: "The welcome boost in spend over the festive period after a somewhat subdued year was in fact a mixed story online. There was also a notably stronger performance by pure online only retailers in comparison to the more traditional players, who failed to seize the growth when they perhaps need it most, leading to a total growth of +4.8% this year against last year compared to a more healthy +10.0% for online only.
Budget retailers also enjoyed a good year, taking advantage as consumers hunted out the best deals and outperforming both mid-tier and premium in the final quarter, though average basket value did fall 25% over November and December as a result. There is some hope however, as consumer confidence lifts a little, up +3 points in December; could the final quarter growth indicate a more favourable climate as we move into 2020?"
– ENDS –
About the 'IMRG Capgemini Online Retail Index' 
The IMRG Capgemini Online Retail Index, which was started in April 2000, tracks 'online sales', which we define as 'transactions completed fully, including payment, via interactive channels' from any location, including in-store.
About the 'IMRG Capgemini Online Retail Index' 
The IMRG Capgemini Digital Dashboard is a new sophisticated solution providing access to interactive market insight and benchmarking data. It has been developed in partnership with IMRG and Capgemini to report online retail market performance figures for the UK at a detailed level never previously available.
The Dashboard collates the sales performance from over 200 retailers' website sales figures and allows the user to filter the data and tailor the benchmark to the most relevant comparisons. It enables us, at the click of a button, to break down performance by:
•    25 product categories (now up from 14 categories)
•    Market tier (budget, mid-market, premium)
•    Online turnover (small, medium, large)
•    Multichannel and online-only
About IMRG 
For over 20 years, IMRG (Interactive Media in Retail Group) has been the voice of e-retail in the UK. We are a membership community comprising businesses of all sizes – multichannel and pureplay, SME and multinational, and solution providers to industry. We support our members through a range of activities – including market tracking and insight, benchmarking and best practice sharing.
Our indexes provide in-depth intelligence on online sales, mobile sales, delivery trends and over 40 additional KPIs. Our goal is to ensure our members have the information and resources they need to succeed in rapidly-evolving markets – both domestically and internationally.
About Capgemini 
A global leader in consulting, technology services and digital transformation, Capgemini is at the forefront of innovation to address the entire breadth of clients' opportunities in the evolving world of cloud, digital and platforms. Building on its strong 50-year heritage and deep industry-specific expertise, Capgemini enables organizations to realize their business ambitions through an array of services from strategy to operations. Capgemini is driven by the conviction that the business value of technology comes from and through people. It is a multicultural company of over 200,000 team members in more than 40 countries. The Group reported 2018 global revenues of EUR 13.2 billion.
Visit us at www.capgemini.com. People matter, results count.