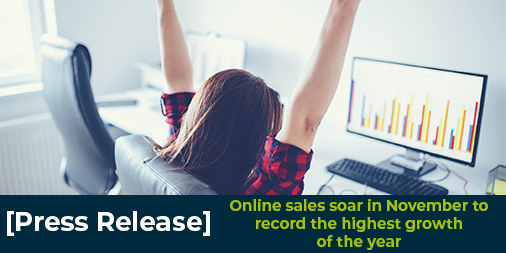 By Andy Mulcahy, Strategy and Insight Director, IMRG 
Online sales rose by +16.4% Year-on-Year in November, which is the highest growth since April 2018
The strong result far exceeded the 3-month, 6-month, and 12-month rolling averages (+10.7%, +7.7%, +6.1% respectively)
It also marked a far higher Month-on-Month increase from October (+54%) than usual
Online only retailers benefited most from the Black Friday and Cyber Monday surge – with sales up +24.7%
Sales through M-commerce recorded their lowest growth rate ever – dropping to -8.5%
LONDON UK – December 17, 2019: Despite forecasts of poor turnouts and a number of retailer boycotts, November's annual discount days set online sales soaring last month, with a growth rate of +16.4% Year-on-Year (YoY), according to the latest IMRG Capgemini Online Retail Index, which tracks the online sales performance of over 200 retailers. This was not only the highest growth of the year to date, but it was also over double the growth achieved last November (+8%), and a staggering +54% higher Month-on-Month (MoM) than October's results. Comparatively, October-November growth rates typically reach around +40%.
Further category analysis paints a similarly positive picture, with most categories recording double-digital growth. Clothing saw its highest sales increase (+19.3%) since November 2016, while health & beauty and beer, wine and spirits reported particularly strong growth of +43.9% and +37.3% respectively. After a year of dismal results, electricals also seems to be fighting back – reducing its previous double-digit sales plummet to just -2.58%, which is the best result of 2019 to date.
From a channel perspective, it was online only retailers that seemed to benefit most from Black Friday and Cyber Monday, with growth of +24.7% versus +9.2% for multichannel retailers. Both channels also saw increased conversion rates (+6.9% overall vs. +6.2% in 2019), though the Average Basket Value (ABV) dipped by -11%. Meanwhile M-commerce had a less stellar month – although smartphone growth was good (+24.4%), the largest ever negative growth for tablets (-34.8%) brought the overall growth figure to -8.5% (in itself the lowest growth rate ever recorded by the Index).
Lucy Gibbs, Senior Consultant, Capgemini, said: "The jump in November sales this year was well beyond expectations after an otherwise difficult year, could this be what retailers, or rather, consumers were waiting for? The highest growth this year has been seen in the discounting periods; a sign that when wider consumer confidence is low then the predictable sale events in the retail calendar are counted on for stretching wallet spend.
Online only retailers were the biggest winners where higher conversion and larger decreases in ABV suggest deeper discounting strategies than the multichannel players. Will having so much increased activity concentrated in the black November events after tricky year provide the boost needed or add to the challenge of maintaining profit margins this year?"
Andy Mulcahy, strategy and insight director, IMRG, said: "After a year of very weak demand online, the November result is little short of exceptional. The uplift in revenue during Black Friday week was very strong at +11.7%, but actually growth was sustained across the whole month. There was a trend for retailers starting their campaigns earlier in the month this year and shoppers seemed to respond readily.
However – while this is undoubtedly positive news, it would seem odd if retailers suddenly experienced consistently strong Christmas trading after such a poor year. Since November captured a high share of sales volumes, will shoppers have anything left to buy in December? Early anecdotal evidence suggests December trading was very subdued in the first week – how is it going to balance out overall?"
– ENDS –
About the 'IMRG Capgemini Online Retail Index'
The IMRG Capgemini Online Retail Index, which was started in April 2000, tracks 'online sales', which we define as 'transactions completed fully, including payment, via interactive channels' from any location, including in-store.
About IMRG
For over 20 years, IMRG (Interactive Media in Retail Group) has been the voice of e-retail in the UK. We are a membership community comprising businesses of all sizes – multichannel and pureplay, SME and multinational, and solution providers to industry. We support our members through a range of activities – including market tracking and insight, benchmarking and best practice sharing.
Our indexes provide in-depth intelligence on online sales, mobile sales, delivery trends and over 40 additional KPIs. Our goal is to ensure our members have the information and resources they need to succeed in rapidly-evolving markets – both domestically and internationally.
About Capgemini
A global leader in consulting, technology services and digital transformation, Capgemini is at the forefront of innovation to address the entire breadth of clients' opportunities in the evolving world of cloud, digital and platforms. Building on its strong 50-year heritage and deep industry-specific expertise, Capgemini enables organizations to realize their business ambitions through an array of services from strategy to operations. Capgemini is driven by the conviction that the business value of technology comes from and through people. It is a multicultural company of over 200,000 team members in more than 40 countries. The Group reported 2018 global revenues of EUR 13.2 billion.
Visit us at www.capgemini.com. People matter, results count.