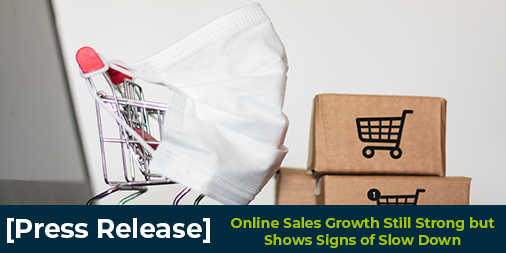 By Andy Mulcahy, Strategy and Insight Director, IMRG 
Online sales growth was up + 43.5% Year-on-Year (YoY) in August, however sales were down again -4.1% Month-on-Month (MoM)
This YoY increase was well above the 12- and 6-month rolling averages of +22.6% and +38.12% respectively, but fell slightly below the 3-month average of +49.95%
Last month saw multichannel retailers continue to outperform online only for the fifth month running, recording a rise of +70.5% vs. +11.4%
Footwear remained the only category that has failed to record positive growth since lockdown, with a YoY decline of -10.7%
LONDON UK – September 11, 2020: Online sales growth continued to slowly slide in August, falling against July by -4.1%. While overall sales remained strong – growth was up +43.5% Year-on-Year (YoY) – this result dipped below the rolling 3-month average of +49.95%. That's according to the latest IMRG Capgemini Online Retail Index, which tracks the online sales performance of over 200 retailers.
As the Government's 'Eat Out to Help Out' initiative drove people back to the high street, the gap between retailer type continued to widen. In spite of rising footfalls on high streets, multichannel retailers once again outshone their online only counterparts – recording growth of +70.5% YoY compared to +11.4%.
Elsewhere the relaxation of lockdown and hot weather were reflected in sales at a category level. As in-person social activities and restaurant visits increased, clothing sales were up again by +6.8% YoY compared to last month's more modest rise of +0.6%. During a month of sporadic heatwaves, gardening sales also boomed by +286.1%. Meanwhile, footwear sales continued to spiral, declining by -10.7%.
Lucy Gibbs, managing consultant – Retail Insight, Capgemini: "As summer comes to a close, we have seen a slowdown in the growth online and we expect to see some shifts in the category spending as we move into autumn. In particular, clothing seems to be returning to positive growth, boosted by the return to school and offices as well as further mobility, however this may not be enough to capture the total lost sales during the summer pandemic period. Footwear, for example, is the only category to remain in negative growth since March, impacted by events and reduced wear throughout lockdown.
"The disrupted seasonal trends, and higher proportion of spend online has had a disproportionate impact on retailers without diverse product ranges or a strong online offering, and challenges in planning and supply chain. Retailers will need to remain reactive and innovative to prepare for the upcoming months; Government incentives have worked well to ignite spending on the high street, so with low consumer confidence and ongoing economic uncertainty, the discounting period around Black Friday could prove to be significant to regain sales. As many consumers have now shifted online we can also expect a significant growth in e-commerce during the festive period."
Andy Mulcahy, strategy and insight director, IMRG: "Now that we are coming out of summer, all attention is inevitably focused on the Black Friday and Christmas period. The big question is just how big Black Friday will be online this year. With most types of business open again, and people being actively encouraged by the Government to return to their offices, are we starting to see some signs of online and offline sales balancing out again?
"The evidence has a big caveat as, while it's true that the August rate of growth was a bit lower than it had been over the past three months, it doesn't necessarily mean online growth is slowing down. The Eat Out to Help Out scheme ran through August and had a big take-up, bringing people back to the high street. Now that is finished, will they stay there, or has behaviour evolved more fundamentally than that?"
-ENDS-
Disclaimer
The IMRG Capgemini Sales Index was adjusted in August 2020 to reflect updated historic figures from our retail panel. Previously reported results have been recalibrated to provide a more accurate view of the market index.
About the 'IMRG Capgemini Online Retail Index'
The IMRG Capgemini Online Retail Index, which was started in April 2000, tracks 'online sales', which we define as 'transactions completed fully, including payment, via interactive channels' from any location, including in-store.
*Please note from January 2020 the Index no longer includes data from the travel sector
About IMRG
For over 20 years, IMRG (Interactive Media in Retail Group) has been the voice of e-retail in the UK. We are a membership community comprising businesses of all sizes – multichannel and pureplay, SME and multinational, and solution providers to industry. We support our members through a range of activities – including market tracking and insight, benchmarking and best practice sharing. Our indexes provide in-depth intelligence on online sales, mobile sales, delivery trends and over 40 additional KPIs. Our goal is to ensure our members have the information and resources they need to succeed in rapidly-evolving markets – both domestically and internationally. www.imrg.org
About Capgemini
Capgemini is a global leader in consulting, digital transformation, technology and engineering services. The Group is at the forefront of innovation to address the entire breadth of clients' opportunities in the evolving world of cloud, digital and platforms. Building on its strong 50-year+ heritage and deep industry-specific expertise, Capgemini enables organizations to realize their business ambitions through an array of services from strategy to operations. Capgemini is driven by the conviction that the business value of technology comes from and through people. Today, it is a multicultural company of 270,000 team members in almost 50 countries. With Altran, the Group reported 2019 combined revenues of €17billion.
Visit us at www.capgemini.com. People matter, results count.