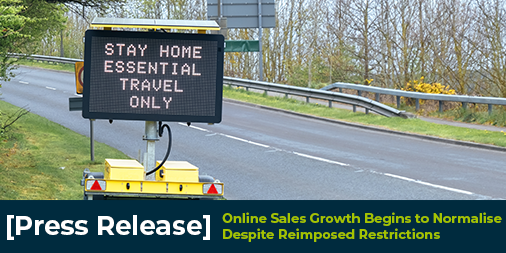 By Andy Mulcahy, Strategy and Insight Director, IMRG 
Online retail sales growth in September was up +42% Year-on-Year (YoY) and +5.35% Month-on-Month (MoM)
This was in line with September 2019's MoM growth of +6.5%
As the early summer surge evens out, the YoY increase dipped slightly below the 6- and 3-month averages of +44.87% and 43.77% respectively but was still well above the 12-month average of +25.75
Following months of poor sales, menswear was up +20.5% but footwear fared poorly at -6.9%
Multichannel retailers continued to significantly outperform their online only counterparts, achieving growth of +62.7% vs. +19.6%
LONDON UK – October 15, 2020: As lockdown restrictions were reintroduced throughout September, online sales returned to patterns that would be expected this time of year. In comparison to the spending surges seen during phase 1 of the lockdown, last month recorded steady seasonal online sales growth of +42% Year-on-Year (YoY) – below the peak growth of 51% in June, but still very strong. That's according to the latest IMRG Capgemini Online Retail Index, which tracks the online sales performance of over 200 retailers.
At a category level, health & beauty and home & garden continued to perform well, with sales growing by +78.5% and +76.3% respectfully. Following the release of the PS5 and Xbox Series X games consoles, electrical sales were also up a staggering +101.8%. Meanwhile perhaps in a nod to the seasonal change, overall clothing sales were up +7.9%. This included encouraging growth for menswear sales, which were up +20.5% YoY against a Year-To-Date average of -10.3%, but further disappointment for footwear sales (-6.9%).
Echoing sales figures from the last 6 months, multichannel retailers continued to strongly outperform their online only counterparts, recording growth of +62.7% versus +19.6%.
Andy Mulcahy, strategy and insight director, IMRG: "September marked a new phase in the COVID outbreak as, after three months of easing restrictions and encouraging work / life / social interactions to resume, restrictions started to be reimposed. The situation is somewhat different to how it was in March though, and it didn't trigger an upsurge in online sales. Growth is still very strong, but the weekly and monthly trend lines are fluctuating in line with what we'd expect to see this time of year.
"From here, that could change. October has seen much stricter measures come into force across the UK plus the new three tier system. With rising infection rates and potential for more restrictions, the attractiveness of physical retail may decline further. This makes Super Saturday – the busiest day leading into Christmas Week – problematic, as that volume will have to be diverted away from places like Oxford Street to elsewhere; most likely online, with serious proximity to Christmas, so retailers and carriers will be hoping people spread their spending out to avoid that bottleneck." 
Lucy Gibbs, managing consultant – Retail Insight, Capgemini: "The hardest hit sectors during lockdown such as clothing have continued to pick up throughout September (+7.9%), boosted by increased activity and a turn in the weather. However, with increasing social distancing measures combined with the lack of festive events appearing in the calendar, we are likely to see further disruption to seasonal patterns as we head into winter.
"Higher frequency purchases are also indicating new consumer behaviour patterns; basket values have dropped 10% in September, whilst year on year demand has remained over 40% growth, suggesting that the convenience of online channels is increasingly relied upon for day to day purchases. This leaves an interesting landscape ahead of Christmas, where the prospect of double-digit growth on top of peak sales days could cause retailers to seek ways to ease the pressure on delivery channels.  One way to address this could be to spread demand, with some stores notably bringing Christmas ranges forward, and the delayed Amazon prime day lines up to kick start spending in the 'golden quarter'.  It could pay to get ahead of the game this year."
-ENDS-
Disclaimer
The IMRG Capgemini Sales Index was adjusted in August 2020 to reflect updated historic figures from our retail panel. Previously reported results have been recalibrated to provide a more accurate view of the market index.
About the 'IMRG Capgemini Online Retail Index'
The IMRG Capgemini Online Retail Index, which was started in April 2000, tracks 'online sales', which we define as 'transactions completed fully, including payment, via interactive channels' from any location, including in-store.
*Please note from January 2020 the Index no longer includes data from the travel sector
About IMRG
For over 20 years, IMRG (Interactive Media in Retail Group) has been the voice of e-retail in the UK. We are a membership community comprising businesses of all sizes – multichannel and pureplay, SME and multinational, and solution providers to industry. We support our members through a range of activities – including market tracking and insight, benchmarking and best practice sharing. Our indexes provide in-depth intelligence on online sales, mobile sales, delivery trends and over 40 additional KPIs. Our goal is to ensure our members have the information and resources they need to succeed in rapidly-evolving markets – both domestically and internationally.
About Capgemini
Capgemini is a global leader in consulting, digital transformation, technology and engineering services. The Group is at the forefront of innovation to address the entire breadth of clients' opportunities in the evolving world of cloud, digital and platforms. Building on its strong 50-year+ heritage and deep industry-specific expertise, Capgemini enables organizations to realize their business ambitions through an array of services from strategy to operations. Capgemini is driven by the conviction that the business value of technology comes from and through people. Today, it is a multicultural company of 270,000 team members in almost 50 countries. With Altran, the Group reported 2019 combined revenues of €17billion.
Visit us at www.capgemini.com. People matter, results count.