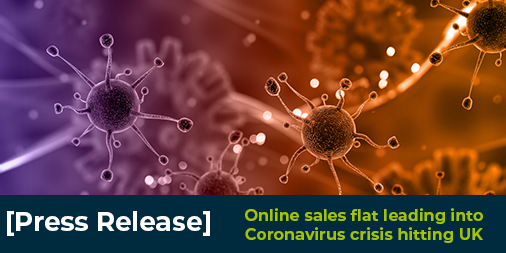 By Andy Mulcahy, Strategy and Insight Director, IMRG 
In the month before COVID-19 really hit, online retail sales growth was -0.4% Year-on-Year
Despite the surprising upturn in late 2019, February's result continues the weak growth seen in January 2020
Performance falls well below the 3, 6 and 12 month rolling averages of +4.0%, +7.5% and +5.3% respectively.
Month-on-Month growth was down -0.7% – which falls in line with last year's figures but comes from a much lower base in 2020
The growing disparity between retailer type intensified, with multichannel sales down -8.2% while online only was up +12.5%
LONDON UK – March 19, 2020: Following a very slow start to the year, the UK's string of winter storms failed to stimulate online demand as online sales growth for the month limped in at -0.4% Year-on-Year (YoY). That's according to the latest IMRG Capgemini Online Retail Index, which tracks the online sales performance of over 200 retailers.* Continuing January's equally weak performance (-0.4%), the result falls well below the 3, 6 and 12-month rolling averages of +4.0%, +7.5% and +5.3%.
Breaking down the results further, the picture was particularly bleak for multichannel retailers whose sales growth was down -8.2% versus their online only counterparts (+12.5%). These polarised figures point to an emerging trend in the diverging fortunes of the two different retailer types, which could now be hugely exacerbated by the Coronavirus crisis.
Delving into the categories, the wet weather certainly took its toll on gardening sales, which were down -22% from last year's unexpectedly warm February. Meanwhile footwear was the second lowest performing category, with sales of -7.6%.
On the slightly brighter side, clothing continued to be one of the best performers of the year to date, though its February growth of +13.9% is less impressive when viewed against very weak growth last year (+0.9%). Despite only achieving flat growth of -0.7%, electricals sales also represented a significant improvement on recent trends, with this month's figure well above the -14.0% recorded last February.
Andy Mulcahy, strategy and insight director, IMRG: "Over the past few years, retail has become an industry beset with problems – even before the Coronavirus crisis hit the UK, which has massively shifted shopper behaviour. We were already seeing a division opening up between the growth fortunes of multichannel and online-only retailers, and this might be a trend that becomes increasingly profound given the current climate.
"We can see this in groceries – the move over to purchasing them online has been steady but limited by capacity to fulfil. Now that stockpiling has driven demand to unprecedented levels, we may see a situation where shopper behaviour shifts over to that as a preferred channel very rapidly. Equally for general merchandise – with so little clarity over how long the current crisis will go on, people might have little choice but to switch all purchasing online."
Lucy Gibbs, managing consultant – Retail Insight, Capgemini: "February saw the UK hit by one storm after another, however this did little to increase online spending as retailers continue to face a multitude of challenging factors and like-for-like performance dropped towards the end of the month amid rising attention on Coronavirus. 
Although the UK's online market is well established, we can already see supermarkets struggling to satisfy peaks in demand. We can expect online sales in other categories to grow too, especially for products that can help self-isolated customers such as home and garden categories. The months ahead could prove an opportunity for online to help serve customer needs, and potentially part of a larger shift to digital."
– ENDS –
About the 'IMRG Capgemini Online Retail Index'
The IMRG Capgemini Online Retail Index, which was started in April 2000, tracks 'online sales', which we define as 'transactions completed fully, including payment, via interactive channels' from any location, including in-store.
*Please note from January 2020 the Index no longer includes data from the travel sector
About IMRG
For over 20 years, IMRG (Interactive Media in Retail Group) has been the voice of e-retail in the UK. We are a membership community comprising businesses of all sizes – multichannel and pureplay, SME and multinational, and solution providers to industry. We support our members through a range of activities – including market tracking and insight, benchmarking and best practice sharing. Our indexes provide in-depth intelligence on online sales, mobile sales, delivery trends and over 40 additional KPIs. Our goal is to ensure our members have the information and resources they need to succeed in rapidly-evolving markets – both domestically and internationally. www.imrg.org
About Capgemini
A global leader in consulting, technology services and digital transformation, Capgemini is at the forefront of innovation to address the entire breadth of clients' opportunities in the evolving world of cloud, digital and platforms. Building on its strong 50-year heritage and deep industry-specific expertise, Capgemini enables organizations to realize their business ambitions through an array of services from strategy to operations. Capgemini is driven by the conviction that the business value of technology comes from and through people. It is a multicultural company of over 200,000 team members in more than 40 countries. The Group reported 2018 global revenues of EUR 13.2 billion.
Visit us at www.capgemini.com. People matter, results count.