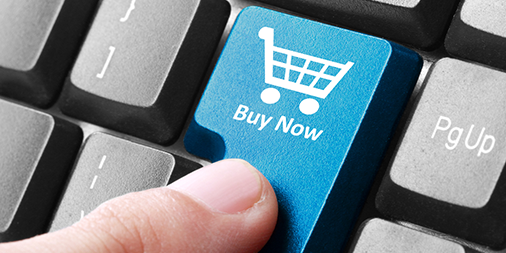 Though not quite at January's record-breaking levels, online retail sales in February continued to show strong growth, climbing by +69.5% Year-on-Year (YoY)
This growth was still well and above the rolling averages of 3, 6 and 12 months (+57.1% +42.5% and +42.7%, YoY respectively)
All sectors reported positive results, with electricals, home & garden and beauty leading the pack
Despite our more fixed lives, mobile sales also rocketed up last month by +170% YoY
LONDON UK – 09 March 2021: With the strict lockdown still in place, online retail sales held strong in February, rising by +69.5% Year-on-Year (YoY). That's according to the latest IMRG Capgemini Online Retail Index, which tracks the online sales performance of over 200 retailers. Though falling a little short of January's recording-breaking +74% growth, February's figures were still significantly higher than the rolling averages of 3, 6 and 12 months (+57.1% +42.5% and +42.7%, YoY respectively).
Breaking the results down further, the positive picture was reflected across all categories, but there were some stand out performers. As the UK Government announced a roadmap out of lockdown and consumers started preparing for greater outdoor freedoms, both beer, wine & spirits and home & garden saw huge spikes in sales, recording monthly gains of +64.7% and +131% YoY.
After a tough 2020, clothing sales also continued last month's upward trend (+21.9%) and even footwear – the subcategory worst hit by the pandemic – reported growth of +8%. In fact, in the week of the announcement, this rose to +46.7% as consumers looked forward to stepping out of their slippers and back into 'normality'.
Elsewhere, electricals maintained the same staggering levels of growth we've seen for the past 12 months – up +158.5% YoY as it would appear people still have devices left to buy. Sticking to the device theme, even tablets, which have recorded declining use as a sales channel in recent years, showed strong growth last month (+48.4% YoY).
Lucy Gibbs, managing consultant – Retail Insight, Capgemini: "February growth remains strong (+69.5%) as we near a full year since the pandemic closed the high street for the first time. Online growth has been highest in this third national lockdown, however as we approach the year-on-year comparisons against the swings of 2020 we are likely to see some interesting metrics play out over the next few months.
"For example, electricals and home & garden, up 158% and 131% in February, have seen unprecedented growth figures since the pandemic began. This will mean that even if there is continued strong demand in these categories, we are likely to see swings to the negative compared to last year. 
"On the positive side of things, pent up demand will benefit sectors such as clothing where spending has been low throughout the pandemic. Increased reasons to refresh wardrobes and social events making their way back on to the calendar will also provide a much-needed boost and hopefully a strong performance for 2021. We are already starting to see revival in this category (up 21.9% in February); the change in season and the lockdown easing roadmap has put a spring in the step for clothing and footwear sales this month."
Andy Mulcahy, strategy and insight director, IMRG: "It's become common for people to look for the 'new normal' across industries, but it might be too early to be focusing on that. Instead, it is more useful to think of a 'current normal' as things are still so unpredictable and susceptible to sudden shifts in customer behaviour. For example – even though there is a roadmap out of lockdown and the vaccination programme is going well, it's difficult to anticipate exactly how people will behave as restrictions are eased.
"The 'current normal' in retail is for sustained pandemic-high growth rates across almost every product category. During lockdown one (22 Mar-15 Jun), the average rate of growth was +47%; for lockdown three (27 Dec-now) it is +74%. That rate of growth cannot be sustained once we get into April, but the extent to which spend will be diverted strongly away to 'experience' options such as travel, going out, live events etc. is a very tough question to answer."
-ENDS-
Disclaimer
The IMRG Capgemini Sales Index was adjusted in August 2020 to reflect updated historic figures from our retail panel. Previously reported results have been recalibrated to provide a more accurate view of the market index.
About the 'IMRG Capgemini Online Retail Index'
The IMRG Capgemini Online Retail Index, which was started in April 2000, tracks 'online sales', which we define as 'transactions completed fully, including payment, via interactive channels' from any location, including in-store.
*Please note from January 2020 the Index no longer includes data from the travel sector
About IMRG
For over 20 years, IMRG (Interactive Media in Retail Group) has been the voice of e-retail in the UK. We are a membership community comprising businesses of all sizes – multichannel and pureplay, SME and multinational, and solution providers to industry. We support our members through a range of activities – including market tracking and insight, benchmarking and best practice sharing. Our indexes provide in-depth intelligence on online sales, mobile sales, delivery trends and over 40 additional KPIs. Our goal is to ensure our members have the information and resources they need to succeed in rapidly-evolving markets – both domestically and internationally. www.imrg.org
About Capgemini
Capgemini is a global leader in partnering with companies to transform and manage their business by harnessing the power of technology. The Group is guided everyday by its purpose of unleashing human energy through technology for an inclusive and sustainable future. It is a responsible and diverse organization of 270,000 team members in nearly 50 countries. With its strong 50 year heritage and deep industry expertise, Capgemini is trusted by its clients to address the entire breadth of their business needs, from strategy and design to operations, fueled by the fast evolving and innovative world of cloud, data, AI, connectivity, software, digital engineering and platforms. The Group reported in 2020 global revenues of €16 billion.
Get the Future You Want | www.capgemini.com