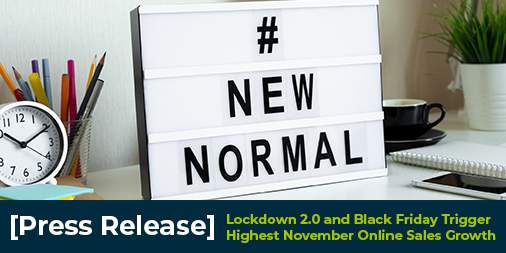 By Andy Mulcahy, Strategy and Insight Director, IMRG 
Online retail sales growth in November soared to +39% Year-on-Year (YoY)
This was building on +20% growth in November 2019, a year-high-rate for 2019
Boosted by early discounts in the Black Friday build up, online sales were also up +58% Month-on-Month (MoM) from October
Category winners included garden and homeware & decorations
Mobile commerce sales were up a staggering +110% (YoY), compared to -9 in 2019
LONDON UK – 15 December 2020: As the UK plunged into a second lockdown, online retail sales in November rocketed back up to +39% Year-on-Year (YoY), according to the latest IMRG Capgemini Online Retail Index, which tracks the online sales performance of over 200 retailers. With high street stores closed and Black Friday discounts running throughout the month, this represented a +58% growth from October as well as an increase on the 3-month rolling average of 34% (though not on the 6- and 12- month averages of 45% and 40% respectively).
From a category perspective, and despite a successful year to date, Black Friday still drove significant sales in electricals, which were up +72.8% (YoY). As people continued to spend time outside due to lockdown restrictions, garden sales were also up a surprising +127% (YoY). Perhaps in a nod to the upcoming festive season, another high performing category was homeware & decorations, which was up +154% (YoY). After October's spike in sales, however, footwear fell once more to -9.1% (YoY) and was the only category to see declining growth.
Other notable spending trends in November included a spike in mobile commerce sales, up +110% (YoY), and evidence of consumers buying in bulk, with the Average Basket Value (ABV) totalling £98 – that's compared to £75 in November 2019.
Lucy Gibbs, Managing Consultant – Retail Insight, Capgemini: "The first few weeks in November were particularly strong, as retailers started their discounts significantly earlier than previous years. The second lockdown meant that high street doors were closed once again across England, and the focus online meant that retailers needed to spread the demand across the period to cope with peak sales.
"This year has seen a shift in consumer demand in product categories; electricals and home continued to outperform in November, boosted by entertainment releases and the outlook of winter nights ahead. Increased spending over the holiday period may also provide relief for some retailers from customers who have been able to save throughout lockdowns; we have seen that the basket value was 30% higher this November than in 2019. As we move into December, online and operations will be a differential in the run up to Christmas and although spending patterns remain unpredictable for the foreseeable future, there is no doubt that the significance of digital-led shopping experiences and habits are here to stay."
Andy Mulcahy, Strategy and Insight Director, IMRG: "Although the rate of growth in November was lower than we've seen at other times this year, you have to bear in mind that November volumes are far, far higher than over the spring and summer. For this reason, it was actually a huge month for online growth, especially since it built on a strong rate of growth in 2019. It was also the highest November growth rate since 2007 – and there have been some huge Novembers since Black Friday arrived in the UK.
"The positive news for retailers is that the actual monetary spend was the highest we've ever recorded in our index – shoppers started spending early in November and continued to do so right the way through the month. It has led, as expected, to some delivery delays. One area of concern will be the fact that sales growth online remained very strong (+52%) in week one of December, so the volumes are still incredibly high as we approach Christmas, causing further pressure for carriers."
-ENDS-
Disclaimer
The IMRG Capgemini Sales Index was adjusted in August 2020 to reflect updated historic figures from our retail panel. Previously reported results have been recalibrated to provide a more accurate view of the market index.
About the 'IMRG Capgemini Online Retail Index'
The IMRG Capgemini Online Retail Index, which was started in April 2000, tracks 'online sales', which we define as 'transactions completed fully, including payment, via interactive channels' from any location, including in-store.
*Please note from January 2020 the Index no longer includes data from the travel sector
About IMRG
For over 20 years, IMRG (Interactive Media in Retail Group) has been the voice of e-retail in the UK. We are a membership community comprising businesses of all sizes – multichannel and pureplay, SME and multinational, and solution providers to industry. We support our members through a range of activities – including market tracking and insight, benchmarking and best practice sharing. Our indexes provide in-depth intelligence on online sales, mobile sales, delivery trends and over 40 additional KPIs. Our goal is to ensure our members have the information and resources they need to succeed in rapidly-evolving markets – both domestically and internationally. www.imrg.org
About Capgemini
Capgemini is a global leader in consulting, digital transformation, technology and engineering services. The Group is at the forefront of innovation to address the entire breadth of clients' opportunities in the evolving world of cloud, digital and platforms. Building on its strong 50-year+ heritage and deep industry-specific expertise, Capgemini enables organizations to realize their business ambitions through an array of services from strategy to operations. Capgemini is driven by the conviction that the business value of technology comes from and through people. Today, it is a multicultural company of 270,000 team members in almost 50 countries. With Altran, the Group reported 2019 combined revenues of €17billion.
Visit us at www.capgemini.com. People matter, results count.