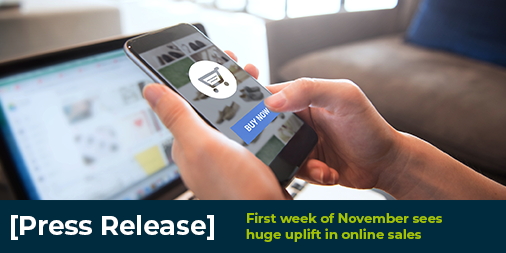 By Andy Mulcahy, Strategy and Insight Director, IMRG 
Online sales were up +61% in first week of November
Strongest year-on-year growth since June
Also the fourth-highest growth rate so far this year
LONDON UK – November 17, 2020: In a clear sign that Christmas and Black Friday shopping has been pulled forward, retailers recorded a huge uplift in online sales for week commencing 1 November, with sales growth up +61%, the highest year-on-year rate since June and fourth-highest this year.
While November always features high volumes of online orders, as people start to think about Christmas gifts and retailers switch on Black Friday discounts as the month unfolds, seeing such a spike this early in the month is a change. The announcement of the second national lockdown the evening before (31 October) – and subsequent closure of non-essential stores – is likely to have driven a stronger focus among shoppers to get their purchasing done earlier this year.
Retailers have also launched their Black Friday campaigns earlier this year, possibly in response to massive increases in site traffic. Of the 320 retailers IMRG is monitoring, on 11 November 11.6% had a campaign live in 2020, vs 3.6% for the same day in 2019.
Justin Opie, Managing Director, IMRG: "In contrast to some of the more pessimistic forecasting around Black Friday sales that seems to be emerging, this impressive growth indicates that November is well on track to be a record-breaking month for online retail. It is important to remember that whilst Black Friday is still the peak shopping day of the year, its stand-alone significance is waning as Black Friday has evolved into a month-long sales period. Good news for retailers trying to manage this high demand."
Andy Mulcahy, Strategy and Insight Director, IMRG: "Circumstances appear to be conspiring to make November a very big month for online sales. Black Friday week always is, but this year there was a need to encourage shoppers to do the bulk of their online purchasing a bit earlier, so we can avoid heavy backlogs and delays in proximity to Christmas. The fact that people have responded so strongly early in November is very positive in that respect, as it's best to experience potentially overwhelming volumes now so it can all be processed well in advance of Christmas."
-ENDS-
About the 'IMRG Capgemini Online Retail Index'
The IMRG Capgemini Online Retail Index, which was started in April 2000, tracks 'online sales', which we define as 'transactions completed fully, including payment, via interactive channels' from any location, including in-store.
*Please note from January 2020 the Index no longer includes data from the travel sector
About IMRG
For over 20 years, IMRG (Interactive Media in Retail Group) has been the voice of e-retail in the UK. We are a membership community comprising businesses of all sizes – multichannel and pureplay, SME and multinational, and solution providers to industry. We support our members through a range of activities – including market tracking and insight, benchmarking and best practice sharing. Our indexes provide in-depth intelligence on online sales, mobile sales, delivery trends and over 40 additional KPIs. Our goal is to ensure our members have the information and resources they need to succeed in rapidly-evolving markets – both domestically and internationally. www.imrg.org