By Tom Chandler, Head of Paid Search and Shopping at Mediaworks
Key points:
At the start of Nov 2021, Google announced that it was rolling out Performance Max (PMax) campaigns to all advertisers
The new goal-based campaign type allows advertisers to advertise over the whole of the Google Ads inventory such as YouTube, Display, Search, Discover, Gmail, and Maps, from only one single campaign
By the end of 2022 Smart Shopping and Local campaigns will automatically be upgraded to Performance Max campaigns
We advise that retailers using Smart Shopping or Local campaigns should begin reviewing and testing the use and application of Performance Max sooner rather than later, to ensure a smooth transition when Performance Max takes over if these campaigns are currently a core component to your current marketing strategy
With Google's latest offering, Performance Max (Pmax), advertisers will be able to use one campaign to promote their products and services across the Google Ads inventory, from YouTube and Gmail to Display and Search.
Granted early access as one of the top one per cent of UK agencies in Google's Premier Partner pool, Mediaworks has tested the early variations of PMax across a number of campaigns and can share its findings.
What is Performance Max?
PMax is the most pivotal advertising product from Google since 2018's Smart Shopping update. This new, hybrid, all-in-one style campaign is a further indicator of the future of Google advertising and the power of machine learning.
For those who are using Local or Smart Shopping campaigns, it is worth noting that these will be automatically upgraded to PMax campaigns, likely by the end of this year. This will mean that performance KPIs, set-up processes, optimisation techniques, and the increased focus on ad creatives will be key areas that need to be re-evaluated to achieve success.
As PMax is essentially an evolution of Smart Shopping, it's important to know how this will impact retailers who lean heavily on Smart Shopping. However, we should clarify that what makes this new campaign type even more significant is that lead generation businesses can also take advantage of the new features available through PMax.
In terms of performance results, Google has stated that PMax campaigns drive +13% additional conversions at the same or lower cost per conversion when run alongside comparable campaigns.
How can PMax be utilised?
A successful Google ads account relies on how its machine learning functionality is utilised by advertisers. What we have seen with PMax is that this campaign combines the best of Google Ads automation technology and access to all Google property auction data to achieve optimal machine learning. Some key examples of this are as follows:
Algorithm has full visibility into auction data across Google properties
Auction time bidding across all channels
Automated creative based on your assets
Data Driven Attribution for full funnel awareness
PMax also includes the introduction of Audience Signals. This is a new feature exclusively available to PMax, which provides marketers with the opportunity to steer automation closer to marketing goals and utilise proprietary audience and demographic intel to incorporate into machine learning. The use of custom segments to target people based on their search activity, downloaded apps, or visited sites as well as using your own data through customer match lists, are two ways in which we suggest you implement to supercharge the audience signal set up of your PMax campaigns.
Finally, there are rich and actional insights designed to improve the performance of a campaign. Traditionally, Google Ads campaigns have relied on marketers having to mine through data-heavy reports in order to get insights on the specifics of their campaigns to better understand how to improve their campaign performance. What we have found highly useful is using these insights to identify week-on-week or month-on-month performance changes to fundamentally be able to better understand market conditions, but also in some instances proactively resolve any performance related issues. For example, we can see which audiences, creatives and other drivers (including. consumer insights & trends) are impacting performance.
Things to consider before adopting PMax
Ideally, you will want to test PMax first. It's important to run PMax alongside your existing channel campaigns as a complementary strategy, as well as being able to seamlessly manage the transition from standard or SSC campaigns. For example, if you're a retailer that intends to launch PMax, this will take priority over current standard and/or Smart Shopping campaigns in which products appear in both campaign types. Allow for PMax to gradually scale and develop learnings so that your previous campaigns are phased out to ensure top line performance is not impacted.
In order to improve your analysis of the additional value delivered by PMax, detailed campaign performance data is vital. How we suggest doing this is through utilising the predefined reports available within Google Ads, but we would also suggest creating custom reports to get that more granular actionable data insight into how the campaign is functioning – understanding the mix of performance across the six ad inventories is a key insight to gain. This then allows for actions and optimisations to be made to adjust the campaign such as:
Review campaign goal objectives
Analysing the impact of PMax on other campaigns in your account
Adjusting CPA/ROAS targets
Conversion value rule adjustments
Final URL expansion – Only send traffic to the URLs you've provided or exclude specific URLs onsite
Lastly, learning periods are crucial in order to analyse the data off the back of the new PMax campaigns. (Note: limit any major changes to the campaign during this launch period as it may skew performance result and decision making.) We would suggest a 4-6-week time period as being ideal to review your pre and post campaign activation results.
It's likely that Google will continue to update this new campaign type with additional formats and inventory, so discussions regarding PMax and its functionality will be ongoing. PMax is such much more than just another campaign type. For the last five years, Google's strategy has been aiming towards creating a fully automated Google Ads platform. This is part of Google's bigger version; full automation.
Examples: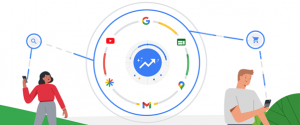 Published 12/05/2022