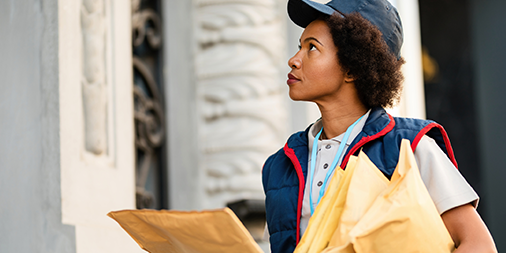 By Sophie Grender, Business Development Manager, Royal Mail Marketreach
It goes without saying that Black Friday and Cyber Monday have become a cornerstone of the retail calendar.  For many retailers it is as big or bigger than previously significant trading times like Easter, Christmas and the January Sales. Mintel found that 70% of consumers said that they bought Christmas gifts during Black Friday and 56% bought something just on impulse during this time(1).
A recap on why this is such an important trading period
In 2019 sales were up on the 8 days of Black Friday above 2017 sales, up by 11.7%(1). The spending tends to be spread over the period with 20% of sales on Black Friday itself and the lowest spend being recorded on the Tuesday before, with only 8.9% of sales.  Discount codes were particularly popular. Magento research shows discount codes were one of the three main reasons for purchasing alongside free delivery and free returns.
The majority of consumers had a mixed repertoire for purchasing: 56% purchased both online and offline; 21% shopped exclusively online; 21% shopped only in-store(2). The same survey showed that toy and sports specialist retailers grew their sales but visits to department stores and their online equivalents fell. The big online retailers did really well. And voice technology continued to sell at a pace. 
In 2019 Amazon had more than twice the visits than any other retailer and Asos and Etsy grew the most in percentage terms. The Echo Dot and Firesticks were the most popular products on Amazon. Some of the big brands fought it out for direct sales and the top four direct retailers were Apple, Adidas, Lenovo and Lego in that order. Barclaycard said that sales using their card were up 7.2% on Black Friday and 6.9% on Cyber Monday(3).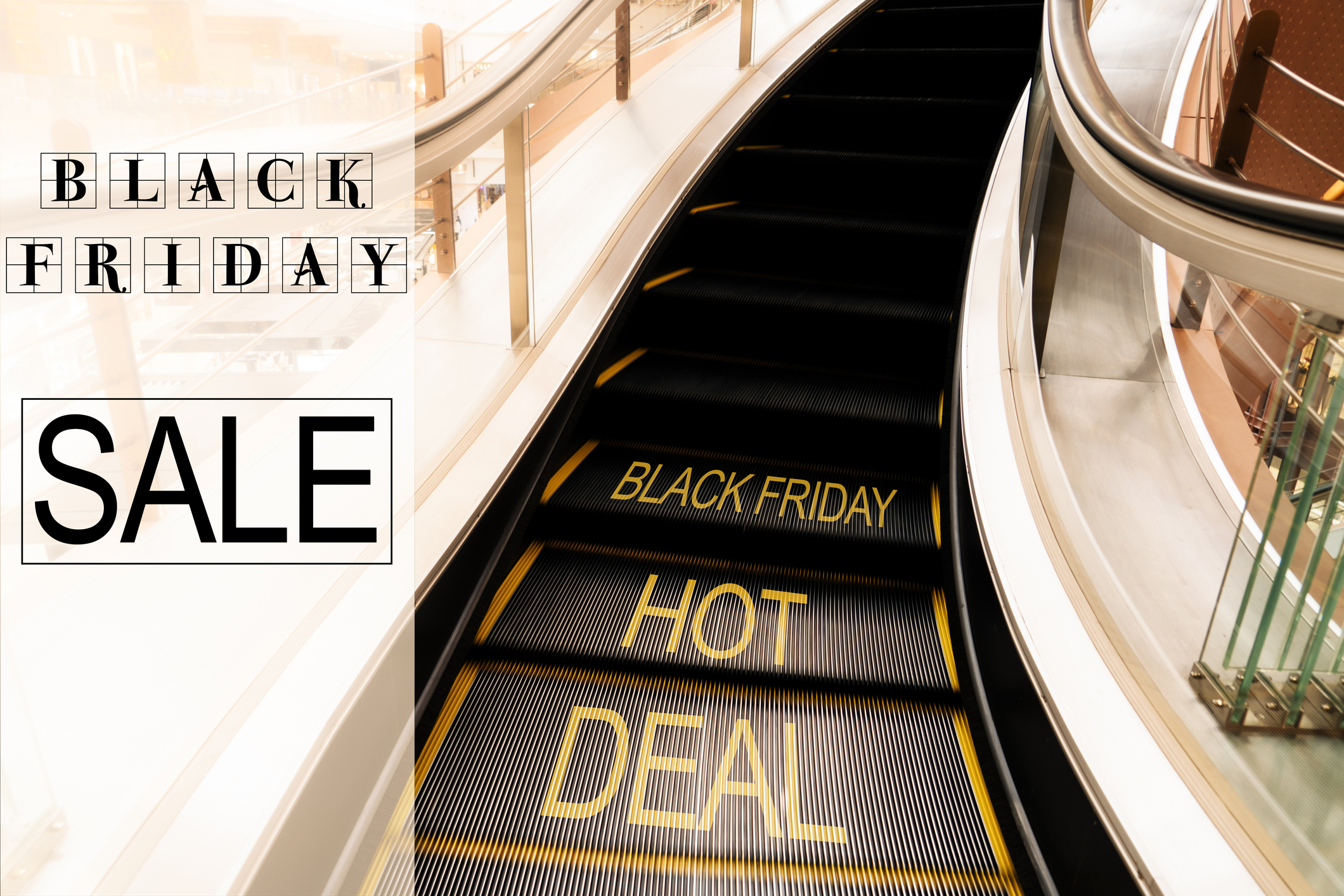 JICMAIL data – how did retail mail perform on Black Friday and Cyber Monday
With over two years of data it's now possible to look at how mail performed during Black Friday and Cyber Monday in 2019, and compare it with average retail mail performance in other trading periods. We looked at two key retail sectors sending mail to their customers at this time: mail order/online retailer and high street retailers.
The difference between physical interactions and commercial actions
JICMAIL captures physical interactions with mail are what drives the Reach and Frequency data. The average Reach for advertising mail is 1.2. The average Frequency for advertising mail is 4.2 because it is typically revisited over four times(4).
But over and above this physical interaction, JICMAIL also gathers what are called commercial actions, which is what people do as a result of receiving a mail piece over and above physical actions. No other JIC captures this type of information but JICMAIL decided to capture this from the outset because of mail's strength as a response channel.
Commerical actions include consumer activity like buying something, using a voucher or discount code, visiting the sender's shop or going to the sender's website. 
How retail sector mail performed during Black Friday and Cyber Monday
In the mail order and online retail sectors reach and frequency both went up during the Black Friday period. Reach went up from the normal average of 1.1 to 1.4. So, for every one hundred mailing packs sent in this sector another forty people saw the mailing. And frequency rose from the average of 4.1 to 4.3(4).
These are the physical actions recorded.

There is a significant gain in commercial actions during Black Friday. In both retail categories 41% of all people receiving mail go on to do something commercial(4).

In both retail categories, commercial actions rise from 28% for mail order / online retail and from 33% for high street retail, to 41%. These are significant increases. 41% of those who received those retail mailings went on to take a commercial action.
Most notably 11% of mail order mail drives a sale and 14% of high street retail mail drives a sale.
23% of those getting high street retail mail use a voucher or discount code. Brand discussion is high across both retail categories at 21% and 24%. And it is clear that mail is either driving those customers online or if you have a retail presence, to your store(4).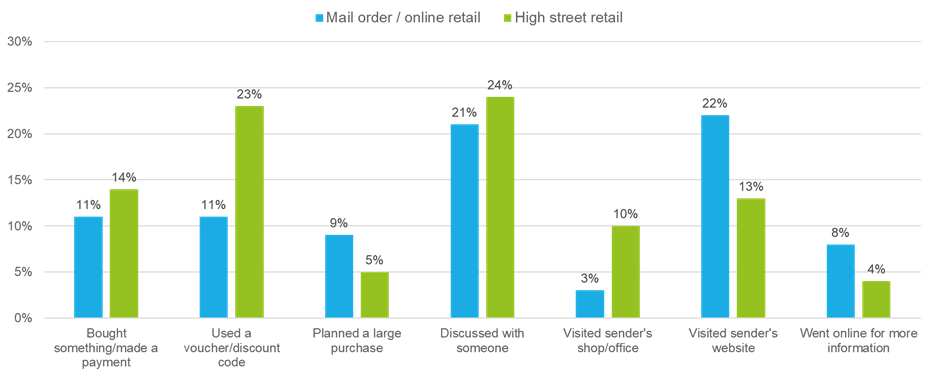 This is effectively showing that, of the 41% of people who do something commercial, retail brands are getting considerable buying behaviours across all these activities either driving purchase, incentive use, online activity or actual footfall.
Top six tips for getting the most out of your mail this Black Friday
Make sure your mailing piece contains all the ways that the shopper can interact with your brand, online or in-store. They still have a wide range of shopping habits

With vouchers and coupons working so hard, think about how you could include a physical offer so that people can redeem it, to push your response rates up

Make it easy for the consumer to move seamlessly from offline to online by putting a QR code on your mailing piece. QR codes are now readable on most smartphones without having to download a reader.

A QR code will also help you measure your actual response to your mailing piece. Not everyone will use it but the ones that do can be tracked fully in your digital channels

Use the JICMAIL data as a benchmark to help you hone your attribution model, are you sure you are picking up all the resulting behaviour from mail?

Put a talking point in your mail. If people are discussing the content of your mailing it is more likely to engage and the more you engage the more people will convert to sales. And it means your brand is being talked about, which can only amplify your message.
You can explore JICMAIL data more on the Royal Mail MarketReach Insight Engine, which you can find at: 
https://www.marketreach.co.uk/insight-engine
By Sophie Grender, Business Development Manager, Royal Mail Marketreach
Published 23/09/2020
(2) Source: Lightspeed/Mintel, Christmas Gift Buying, February 2020.  Base 766 internet users aged 16+ who purchased products during Black Friday during 2019
(3) Source: Hitwise and The Guardian 2019
(4) Source: JICMAIL, 1 Nov 2019 to 8 Dec 2019, Mail Order / Online Retailer n=459, High Street Retailer n=612