IMRG – the UK's authority on ecommerce market data, analysis and insight – recently published their forecasts for the ecommerce industry in 2022. Significant headwinds for retailers are anticipated:
The rising cost of customer acquisition will continue to climb: a phenomenon already well-known by retailers, in 2022 the rising cost of acquisition will be further compounded by greater increased competition online (and investment to optimising online shopping experiences).
Complications in supply chains: driven by the lingering effects of the pandemic, the rising cost of energy and transportation etc.
Less discretionary spend: a "cost of living" squeeze that will see households look to tighten the belt, and divert their expenditure away from discretionary (shopping) outlay.
At a glance, it's a bleak picture. Brands will need to pass costs incurred through supply chain complications on to increasingly frugal customers (and will need to spend more on getting those customers to their digital store in the first place). The actual outlook is much sunnier, however: the IMRG forecast that the record-breaking growth in online retail in 2021 will pick up again come Q2 of 2022.
So no need to panic, but certainly time to prepare.
That's because in the midst of the macroeconomic challenges faced by brands in 2022 lies a serious opportunity. Like never before, experience matters: brands who can go beyond attracting new customers and instead cultivate an ongoing relationship with them will reap the dividends. It's for that reason that we're saying that 2022 is visual commerce's time to shine.
Visual Commerce: This Time it's Personal
The past five years have seen many "trends" cycle in and out of fashion across digital (think: ephemeral content, chatbots, filters, short-form video, voice search etc.). Amongst the changes observable in the digital fossil record, there's one subject that continues to preoccupy the ecommerce prophets: visual commerce.
The term "visual commerce" is a catch-all for the creative tactics available to a marketer, including: brand created imagery, video, and GIF content; user-generated and customer-created content; earned reviews and expert testimonials; shoppable layers; link in bio experiences; live video shopping.
And while it's fair to say that each feature has its relative benefits and drawbacks, it's equally fair to say that getting the mix right changes on a brand-by-brand basis. What's working for Snug – Europe's first "sofa in a box" company – might not cut through for fashion house Boden, and vice versa. With that in mind, we'll focus on four interconnected key pillars of visual commerce – four creative avenues you could investigate in the first three months of 2022.
Social
Email
Conversion Rate Optimisation
Video
Spotlight on Social
Platform constraints – e.g. not being able to add a link to your website on an individual Instagram post – have made the "link in bio" a hotly-contested piece of digital real estate for brands on social media. As a result, solutions that allow brands to publish a list of links inside their link-in-bio have become a popular halfway house for brands looking to offer a little more choice after the click.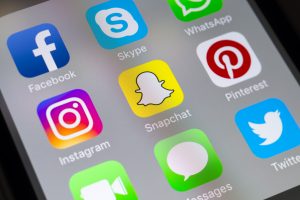 But whether a list of links presented without context is really what your user (a user whose attention you've just managed to cultivate into genuine interest – well done!) is looking for remains debatable.
So how do you get that all-important link in bio working harder?
Aim to land a familiar experience: your user has come to social to enjoy a specific style of experience. Aim to give them a landing page that's an evolution of the Instagram feed, rather than a complete departure from it.
Blend of earned (UGC) and owned (brand) content: there's a famous stat from Nielsen about UGC (that 92% of consumers trust it more than brand-created advertising). By blending brand-created and customer-generated content in your link in bio experience, you'll gain the benefit of the organic, authentic feel of UGC while also showcasing your in-house created content.
Representation: real people trust real content; and when it comes to elevating and celebrating the diversity of customers within your marketing, that's where UGC really shines. Ensuring that marketing materials are representative and inclusive makes great business sense too: according to Microsoft's Inclusive Marketing research, 70% of Gen Z consumers are more trusting of brands that represent diversity in ads (Microsoft Advertising), while brands with the highest diversity scores see an 83% higher consumer preference (Deloitte, Heat Test). Check out Ramona Sukhraj's brilliant article for a rundown of the stats behind the changing buyer mindset.
Personalise Emails, Properly
For too long the most underloved channel in many a brand's marketing stack, email is undergoing a true renaissance. While for high growth brands email has long been a secret weapon … the looming cookie Armageddon (and the rising cost of user acquisition) is placing increasing pressure on all brands to build, maintain, and drive value through their email communications.
For marketers looking to boost the performance of their email campaigns, the personalisation of email content is a no-brainer. Tailored messages that reflect the buyer's tastes, preferences, and stage in the buying journey outperform generic email: on average, "personalised emails receive 2.5X higher click-through rates and 6X more sales than those without." (Movable Ink)
Personalisation strategies run the gamut – from simple subject line variations, right across to automated basket reclaim emails – but all require a constant pipeline of (compelling) content to work most effectively. It's at this juncture that many brands come up against a time and resource obstacle.
At StoryStream, we've seen great strides made by our clients in using user-generated content as part of their email personalisation strategy. By dynamically serving curated content in their emails (matching, for example, owned or earned assets to a user's last on-site action), our customers have circumvented the time-intensive processes of building and preparing personalised content through automation. And the results are plain to see: 26% increase in click-through rate, sixfold increase in personalised email variants sent, and 20% reduction in resource costs.
CRO Supercharger: Shoppable UGC
The most direct means for heading-off a rising cost of customer acquisition is, of course, conversion rate optimisation. Switching up button colours, moving page furniture around to create a better feng shui, and clearing out any barriers to purchase are the first experiments a brand will likely run – but in the background, there's a much thornier question waiting to be asked: "is my content working hard enough?"
It's here that things can get tricky: between the heat map charts, scroll depth analysis, dwell-time metrics, click counts, and endless matching of UTMs to action taken on-site you'll likely end up with more questions than you do answers. Stripping things back, though, there's a simple human truth that content marketers can rely on when facing down the question of what content best drives conversion: people trust real content.
We've emphasised the word "trust" there because that's exactly what you need to double-down on ahead of that crucial "add to basket" moment. Getting a user to go from "seen it" to "shopped it" is a subtle art, with user-generated content providing just the type of authentic, "in the world" content that builds trust, and nudges a browser toward becoming a buyer.
Boden is a brand that has taken that insight, and scaled it across over 60,000 product pages. Recent figures for Boden's on-site StoryStream feed show over 2.7m total engaged views on UGC-powered storyboards, with a 60% uplift in AOV on those sessions that have engaged with a storyboard (benchmarked versus sessions that have not).
For more inspiration, check out our Sweaty Betty case study (a 25% conversion uplift) or see how CUPRA are driving engagement and goal completions across their site using StoryStream's curation platform.
On the Radar: Live Video Shopping
With the format already well-established in the Chinese ecommerce market, the global live video shopping market is now growing at an exponential rate. Forecasts indicate that in the USA alone it'll top $25 billion in 2023 (up from $1 billion in 2020).
Live video shopping, in its simplest definition, is the use of video streaming to sell products directly to consumers. Brands looking to catch the wave early are experimenting with a range of formats: product unboxings, ambassador-led mini-programmes, exclusive drops, live Q&As, recipe cook-a-longs, online fitting rooms and cat walks … familiar content formats, but now with a shoppable twist.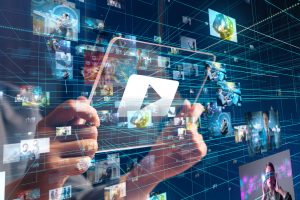 Best practice live video shopping experiences offer a unique immediacy of experience – and ease of checkout – that customers love: users can ask questions and make requests to the hosts in the moment, offer an emoji reaction to what they're seeing, and add the products they're seeing in-action directly to their shopping basket there and then.
Production costs, alongside the cost of streaming video to multiple thousands of viewers can represent a challenge, of course. But for brands confident in their ability to both attract an audience and offer a compelling video experience the ROI can more than justify the initial outlay. It's an area of visual commerce that we at StoryStream are particularly excited to see bloom in 2022.
Seeing is Believing
The phenomenal growth in the share of retail done online in 2021 – and particularly in those first few lockdown months – has set a high benchmark for activity in 2022. For brands looking to put themselves in the best position to optimise their customer experience in the coming year, we invite them to keep one mantra in mind: "seeing is believing." Authentic, engaging experiences are what your customers have come to expect from their time elsewhere online, and it's no different when it comes to shopping.
---
Here we've looked at how your approach to visual commerce can benefit from the use of authentic, engaging content – content that anticipates and answers a user's questions while delivering demonstrable ROI. If supercharging your ecommerce strategy is top of your agenda, then drop StoryStream a message to arrange a platform demo. Seeing is, after all, believing.
Published 01/02/2022