OMS is at the heart of the omnichannel customer experience. As a supplement to your ERP, OMS could be the key solution for retailers to coordinate their various sales channels and improve customer experience. Indeed, customer satisfaction can be significantly improved through the use of an OMS, which offers a potentially better shopping and return experience regardless of the channel used.
What is an OMS?
OMS stands for Order Management System. The aim of an OMS is to centralise and optimise stock and order management, from the moment the customer order is received until the product is delivered.
In today's complicated retail landscape, with more and more sales channels emerging (ecommerce, marketplaces, social media…), it is the role of an OMS to capture all the incoming orders, no matter the origin and assign the fulfilment to the appropriate stock point. The stock point can be selected based on a wide range of criteria and business rules. For example, if an order is placed for home delivery in a big city, it could be more cost-effective and environmentally friendly to have the order shipped from the nearest store as opposed to the central warehouse that could be hours away.
As such, the OMS has two main functions:
Unifying stock: taking into account all points of stock (warehouses, stores, suppliers, etc.) and making this unified stock available to each sales channel (stores, mobile, web, marketplaces, etc.).
Orchestrating orders: allocating customer orders to the stock point best able to deliver on the customer promise and meet business challenges.
What is an omnichannel customer experience?
With the shift in shopping behaviours and customer expectations, retailers are having to find ways to stand out from their competitors, namely by offering a better customer experience.
To effectively compete, retailers need to address questions that have an impact across their entire supply chain and supporting systems:
How can retailers meet customer expectations and provide exceptional experiences while still maximising profitability?
How can retailers maximise full-price sales and minimise markdowns?
What does the future hold for stores, how can retailers leverage marketplaces and what roles will store associates play?
How can retailers modify production and distribution processes to be eco-friendly and reduce their carbon footprint?
Many retailers are bringing together traditional and digital channels to answer these questions and make their customers' omnichannel experience more fluid. Customers now want a flawless shopping experience throughout their entire journey and the ideal way to achieve this is through omnichannel commerce.
Did you know that 28% of shoppers1 want a truly omnichannel shopping experience? For example, they want to be able to check the in-store availability of products that are displayed on a retailer's ecommerce site.
An omnichannel customer experience includes:
better access to the stock available for sale (thus fewer order cancellations);
the ability to collect orders in-store thanks to Click & Collect and its Express upgrade;
the ability to buy online and returning in-store;
At the heart of this process, and essential in providing an optimised customer experience, is information. Information provided to the customers regarding the delivery types and times and the availability of the items they are looking for, but also information shared within the company such as the amount of available stock, where the available stock is, what the top selling items are online, which stores can fulfil web orders and much more!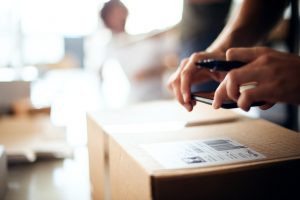 How does OMS facilitate an omnichannel customer experience?
The Order Management System provides a seamless and consistent shopping and returns experience regardless of the channel used by the customer. From an omnichannel perspective, scenarios such as Order In-Store, Click & Collect, Ship From Store, etc. offered by the OneStock OMS are solutions that can enhance the customer experience.
Let's take a look at some customer behaviours and customer journeys and see how an Order Management System can address issues that they are facing.
Customer problem: 63% of consumers say they have encountered stock shortages in the last 12 months.2
OMS solution: stock unification via the OMS limits stock shortages and simplifies stock management.
Example: the OMS displays the store stock in addition to the stock in the warehouses.
Customer problem: 20-30% of items ordered online are returned.3
OMS solution: the management of the OMS's omnichannel services offers all possible purchase and return paths to your customers. The experience is smoother regardless of the channel used.
For example, the customer can return a product online or in-store, no matter where they originally bought it.
Customer problem: 60% of customers will go to a competitor if they offer better delivery options.4
OMS solution: order orchestration and simplification thanks to the OMS enable the optimisation of logistical operations and the reduction of delivery times.
Example: Express options can be added to the Click & Collect option, allowing a store order to be collected within 30 minutes. A retailer that recently implemented this solution is Pets at Home, who implemented a 1 Hour Click & Collect service with OneStock's Order Management Solution. This has now become a customer favourite with 20% of their online orders now being placed through the service.5
These are only a few examples, many more could have been highlighted, but they still paint a convincing picture. The OMS provides real tools to combat not only customer pain points but logistical and supply-chain related ones as well.
What are the associated benefits?
Overall, the benefits of a unified commerce solution are significant. On average, there is :
a + 25% increase in web sales;6
a return on investment achieved in just three months.
a quantifiable increase cross-selling
Directly linked to the omnichannel customer experience, the benefits of using an OMS are
Improved brand image.
Increased customer satisfaction.
Increased customer loyalty.
A stronger link with the target audience.
Anticipated behavioural changes in the target audience
Reduced and optimised costs and investments.
---
If you'd like to know more about OMS, discover our practical guide to OMS and Omnichannel Retailing here.
1,2,3,4 "Omnichannel Study: How retailers can serve the post-Covid shopper", OneStock,  https://pages.onestock-retail.com/omnichannel-study-how-retailers-can-serve-the-post-covid-shopper
5 https://www.onestock-retail.com/en/customers/pets-at-home
6 According to data collected by OneStock regarding their customers
Published 08/03/2022