By Christopher Baldwin, VP of Marketing at Insider
Any company can become the next Amazon.
Yes, you read that correctly. Contrary to popular belief, there is no single secret to Amazon's stupefying success that has been long-debated in the media and throughout the industry.
Following on from Jeff Bezos step-down as CEO and the appointment of Andy Jassy at the helm, last year, there has naturally been a renewed intrigue in separating myth from reality.
It is timely that two former Amazon executives, Colin Bryar and Bill Carr, are pulling back the curtain in their new book, "Working Backwards: Insights, Stories and Secrets from Inside Amazon".  In the book, Bryar and Carr reveal that there is no single mystery at the heart of Amazon's hypergrowth. There is, however, a set of unconventional principles and 5 scalable repeatable processes at the heart of Amazon's phenomenal growth story.
A very brief history of Amazon
Amazon or more correctly Amazon.com was first registered in 1994 as an online book seller. It was first incorporated in 2005, at the time, Jeff Bezos was a Wall Street hedge fund executive. Only thirteen years later Amazon joined the elite Trillion Dollar Club, after exceeding a $1 trillion-dollar market cap.
In 1998, following Bezos' initial business plan (the infamous "flywheel" strategy), the company expanded into selling products in other categories, such as computer games and music. Around the same time, Amazon expanded internationally by acquiring other online bookstores in the UK and Germany. By the turn of the Millennium, Amazon had further expanded into selling consumer electronics, video games, software, home-improvement items, toys, games, and much more.
By the mid-2000s, Amazon had launched its Amazon Web Services (AWS), realising Bezos' ambition to transform Amazon into a tech company rather than an online retailer. Today, Amazon is a power house in digital media having successfully innovated and launched several products and services including the Amazon Kindle (which make up approximately 50% of all Android-operated tablet sales), Amazon Prime, Amazon Studios and many more.
The repeatable processes responsible for Amazon's growth
Insider, a leading platform for personalised, cross-channel customer experiences, is hosting an exclusive webinar with the two long-serving Amazon executives to reveal the principles and practices that have driven the success of one of the most extraordinary companies the world has ever known. Bryar and Carr have twenty-seven years of Amazon experience between them―much of it during the period of unmatched innovation that created products and services including Amazon Kindle, Amazon Prime and Amazon Studios.
"Jeff Bezos once told me that unlike Google or Apple, "Amazon doesn't have one big advantage, so we have to braid a rope out of many small advantages." Amazon has demonstrated again and again that success doesn't result from one big stroke of genius but from a set of clear business practices consistently and boldly applied. Colin Bryar and Bill Carr dive deep into how Amazon has become the company to study if you want to succeed in 21st-century business."
Tim O'Reilly, Founder, O'Reilly Media
What Is the Amazon Working Backwards Method?
The primary goal of the Working Backwards methodology is to ensure that teams (and entire companies) are consistently and methodically thinking customer first…rather than just saying they are. It's risky and costly to launch products and experiences customers don't want.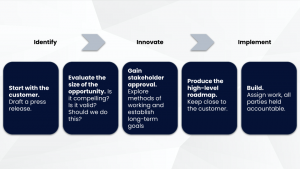 Using this methodology, companies start by solving a customer problem, or offering something new to customers, rather than simply acting on an idea cooked up in a boardroom that seemed like a good idea at the time. With Working Backwards, you (unsurprisingly) start at the end.
Step 1: The Press Release
With Amazon's Working Backwards method – you start by imagining the "product" is ready to ship. The first step is to draft a press release announcing the product's availability. A lot of time revising and cutting down the verbiage of this product press release. He believes the announcement isn't ready until it is as short, clear, and makes a compelling case for the product.
Drafting a press release is easier, quicker and requires far fewer resources than building a minimum viable product or even researching your customer-base.
When a team writes a press release, they get a gut-check about whether they're enthusiastic enough about the product to pursue the idea further. If they find themselves uninspired by the draft, it is usually a good indicator the product idea lacks something or that the team has not fully met a customer's problem.
What are the other steps?
Join Become The Next Amazon: 5 Proven Strategies from the Inside on Thursday 28 April at 4PM BST/5PM CET to find out what the other repeatable processes are. You can save your seat at this one-of-a-kind session, using this link.
In this session, Colin Bryar, former Chief of Staff to Jeff Bezos (aka "Jeff's shadow") and Bill Carr, former-Vice President of Digital Media will offer unprecedented access into the Amazon way of thinking, revealing how it was developed and proven to be repeatable, scalable, and adaptable – for any organisation. Bill and Colin will share lessons, secrets and stories from their time working day-to-day with Jeff Bezos and the senior leadership team at Amazon, including:
How to turn your company into a hypergrowth machine like Amazon
What is the "Working Backwards" Methodology?
How to raise the talent bar with every single hire
Why the secret to achieving breakthrough results comes from long-term thinking
---
Learn the unconventional solutions and processes that Amazon developed to address the challenges that fast-growing companies face. These are proven at scaling to hundreds of billions in revenue, and hundreds of thousands of employees.
Can't wait to learn more? You can find out more about Bill and Colin's book, access instant templates, and find out about their advisory services too, by heading to the Working Backwards website.
Published 30/03/2022