By Henrik Been, Product Marketing Consultant at Apptus
As we move towards an era of increased dependency on online shopping, retailers and brands continuously look for ways to stay ahead of the competition, and to win over the heart and the mind of the shopper. In this new "digital-first shopping" era, behaviour is predominantly influenced outside of the traditional channels and more visitors, more impressions, more clicks, ultimately mean more sales. It is essential for online retailers to stay relevant to the shoppers, and truly understand their intent in every moment of the customer journey. Shoppers expect simplicity at every step of this journey, and technology enables them to find exactly what they are looking for.
Product discovery systems help merchants to guide, advise, and inspire shoppers to find products that are most relevant to them. The evolution of product discovery has gone through a series of steps the past few years. What began as support for simple text and number-based searches, has now evolved into sophisticated engines. Modern product discovery can be described as new technologies for understanding user intent, and introducing shoppers to large assortments in an enjoyable and interactive manner.
Here are three areas where the development and progress of product discovery is particularly interesting:
1. Visual Discovery – image processing for capturing data enabling exact product understanding for more relevant recommendations.
Modern product discovery can delve into structured data, unstructured data, and images, to obtain as much information about a product as possible. This visual understanding requires the extraction of as much information as possible about an image, with defining differences from understanding what a shirt looks like as opposed to a jacket, to understanding the sleeve length. So, by utilising this technology, it becomes possible to understand that t-shirts are, by default, short-sleeved, and not fail to present products because a user asked for "short-sleeved t-shirts" and the word short-sleeved is not in the product description. At the same time, there are long-sleeved t-shirts which should not be presented to users specifically asking for short sleeves.
Modern product discovery systems utilise AI and Machine Learning for image processing, to extract, interpret, and understand information from a multitude of images associated with the online business. This means it is possible to have machines determine and extract data about color, structure, pattern, model, shapes, etc. – facets that makes the product discovery experience better for the shopper.
2. Conceptual Understanding – the use of AI and knowledge graphs brings better precision to understanding specific industries in depth – the actual meaning of words, terms, concepts, and contexts allows users to better understand what attributes are the most important for selling a product, given the users' intent.
Traditionally, search engines are designed to find and understand variations of words typed into the search box, using indexing. However, this approach lacks efficiency when prioritising the most relevant products based on the phrasing and the actual understanding of the concept of the search.
However, conceptual understanding can be applied to get a deeper understanding of an industry. It makes it possible to connect the dots between products, see how they fit together and make much better suggestions, recommendations, and offerings to customers in general. Knowing the concept takes great understanding of the parts and it all starts with product understanding. This is where the use of knowledge graphs becomes a powerful tool. Google began using knowledge graphs some ten years ago for classifying and enhancing its search engine's results, with information gathered from a variety of sources. The same technique has now proven to be extremely powerful and useful for guiding, advising and inspiring shoppers in ecommerce.
Eventually, as the system learns more about the products that builds a segment, it will gain a conceptual understanding of the whole industry. Of course, this happens gradually, bit by bit, one segment at the time. But with a conceptual model in place, newly launched products can instantly go through the same analysis, or classification, to find its place in the bigger picture.
3. Controlled Automated Merchandising – utilising advances in AI for making merchandisers more efficient in their day-to-day work, without sacrificing control, making sure that time, experiences, and skills are utilised to their fullest.
Every product in the assortment goes through a lifecycle – from being newly added, to being included in different campaigns and promotions, switching between different states of stock availability, affected by different micro-trends, all the way up towards its sales peak and then all the way down to elimination from the assortment. These are ongoing events that need to be attended constantly, every hour of the day, every day of the year. To manage this manually is a daunting task, as assortments and the number of products and variants grow.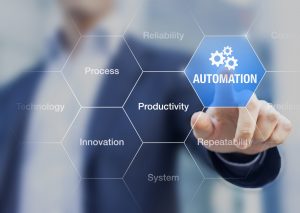 Automated merchandising systems allow for a streamlined workflow and product lifecycle, but also allow you to have complete control if you manually want to move items, depending on marketing campaigns, promotions, sales, or when items go out of stock. By utilising controlled automated merchandising and letting the AI do the heavy lifting, the workload of the individual merchandiser will be lower, resulting in free time for doing more strategic and creative work.
Finally, here are some important things to consider:
If you must manually create synonyms for people to easier find the relevant things.
If your merchandisers can easily suggest better alternative and complementary products than those which your customers can see across your digital channels.
If you have no idea why the things that are shown are being shown and the effort to reach an answer is too high for you to pull through.
If you manually merchandise new products and try to reach sales velocity through different efforts performed by manual labor.
If some, or even all the above are true, then you have some modernisation to do so. Modernisation can help boost your sales, reduce your costs, delight your customers, and elevate the scalability of your business to whole new levels.
Find out more about product discovery by downloading this whitepaper.
Published 22/11/2021