By David Lockwood, Co-Founder and Insight Director, The Tapestry Agency
In this online world, where social media and email often dominate retail marketing strategy, it's easy to overlook the value that mail order catalogues have in attracting and engaging customers.
Catalogues are a powerful tried-and-tested marketing tool for building brands, acquiring and retaining customers, and driving business growth, even for companies that see themselves as digital-only.
So why is this traditional marketing channel so relevant today, and what should you consider when developing your catalogue strategy?
Catalogues work
In general, the humble catalogue is one of the most engaging mediums. Consumers are five times more likely to open them than an email and they deliver response rates up to x24 that of email. And as a standalone physical item, it benefits from not competing against a wealth of ads on a webpage or in-app, so it delivers the cut through and engagement not possible in other channels.
It also benefits from being sent to people's homes as people don't move often. This means a physical address is a more stable identifier to reach a target audience than email, where people often have multiple addresses. And by landing on the doormat, it's guaranteed to be seen and picked up, unlike an email that's often automatically sent into the spam folder.
Different audiences need different catalogues
While there may be a temptation to develop your catalogue campaign around a single version, this ignores a fundamental of marketing – always segment your audience.
Relying on one catalogue is simply adopting the inefficient spray and pray approach. You never send a single email to a targeted list, always tailoring it to your different groups based on if you're speaking to a prospect or an existing customer. This same discipline must be applied to catalogue marketing. You need to focus on producing the most responsive piece of paper-based marketing, which means having something relevant for each audience segment.
For acquisition, this should promote those best-selling products that will draw in new customers and encourage them to purchase. If you're targeting existing customers, bringing your new products or ranges to their attention is key to keeping them engaged and helping them discover additional offerings to buy.
Expand your reach with inserts
Additionally, a shorter version of your catalogue can be used to support your acquisition activity.
By distributing them via third-party publications like national newspapers and magazines, you can reach new audiences. Depending on the publication, you can look for those that reach an audience at scale or opt for niche publications that offer more targeted opportunities.
Alternatively, look to insert them in other retailers' parcels by partnering with brands that have an audience mindset similar to your own. These can be paid for, or you can offer a reciprocal deal and carry their inserts in your deliveries. Finding the right partner can make inserts a profitable acquisition channel.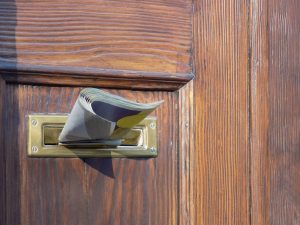 Alternatively, look to insert them in other retailers' parcels by partnering with brands that have an audience mindset similar to your own. These can be paid for, or you can offer a reciprocal deal and carry their inserts in your deliveries. Finding the right partner can make inserts a profitable acquisition channel.
And don't forget, you should always be using your own media. Include a catalogue showcasing your 'best-of' range or current offering in all your parcels, so you're reaching customers when they're favourably disposed to your brand.
Fuelling your data-driven acquisition
When you've reached the potential of your existing dataset, how do you acquire more data to fuel your growth plans? The three most effective approaches are renting data, carrying out list swaps or using a data cooperative.
Since the beginning, buying data from a list broker has been a mainstay of direct marketing, so partner with them to find relevant list sources that will work for you.
Data swaps are just as it says. Identify brands with a similar audience to yours and swap the same volume of new names and addresses with them, ensuring these are new prospect names, not ones you already have. Then mail and test your data swaps to identify those most effective in driving acquisition and focus on these while finding other sources like them.
Finally, there's tapping into data cooperatives like Epsilon Abacus or Club Canvasse. These provide a privacy-compliant environment for multi-channel retailers to contribute their transactional customer data. In doing so, you can then tap into the depository of individuals to identify lookalike prospects at scale to feed your recruitment strategies. And with all individuals in the coops being active mail order buyers, they produce higher responses than other data sources.
Tracking response rates
As with any marketing channel, measuring response is vital. Before you start building a catalogue, understand how you're going to measure its responsiveness. Remember that all channels (online and offline) provide a huge test-and-learn environment, and catalogues are no different. Adhere to the marketing mantra test, test, test, and keep optimising and learning as you send each catalogue.
Measurement should preferably be approached in two ways. Firstly, printing a unique code on a catalogue and capturing that at the point of purchase. Secondly, by using match backs and comparing the names and addresses of respondents with the list mailed to identify what orders the catalogue has generated. Critical for getting match backs right is understanding the customer consideration period when buying from you. If it's a high-value item being bought, so a more considered purchase, you'll need to have a much longer window for matching back than something of lower value that's purchased in a shorter time frame. If you get this window wrong, your match back analysis is distorted.
While mail order catalogues are a powerful tool in driving acquisition and retention strategies, there are many complexities to get right. And like any new channel, if you're new to it and want to make it work, don't think you have to go it alone. Work with businesses that can help you get it right, so your business benefits from everything that catalogues can deliver.
If you're not sure where to start, there is a wealth of information and advice available from the Direct Commerce Association, or you can speak to the team here at Tapestry, where we help multi-channel retailers with their catalogue strategy every day.
Published 24/03/2022