By James Dye, Managing Director UK & Ireland at Talon.One
For retailers advertising with price reductions, how are you ensuring compliance with the EU Price Indication Directive? The policy, already in force for over a year, aims to prevent businesses from artificially inflating an item's original price and misleading consumers on how much a product is discounted by. And because the Directive focuses on protecting the rights of EU consumers, that means all businesses – regardless of where they are headquartered – need to follow and apply the Directive if they are targeting EU consumers for their sales.
In this article, we'll look at what the Directive means for UK retailers, how the regulation needs to be implemented, and offer advice for brands looking to stay compliant.
The EU Price Indication Directive in a nutshell
The EU Price Indication Directive is a little-known law that is triggering a big shift when it comes to managing pricing and promotions. The Directive states that any announcement of a price reduction must now also indicate the lowest prior price from the last 30 days, using, for example, a cross out or strikethrough on the previous price. The new regulation applies across all distribution channels, including both online and in brick-and-mortar shops, and to all sorts of promotional statements.
For example: The "normal" price point for trainers is €100. Yet, within the last 30 days, customers could buy them at a discounted price of €80. Therefore, if the trainers are discounted the following weekend at €70, the "prior price" cannot be €100, it has to be displayed as €80.
So, how should this be displayed on a retailer's website? In the pink bag product listing, for example, a retailer has included a simple strikethrough to indicate the lowest prior price. This represents a compliant sale if €78.66 is the genuine lowest price from the last 30 days.
To make sure they are compliant, some retailers are choosing to display three prices on their product pages, as shown in the picture of the gaming item, which includes the current product price, the original price, and the lowest prior price. Retailers should check with their internal and external legal counsel on all available options that guarantee compliance, while best appealing to their consumers.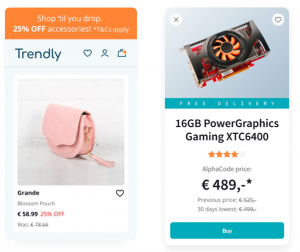 It is worth noting that you are not required to indicate the lowest prior price on advertising with statements such as "This day only: 15% off all items" or on display banners. Instead, to adhere to guidelines, retailers only have to state prior prices at the point of a sale, e.g., on the item's product page.
Why the EU Price Indication Directive matters for UK retailers
The Price Indication Directive doesn't only impact retailers headquartered in EU Member States, but affects all brands, even those based outside of the EU, who are targeting EU consumers. This means that if a British brand is selling to EU consumers, they need to follow the same regulations as EU Member States on their local websites.
For retailers, the Directive introduces added complexity when managing their promotions: from increased documentation needed to track historical pricing information, to UI updates across product pages to make sure prices are accurately displayed. It is crucial to keep record of your pricing history, which will enable you to correctly display the lowest prior prices. Keeping it on hand is also important for cases of dispute. Therefore, you must be prepared for a considerable amount of documentation and be able to re-configure your data warehouse to retain historical SKU-level pricing data.
Ensuring compliance
While the Directive isn't aimed at restricting price reductions, it certainly makes it harder to implement them – both due to the complexity of the framework provided by the Directive and increased documentation efforts when it comes to pricing history. For retailers looking to make sure they stay compliant with the Directive, we recommend the following steps:
Start by determining which team(s) are responsible for ensuring compliance: this will usually mean a cross-department effort from Pricing, Promotions, E-commerce, and Legal. We also highly recommend working with an external legal counsel, especially when dealing with complex use cases or multi-market entities.
Audit your current pricing practices across your webshops: is the way you're displaying prices in line with the requirements of the Directive when targeting EU consumers? If not, what needs to be done and which departments need to be involved? We recommend offering specific training to your pricing and e-commerce departments to ensure the provisions are correctly and accurately applied.
Keeping track of your pricing history is paramount, not only to ensure you are displaying the correct prices, but to also refer back to historical pricing in case of a dispute. This pricing history applies separately for each distribution channel and for each type of product.
As legislation can always be subject to new amendments, businesses will also need to regularly monitor and check EU and national regulations for updates. A systematic legal review of your campaigns and pricing displays is also highly recommended, ensuring compliance with the latest legislation.
---
Talon.One recently worked with global law firm DLA Piper to offer readers a blueprint on when and how the Directive needs to be applied, including more examples of compliant and non-compliant pricing displays. Read their blog post, The EU Price Indication Directive: What it is and why it matters, to learn more, or download their whitepaper, Navigating the EU Price Indication Directive.
Published 15/08/2023