By Jennifer Griffin Smith, Chief Marketing Officer at Brightcove
It's fair to say that the last two and a half years have been difficult for us all. With the pandemic hopefully now in the rear-view, this holiday season, families and friends can finally make up for lost time and celebrate the festive season together.
But just as one problem seems to be fading into the distance, another is emerging: the cost of living crisis. With alarming predictions being made daily on rising inflation and energy bills, never has it been more necessary for consumers to spend wisely when shopping for gifts this Christmas.
Yet, surprisingly, it isn't all bad news. 2021 Black Friday sales were estimated at a whopping £9.2 billion – no mean feat given last year had its own unique set of pandemic-related challenges. With Black Friday weekend arguably the year's most important calendar date for consumer spending, 2022 has the potential to smash all records.
But at a time when both brick-and-mortar stores and online shopping offer their own unique appeal to customers, it has never been more imperative to create a synergistic and connected brand experience to cut through the noise of the most competitive sales season of the year.
The growing importance of video in retail
Video has, in essence, changed the way consumers shop. Whether it's a demonstration of a lawn mower, a 360° view of a pair of shoes, or a social media influencer showcasing a dress from a favourite brand, video is playing an increasingly critical role in driving product consideration and brand preference. Our recent E-Commerce Research Report found that 85% of consumers worldwide find videos to be essential when shopping online. But why is this the case?
The power of video lies in the accessibility, trust and consumer experience it cultivates. Video not only helps remove friction from the customer journey as shoppers explore and interact with products online, it gives them the ability to see and hear customer reviews and experiences, building trust before making their own purchase. This was also reflected in our research, which found that video content produced by other customers was considered the most trustworthy by over half (51%) of all consumers surveyed worldwide.
The mobile-first future
Engaging customers where their attention is already focused provides ripe opportunities for brands to reach potential shoppers. We reportedly spend a third of our waking hours – or an average 4.8 hours a day – on our mobiles. It's unsurprising then that m-commerce sales are rapidly changing the dynamics of the e-commerce landscape. According to recent forecasts, mobile-based sales are expected to surpass the 100 billion GBP mark by 2024. In 2022 to date, just over 60% of consumers used their smartphones to shop online, with the UK currently positioned as the third largest m-commerce market in the world.
With social media giants actively seeking to become video-first apps with their own shoppable plays, retail apps are beginning to follow suit. By choosing to develop a video-first strategy, brands can bring their story to life and build a sense of community around their values, ethos and of course, products.
Creating the ultimate hybrid shopping experience
While technology trends and evolving customer habits have created a digital-first market – accelerated, of course, by the pandemic – bricks-and-mortar retail still plays a key role for reasons that vary between generations.
Hybrid retailing essentially combines both traditional brick-and-mortar shopping with e-commerce, providing a consistent brand experience whether consumers are online or instore. But the glue that joins a traditionally flat online experience and multi-sensory physical experience is video. Video helps blur the line between the physical and digital shopping experience by enabling potential buyers to see how a product looks, works, and sits, before having to contend with the busy staff, bustling crowds and long queues synonymous with festive shopping.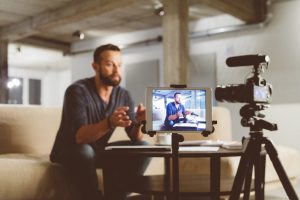 Brands that own their own physical and online spaces can more easily create a singular consumer experience through consistent design touchpoints, app-to-store marketing promotions and visual campaigns – whether consumers view them on their mobile, laptop or in person. But what if your products are sold at multi-brand retailers?
Virtual events that allow consumers to make in-video purchases, video-based customer service that adds value to the brand experience, and video-based ads that direct shoppers through their own customised journey are just some examples that can help create a more personalised, interactive, and engaging experience for shoppers.
The future of retail
While there are multiple ways in which brands can create an integrated shopping experience for customers, what has become apparent is that video should be at its heart.
Consumers today are significantly more discerning and knowledgeable about the goods and services they opt to purchase. With the added layer of more acute price- and value-consciousness, brands can ensure they present what makes their products unique in a consistent and cohesive manner. This is particularly critical when having to build consideration and preference ahead of the festive season.
With the line between the physical and digital shopping experience set to become even blurrier in the near future, now is the time to leverage the power of video across all touchpoints to build a richer brand experience and secure those crucial sales for Christmas, and beyond.
Published 21/11/2022