2020 and 2021 changed everything in retail: online sales grew by 36% in the UK, and retailers had to adapt to a new landscape. They invested more time in top of funnel strategies to reduce CPAs, as well as facing more pressure to understand which channels were driving true value. But what's next for retailers and retail marketers in particular?
That's the question we set out to answer in this part of our ongoing survey series. The results of our Performance Marketing Trends in Online Retail survey are in…let's start with a look at the headlines.
Post Pandemic Trends
75% of marketers have added digital channels during the pandemic
67% have added video to the mix
61% of CMOs have integrated programmatic
38% of CMOs have also adopted TikTok as a channel
41% report increased ROI from investment in video
60% agree that 2022 will see an increased focus on improving their eCommerce experience
Only 16% report increased ROI from incremental Paid Social spend
Retailers are reporting a decline in revenues of 54% and 45% from Gen Z and Millennials respectively
88% are struggling to compete with the challenge from online marketplaces like Amazon, eBay and Etsy
Trends in SEO & social
82% see improving page speed as a core part of their strategy
Only 22% see voice search as an area for active optimisation
49% use audience data to inform SEO strategy, but 33% do not
60% of respondents agree that they've seen a marked decline in performance and effectiveness of ads across Facebook since iOS 14
Death of the 3rd party Cookie
62% of respondents say that they have a strategy in place for the end of 3rd party cookies
34% indicate that the impact of the removal will be a negative one
However, 44% think the change will have a postive impact
80% of respondents agree the importance of attribution in the MarTech stack
New channels added by retail marketers in the pandemic
No prizes for guessing that this is a resounding "yes" right across the board and across marketing job titles and budgets with 75% of marketers indicating they have added channels during the pandemic.
The chart below provides an overview of which channels retailers have focused their strategy on.
Source: Performance Marketing Trends in Online Retail,
Video is king in this transition – with 67% of respondents saying they have added it to their strategy during the pandemic
Programmatic is also on the up – 61% of CMOs indicate they are incorporating it into their strategy, due in part to the adoption of video and the challenges encountered by Facebook advertisers looking for alternative ecosystems for their existing creative messaging
The continued emergence of TikTok – what was predominantly a Chinese phenomenon is now increasingly going mainstream. 38% of CMOs incorporate it as a new channel, and brands like Gap, Burberry and Abercrombie and Fitch are increasingly using the platform to determine trends and drive revenue
However, as we know, adding new channels is often easier than driving effective results out of them. And this is reflected in the mixed picture we got when we asked respondents about ROI from these new channels.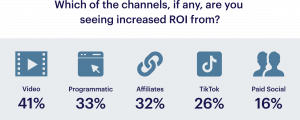 Source: Performance Marketing Trends in Online Retail
While the indications are that video is driving some value with 41% indicating increased ROI from the channel, there is a contrasting story at the other end of the scale with only 16% reporting increased ROI from their new investment in Paid Social.
This is an issue that resonates strongly with our own experience. One of the key problems is how social channels report performance back to you using their own measurement systems. Take the live client example below, where Google Analytics (GA 360 in this case) is showing attributed revenue at a fraction of what Facebook is reporting for the same time period.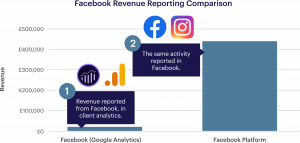 Declining revenue from key demographics and segments
A decline in younger customers is a result that can strike fear into the hearts of retail brand marketers.
There are two headline figures that are of particular concern from the survey:
54% indicating a decline of revenues in the Gen Z segment
45% reporting that they have seen a drop in business from Millennials
These are marked figures – and much steeper than reductions in spend of 27% (Gen Z) and 35% (Millennials) that were uncovered in similar research by emarketer on the impact of the pandemic on spend across segments.
However, there are also wider indications that spend is bouncing back, with suggestions that both Gen Z-ers and Millennials are now spending at 125% of their pre COVID -19 levels.
One of the heartening statistics that pops out of the data here, is that 59% of respondents indicate they have seen an increase in first time customers since 2020—a figure that jumps up to 81% when you specifically ask CMOs.
The difficulty in competing with online marketplaces
In a lot of ways, the results on the graph below tell their own story visually, with a staggering 88% struggling to compete with the challenge they are facing from online marketplaces. 65% of Performance Marketing Directors strongly agree that this is the case.
Source: Performance Marketing Trends in Online Retail
The impact of COVID-19, and the digital drive that it fuelled, contains some harsh lessons for retailers, some of whom have been slow to react.
The Mastercard Spending Pulse data for the last quarter of 2020 highlighted that – as you might have expected due to the pandemic – department store sales were down 10.2%. While at the same time, ecommerce sales were up a whopping 49%. However, for physical retailers, their ecommerce sales showed only 3% uplift in the period. This means that the gap of 46% went somewhere else for their online bargains – including the online marketplaces.
The upshot? Retailers have to be focused on gaining a bigger share of this market.
And there is evidence in our survey that of a real "if you can't beat them, join them" mentality, with 73% of retailers admitting that using marketplaces was part of their strategy—a number that catapults up to 91% when you talk to retail CMOs.
Trends in SEO and content
One of the key ways for retailers to claw back an increased share of online retail business, is to make significant improvements in their SEO strategy.
Our research uncovered a number of key strands as follows:
Page speed – An overwhelming 82% of respondents agree that Page Speed is a core part of their marketing approach. For us, this is a strong sign that speed concerns, previously limited to technical SEO, have gone mainstream – although it appears budget is a limiting factor, with 65% of respondents saying they don't have the resource to execute on this.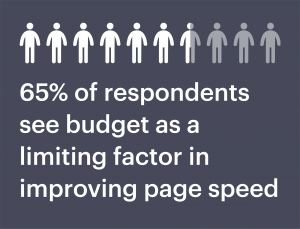 Voice search – Based on the survey results, it seems pretty clear that Voice Search rumbles on as a concern for the majority of respondents, with only 20% stating it is not part of their existing strategy. However, the future of voice is certainly under scrutiny with only 22% claiming it as an area for active optimisation over the next 5 years.
Using audience data to inform SEO content strategy – 49% of respondents actively use audience data today – a figure that jumps up markedly to 65% amongst Performance Marketers – but that leaves the majority playing catch up. While 28% expect to bring audience data to the table in the future, what is truly remarkable is that 33% firmly do not.
Paid social and the impact of iOS 14
It is clear that the changes around iOS14 are being felt far and wide.
In fact, 60% of respondents agree that they've seen a marked decline in performance and effectiveness of ads across Facebook since iOS 14. This is despite 76% of respondents saying they have invested more in paid social.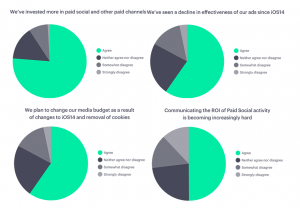 Worryingly, 55% of retail marketers are concerned about the effectiveness of their spend on Facebook post-iOS 14 and plan to change their budgets.
However, it does look like retailers will turn to social as a selling channel – with 72% indicating that it is in the pipeline at some point in the next 1-4 years.
Death of the 3rd party cookie
It's heartening to see that 62% of respondents say that they have a strategy in place for the removal of cookies, but it's actually a stat that doesn't chime with our experience with clients and in the marketplace.
Source: Performance Marketing Trends in Online Retail
When we also asked " Do you expect the removal of third party cookies to have a negative or positive impact on your business?" the core of the response (34%) indicated that the impact of removing 3rd party cookies is likely to be a negative one.
We are firmly in the camp of the 44% that think that change will have a positive outcome for them – in fact joint research by LiveRamp and Censuswide (who also worked with us on this study) suggests that as many as 78% of UK Senior Marketers believe removing cookies will have a positive impact on Advertising strategies.
The overwhelmingly positive response to this question – with almost 80% respondents agreeing the importance of attribution in the MarTech stack – is optimistic, and perhaps a validation that attribution is beginning to take its place within digital marketing infrastructure.