By Simon Bird, Co-Founder and CEO at RevLifter
Summer is here and retail planning for peak season is now in full swing.
Last year, retailers were facing up to an uncertain few months as everything from the cost of living crisis to a winter World Cup made forecasting a tough task.
Ahead of RevLifter's special Peak Season webinar on August 3rd, which will be packed with advice on tips on tackling Q4, I thought I'd condense some of the major promotional trends impacting eCommerce retailers during their industry's golden quarter.
Add-to-bag worries
Data from IMRG spells out the main issue retailers are having in 2023: motivating customers to build an order.
Of the percentage of visitors who view a product page, just 13% add a product to their cart. Things pick up swiftly thereafter, with 45% of these visitors heading to the checkout, and 58% making a payment.
Add-to-bag rates actually climbed to 14% in Q4 2022. However, we are some distance from the 19% reported in Q2 2020.
The obvious fix would be to fine-tune product pages in order to give customers more assurances over what they're viewing. However, I think bigger gains can be had by collecting more data earlier and leveraging product recommendations at the start of the customer journey.
As the data shows, if someone lands on a product page, there is no guarantee that it will be a perfect match. Retailers have to start suggesting similar products on these pages to close the gap between the shop window and the checkout.
I've noticed fashion brands doing some great work by featuring a 'look' on their product pages and linking out to everything the model is wearing. It plays on the idea that customers are interested in styles rather than specific items.
Brands could also centre their Black Friday promotions around multi-buy offers to get customers in the mindset of purchasing more to unlock a saving.
Sale item bundles
Peak season is the time to move seasonal winter stock. Rather than offering discounts on these items, I can see retailers thinking more carefully about their margins and warehouses with 'bundle' offers on their sale range.
If reports are to be believed, as many as 62% of retailers are suffering from overstocking due to misconceptions around consumer demand from 2022.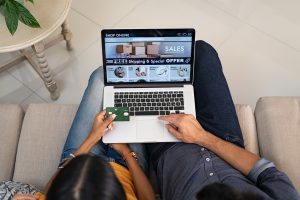 Ideally, retailers would look to highlight their excess inventory through product recommendations. But customers now expect relevance with everything, and there will be fewer opportunities to pair summer items with winter purchases.
Within peak season, I can see many retailers running promotions on sale items with every full-price purchase.
Crucial creativity
Peak means something to just about every retail vertical, but it can define an entire year in areas like confectionery, which see a spike as a result of customers buying gifts for their friends and family.
Every year, I see certain retailers edging ahead of the pack in Q4 and there is usually a creative approach behind it.
One of my favourite festive efforts belongs to wine retailer Laithwaites. After noticing a high proportion of customers leaving its site to search for discounts, the brand responded by making promotions easily accessible to their customers on site.
The brand's festive coupon page was a huge hit with customers, outperforming its other coupon partners by +55% in terms of conversion rates (CVR) and +39% for average order values (AOV).
I like seasonal 'hunt' campaigns for the same reason. If retailers can add gamification elements to their promotional strategy – in this instance, by hiding exclusive deals around their sites – they can really get customers talking and buying.
Shipping as an incentive
The final trend is a sneaky one, but it's simply a sign of the times.
Earlier this year I wrote about the trend in retailers offering delivery information to grow order values without issuing a discount. Retailers were pulling back on free shipping offers as inflation and logistical costs made the promotion unviable. Around the same time, we saw lots of retailers using 'progress bars' to show customers how much extra they would have to spend in order to unlock free or fast shipping.
It doesn't sound like the most enticing promotion, which is why I'm shocked by its effectiveness. Recently, a US consumer electronics brand created a native 'offers hub' for its site, which included money-off and multi-buy discounts. Its second-most-popular promotion – targeted at low-spending customers – was simply showing customers how close they were to getting free shipping.
In peak season, I expect a lot more emphasis on 'speedy' shipping due to the interest in receiving gifts before a certain date. It could be a great last-minute promotion, as retailers can demonstrate the order required for customers to get their products delivered in time.
---
Looking for more Q4 tips and tricks? Sign-up to RevLifter's free RevUp webinar.
Published 24/07/2023