The Covid-19 pandemic, apart from many other things, changed the pulse of shoppers in the EU market. We focus on the European buyers and how their increased shift and dependency on online purchases changed the landscape of online shopping since February 2020.
So, who is the post-pandemic EU shopper and what are their priorities?
GFS partnered with RetailX for an independently researched study, and as a part of this analysed the new emerging patterns in EU customers.
According to the DeliveryX Europe Top500 Report, more than 92% of shoppers in 19 European markets say they buy online at least some of the time for convenience.
While the sudden spurt in online purchases meant operational pressure and pushing logistical limits of ecommerce delivery, businesses that survived the 'constant peak' during the pandemic online purchase surge were the ones with a resilient supply chain from fulfilment to the final mile.
On an average in Europe…
26% of European online shoppers are willing to pay €3 extra for faster delivery. However at the same time, 66% of ecommerce consumers also normally expect to wait 3-5 days for the parcel delivery, and the number of European retailers offering next-day delivery has also decreased by 8% since February 2020.
While ordering a product online, 39% of EU customers prefer having their parcel delivered at home with a signature requirement. This stands at a whopping 70% for shoppers in Spain.
The weightage on the delivery destination also extends to seeking choice at check out. A massive 50% of EU consumers expect to be able to choose the place of delivery while making an online purchase.
Returns is becoming a key decision-maker for global shoppers and this is no different in the EU. A good returns experience stands important to determine on which end of the spectrum an online retailer will stand at – loyal business or loose business. This is why 17% in France won't shop with a retailer again based on their previous returns experience. Must add here that they are willing to go to a central returns point to return items if necessary to reduce the environmental cost of returned items.
As more consumers embrace a sustainable lifestyle, the expectation to have more green packaging and delivery choices is also rising. Buyers are increasingly expecting businesses they shop with to adopt green practices and thus reduce their carbon footprint and overall environmental impact. This can be in the form of eco-friendly packaging, low-emission or electric delivery vans, alternative delivery options such as click and collect, parcel lockers, etc.
To conclude, EU consumers continue to rely on online purchases with the main purpose of convenience. And from the patterns that have emerged, they're not expected to return to pre-pandemic buying behaviour.
This also means the onus is on retailers to offer a best-in-class purchase experience – range and quality of products, ease of navigation, choice of delivery dates/times, offering click-and-collect locations for convenience and also for those adopting a sustainable lifestyle, introducing low-emission delivery at the final mile. Consumer expectations keep increasing as they interact with top-of-the-line ecommerce sites that create a smooth online purchase process right from product availability, into the basket, at checkout, and right up to delivery.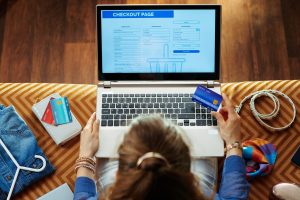 One thing to absolutely not undermine is a good returns experience. It has risen up the ranks in the consideration criteria for EU customers to continue shopping with a particular online retailer. A smooth and straightforward returns management process can ensure this is taken care of, so a bad returns experience doesn't become the 'breakup point' with a buyer.
Why are many UK ecommerce businesses not leveraging on the increased online shopping behaviour of consumers in the EU market?
It seems since Brexit, many businesses have been nervous at the prospect of selling to the EU. With all the rules around compliance, additional paperwork, and rising costs, what once was a simple process has now become a real headache for retailers. In fact, 47% UK businesses have stopped or reduced their trading with the EU since Brexit!
The good news is, there are options to make selling into the EU easier with IOSS introduced in July 2021!
What is IOSS?
IOSS, also known as Import One-Stop Shop, was introduced in 2021 to help simplify the collection and declaration of VAT in the EU. The electric portal will give you a single IOSS number for VAT registration in all 27 EU Member States, enabling you to pay via a single monthly payment and avoiding the end customer acquiring any changes.
How can you reboot EU Sales to grow your business and reach more customers?
Expanding your ecommerce business to the EU can be done in a simple, cost-effective, and fuss-free way — you just need to understand how.
What's changed about selling to the EU since 1st January 2020?
What are the Top 5 IOSS myths that we need to bust?
What is IOSS and how does it help you save time and money, and improve the customer experience?
What does the IOSS journey look like?
What are the common pitfalls to look out for?
---
Shipping experts, GFS have partnered with VAT experts, SimplyVAT.com, to cut through the noise and explain in 'plain speak' what IOSS means, with step-by-step guidance on how to get started. Join them for a quick rundown on how to restart sales to the EU and expand your market reach to a whole new level in their Reboot EU Sales for Your Business Masterclass on Thursday, 5th May 2021 at 11:00am UK.
This 45-minute session is an eye-opener if your business has stopped selling to the EU post-Brexit and you want to restart, or even if you want to sell to the EU for the very first time. If you already ship to the EU, there are great insights to optimise EU shipping efficiency and customer delivery experience.
Submit all your IOSS-related in advance before the session by clicking on the link above and filling up the form.
References:
The DeliveryX Europe Top500 Report
www.gfsdeliver.com
Published 05/05/2022