By Ankita Kaushik, Senior Marketing Content Manager at MoEngage
The retail industry has come a long way from the mom-and-pop stores around the corner of the local streets to supermarkets, and now E-commerce that caters to global consumers.
It's evident now that retailers have to be present online to capture the attention of digital-native customers.
Take Louis Vuitton, for example.
A few years ago, it was unimaginable for high-end brands like Louis Vuitton to have an online presence. Initially, they preferred to maintain their exclusivity and steered away from following the E-commerce model. However, in 2017, Louis Vuitton ventured into E-commerce. They launched an E-commerce website called 24 Sèvres that sold their products and curated other brands' products. Soon, luxury brands like Chanel followed suit and developed digital initiatives to capture the attention of the young population.
Considering how ultra-luxury brands have started moving online and the grave losses offline retailers faced during the pandemic due to uptick in online shopping, the spotlight has once again turned towards online vs. offline retail.
Retailers find themselves asking questions such as – will offline shopping become a thing of the past? Should they shift to online e-commerce completely or take a multi-channel approach? After all, e-commerce giants like Amazon are investing in offline retail too.
Unfortunately, there's no simple answer to these questions.
In this blog, we attempt to address this question to make an informed decision about the strategy to adopt in the future.
Multi-channel vs. Online retail
The convenience offered by online retail is unmatched as compared to offline retail. Customers can easily search for products, compare the prices on different websites, and purchase them from the comfort of their homes. They can also order anything, anytime, as the online stores function 24/7 throughout the year. The convenience and effortless shopping experience have made online retail popular among customers. Online retail accounts for one-quarter of the total retail market. Research reveals that e-commerce customers in Europe will cross 500 million in 2021.
However, the trust factor continues to be a roadblock for online retailers. Customers cannot touch or feel a product. They still need that sensory experience while shopping. Online retail also has to still match up to the delivery speed of brick-and-mortar retailers. Security and privacy concerns and a lack of efficient return policies are other challenges that online retailers face. Hence, focusing on a single channel is not a long-term, sustainable option for retailers.
Retailers must realize that customers are channel-agnostic. They could use anywhere up to 12 channels and devices to shop. Some may prefer to research a product online and buy from a physical store; others may order online and pick it up from the store. The prudent option for retailers would be to take a multi-channel approach.
Multi-channel retail allows retailers to sell products on different channels such as physical stores, social media, web, and mobile apps. The benefit of multi-channel retail is that consumers have the freedom to shop the way they want. They could start their journey from your brand's social media account and complete the purchase at your physical store. Apple, for example, has a successful multi-channel strategy where Apple products are available on their websites, third-party marketplaces, retail stores, and other electronics retail shops. Apple implemented webrooming on their website to help consumers in making an informed decision. So, consumers can research the products online and purchase them from the physical store. You would also be able to maximize your sales volume as you would know which channel works the best for your consumers and focus on strengthening it.
Another factor that works in favour of multi-channel retail is trust. Consumers are aware that they cannot fully trust online reviews as some of them could be fake or irrelevant. An offline presence allows consumers to touch and see the product before buying. They can also try out and experience products physically before making a purchase decision and buying and taking the product with them immediately without waiting for a long time to get delivery. Multi-channel retail would also provide you with rich insights into the customer's buying behaviour, which you could use to personalize their experience across different channels.
So, use multiple channels to reach where your customers are to deepen your engagement with them.
State of multi-channel and online retail during the pandemic
The pandemic has changed the consumer's behaviour. 96% of European consumers have shifted to E-commerce during the pandemic to prevent leaving their homes and contracting the infection. 74% of European consumers said they would continue to shop online even though the brick-and-mortar shops have opened. It's evident that online retail will continue to thrive even after the pandemic ends. However, it's not as easy as it looks. Online retailers are still dealing with issues such as data privacy and sophisticated ad-blockers that impede their business.
Also, according to an HBR article, over 25% of consumers in the U.S. had visited Amazon's website at the product discovery stage but eventually brought the product elsewhere. Consumers who tried clothing in-store were 7x more likely to buy the product than those shopping online. Hence, you cannot rely on online retail alone to do business. Multi-channel retail has become a necessity to grow your business.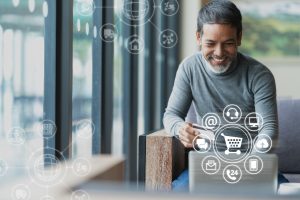 However, this was pre-pandemic data. The trends could have changed given the change in consumer's behaviour. Hence, we have listed down some changes that have happened during the pandemic and what multi-channel or online retail strategies could work well for your brand.
Multi-channel and online retail strategies for changed consumer behaviour
Strengthen your online presence: If you haven't done it yet, this is the time to pay attention to your E-commerce channel. Europeans showed a 10% to 25% online growth during the pandemic. Focus on personalising the customer experience by replicating the in-store experience online. Louis Vuitton, for example, designed their website with a Parisian theme to give the same experience to consumers. They also created an interactive, visually rich digital storefront to replicate the physical store. So, focus on creating a rich connected retail experience for your consumers online. Personalise the product recommendations based on the consumer data and send them contextually relevant messages.
Build consumer's confidence to do in-store shopping: Apart from convenience, another reason why consumers hesitate to go back to a physical store is the fear of contracting the infection. So, if you have a physical retail store, you will have to reassure your consumers about the safety and encourage them to visit your store. You must clearly state the precautions you are taking to reduce the spread of infection and ensure that they feel secure enough to visit the store. You could also use methods such as appointment shopping, so they could book an appointment and visit your store at that time. This will help you to engage with your consumers better and avoid overcrowding in your store. 82% of shoppers said they would prefer using self-checkout technologies to avoid crowding at the checkout counter. You could implement such solutions to save their time and provide more convenience in shopping.
Provide flexibility: European shoppers faced issues with long delivery waiting times and missed delivery slots.  The groceries and restaurants in Europe saw an uptick in curbside pickup. You can provide options such as curbside pickups or click-and-collect to your consumers, so they can order the products on the website or app and collect them from the nearby kiosk or curb. You could also offer consumers contactless payment options, such as e-wallets and buy-now-pay-later (BNPL).
Use automation: Managing multiple channels and providing the same experience on all platforms could be pretty challenging. Automation can help to solve that problem. You can use automation to onboard, engage, and retain your consumers across all the channels and improve the customer lifecycle (CLTV). It can also help you segment your consumers and send them personalised offers and messages based on events, time, lifecycle stage, etc. Automation is beneficial for both multi-channel and online retail. Hence, invest in it to improve customer engagement.
The pandemic has changed the way consumers shop. So, it's time to update your strategies too. Focus on enhancing their shopping experience even after the pandemic ends. Use these strategies to build a loyal customer base across different touchpoints.