By Shalini Devji-Jethwa, Director of Marketing, Europe at MoEngage
Ecommerce has been one of the sectors that benefited from the pandemic-fuelled shift to online operations. According to a recent report by Eversheds Sutherland, while UK apparel store sales dropped almost 48% YOY in 2020, it is projected that 60% of apparel sales will occur online by 2025. Similar trends are seen in other retail markets, as digital uptake has soared. It's no surprise that brands that embraced ecommerce in their omnichannel strategy thrived during the pandemic.
The retail industry is an integral part of the UK's economy, comprising more than 5% of the GDP, i.e., £403 billion (Retail Economics, 2020). However, the industry has been undergoing a period of profound transformation brought about mainly by two events – Brexit and Covid-19.
The impact of these events sent shockwaves throughout the country, disrupting supply chains, and reshaping the way customers shop. The resultant fluctuations in the retail sales cycles are a clear testament to this. A recent report published by the House of Commons Library also captures the volatility in market demand.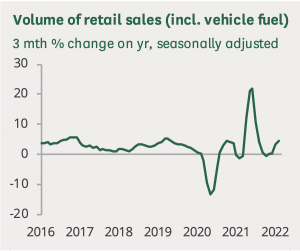 (Retail sales: Key Economic Indicators, House of Commons Library) 
Implications of Brexit
Britain's exit from the EU brought ramifications for the retail industry in terms of both pricing and supply flows.
Since the UK is now being treated as a third country, as per EU rules, third countries are required to pay VAT on all imported goods. As a result, both customers and brands had to bear the impact of the financial upheaval.
The food and beverages sector, in particular, was impacted by this as almost 80% of imported goods come from the EU, according to statistics by Kantar.
Businesses headquartered in the UK selling to other countries in the EU and vice-versa saw significant shipping delays and increased costs. Some fashion and beauty brands saw supply shortages on products they sourced from other countries. Many EU brands even paused or stopped selling to the UK altogether because of the duties levied and vice versa. For example, Fortnum & Mason, the London-based department store, ceased shipping to countries in the EU.
Amidst this chaos, customers suffered disappointment, either because of not receiving their orders on time or incurring increased delivery costs. Many ecommerce brands saw customers not accepting parcels due to these unforeseen charges like VAT and customs.
Implications of the Pandemic
The closing of physical stores in the UK during the pandemic forced many customers to turn to digital channels. But with physical stores opening back up, the question is whether this rise in ecommerce will continue.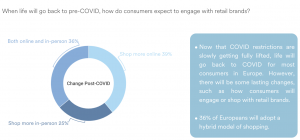 (Personalisation Pulse Check Report – Europe Edition, MoEngage)
A recent survey report analysing customer behaviour in the UK and other European countries indicates that the pandemic-driven shopping preferences of customers are here to stay. According to the Personalisation Pulse Check Report – Europe Edition, 39% of European shoppers have tilted towards shopping online, while 36% prefer to take a hybrid approach, i.e., offline and online shopping.
How Brands Coped with These Events
Most brands have realised that the only way to navigate such events successfully and emerge a winner is to focus on the customer. Here are some of the initiatives brands have taken to engage their customers and various learnings that can be drawn from them:
Location-based customisations:
Brexit caused a lot of legal complications. Both UK-based companies selling to the EU and companies in the EU selling to the UK faced shipping delays, unavailability of products, and increased shipping and customs charges.Many brands customised their omnichannel strategy to communicate these changes upfront and ensure continued customer engagement. Here's how:Headers were added to websites, informing customers about possible delays and added chargesA detailed website or FAQ page was set up to answer product delivery concerns. Here's an example by the UK apparel brand, Weekend Offender: https://weekendoffender.com/pages/international-shipping. This page is frequently updated to educate European customers about any changes in the shipping price and delivery times, region-wise.Emails and push notifications were sent to customers in specific locations to showcase any updates in real-time.
This strategy proved effective as the Personalisation Pulse Check Report – Europe Edition found that 32% of European customers expect to receive continuous updates on their order status as a value-added service.
Discounts to customers:
Customer insights revealed that many European customers were hesitant to make purchases due to increased product and delivery costs post-Brexit. Some brands decided to offset the financial burden by giving discounts to their European customers. For example, Weekend Offender updated the header on the website with the following: "We are back in the EU! And we are giving you a 15% discount on checkout to compensate for the new import duties due to Brexit."
Insights-led engagement:
Since there were shortages of products sourced from either the UK or countries in the EU after Brexit, brands used push notifications, emails, and SMS campaigns to notify customers when products they had shown interest in became available.Also, many brands updated the messaging on their channels to highlight that they were a domestic business. This was because insights showed that customers were switching to local brands to avoid additional costs and delays in getting the desired products.Many subscription-based businesses created a segmented list of their most loyal customers in the EU and UK to send updates on special offers or inform them when they planned to resume business in the region.
Omnichannel approach:
When customer spending declined significantly during the pandemic, brands were in fix for how to engage their customers without coming off as exploitative and inconsiderate.
Oatly, a Swedish oat drink company, came up with a unique solution to re-engage their customers. The pandemic had converted bedrooms into virtual offices, with people stuck in their homes for months. Oatly leveraged the opportunity to launch the Oatly Department of Distraction Services, an omnichannel campaign that involved a series of creative DIY video tutorials on how to reuse Oatly's products and packaging. They further shared various goofy games and snippets of content on their social media pages, that linked back to their website landing page.
The aim of the initiative was to offer ideas for different entertainment activities that could be done at home to make lockdown bearable, without pushing their products directly. Here's the messaging that was used on their website: "After momentarily losing all interest in selling you oat drink products, we decided to do this instead. Hope that's cool with you. #oatlydistractions" This unconventional strategy gave the brand great word-of-mouth.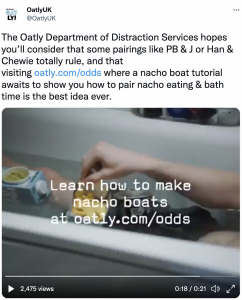 Staying Relevant in the New Normal
With the consistent economic uncertainty, increase in online shopping adoption, and numerous ecommerce brands entering the UK market, retaining customers has become a challenge.
As market restrictions ease and economies reopen, brands must reimagine their retail strategy to reflect a digital-centric customer journey.
The Personalisation Pulse Check Report – Europe Edition also shows that UK-based customers have increasingly adopted certain digital channels to communicate with brands during Covid-19. Mobile apps, social media, and emails have emerged as the preferred channels.
If a brand wants to stand out in the crowd, its communication strategy could be focused on meeting the customer on their preferred channels. If doing so, the brand must ensure its messaging is consistent across all channels.
Brexit and Covid-19 have escalated the need for including personalisation in the customer engagement strategy. Customers expect brands to go the extra mile and anticipate their needs based on their last interaction. Thanks to insights-led customer engagement, brands can create meaningful experiences for each customer.
If brands want to succeed in the new normal, they must focus on their customers and engage with them consistently, transparently, and in a personalised fashion.
Published 29/03/2022