By Tilly Michell, Content Marketing Manager at Airwallex
Ask any ecommerce business how they'd like to improve their checkout, and they'll probably give you the same answer: less friction, more conversions. This is understandable. After all, it costs a lot of money to get customers to the bottom of the funnel, and every cart abandonment is cash down the drain.
For this reason, businesses tend to prioritise a frictionless checkout over all other considerations, including the cost of payment processing. By ensuring your checkout journey is as smooth as possible, you can bring down your costs per sale and increase your revenue, right?
Well, unfortunately that's not the full story. The truth is that the cost of processing customer payments can put a serious dent in your profits, particularly for businesses with an international presence.
With fees creeping up to 8.5% per transaction in some cases, it might be time to rethink the way you collect online payments.
Fees, fees and more fees
PayPal and Amazon Pay are two of the most expensive payment processors around, charging 2.9% and 2.7% respectively for UK domestic transactions, plus a £0.30 fee. Both levy additional cross-border fees for international payments, and apply a steep exchange rate for businesses that want to convert foreign currencies to pound sterling.
The increasingly popular buy now pay later (BNPL) checkout solution, Klarna, charges UK merchants 2.49% + £0.20 for domestic transactions.
Stripe and Shopify offer more competitive transaction rates, but their currency exchange fees come in at 2% above the interbank rate, which is not the cheapest on the market. That means any business with a global customer-base will have to pay an additional 2% when collecting money from international customers, if they're funneling those payments into a pound sterling bank account.
With the cross border ecommerce market projected to grow at an annual CAGR of 27%, reaching $4,820 billion by 2026, more ecommerce businesses are going to find themselves losing out on profit as they expand their global presence.
The price of a frictionless checkout
Of course, there is a reason why millions of merchants choose to offer payment options like PayPal and Klarna within their checkout. Customers trust them, and love the features they offer, from staggered payments to the simplicity of a single click purchase.
Paypal's market penetration is huge, particularly in Europe and the US. According to a survey conducted by PayPal, customers across the UK, US, Germany, Austria, Italy, Spain and Brazil are 54% more likely to make a purchase from a business that offers PayPal as a payment option. This claim is backed up by an independent survey from Statistica, which found that nearly all UK respondents had used PayPal for online purchases between August 2020 and August 2021.
With the average cart abandonment rate across industries hovering just below 70%, it's understandable that ecommerce businesses choose to allow customers to pay the way they want, even if the merchant fees are high.
The solution is not to remove your customers' favourite payment options from your checkout, but to find workarounds that reduce the costs associated with those payment methods.
How to reduce the cost of payment collection
Add Apple and Google Pay to your checkout
One of the greatest draws of PayPal, from a customer perspective, is the convenience of their 'click to purchase' functionality. Apple and Google Pay offer this convenience without the added merchant fees.
Mobile shoppers have been slow to adopt Apple and Google Pay, but there's evidence to suggest that this might be changing, particularly as Apple and Google Pay expand their product offering to include BNPL options, and additional wallet features.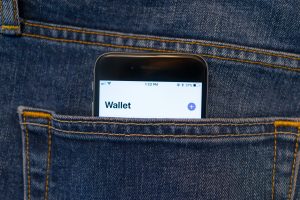 By including Apple and Google Pay alongside PayPal in your checkout, you have the opportunity to move a percentage of your customers onto a cheaper payment method, without negatively impacting your conversion rate.
Change your business account
It's crucial that ecommerce businesses allow customers to pay in their local currency. But funneling foreign currencies into a pound sterling bank account can easily double the cost of payment collection.
A smart solution is to switch from a sterling bank account to a multi-currency business account. You can funnel money from apps like PayPal, Alipay and Amazon Pay directly into a multi-currency account without being forced to convert funds to your home currency.
This workaround is particularly useful for businesses that have both customers and suppliers abroad. A business can collect payment from their customers in the US, for example, then use those dollars to pay their US suppliers, all without paying currency conversion fees.
If you do want to convert your money, multi-currency accounts like Airwallex offer an exchange rate that is considerably cheaper than PayPal and high street banks.
Shop around for a better value payment gateway
While payment apps are growing in popularity, there's still a sizable number of online shoppers who prefer to pay the old fashioned way—by entering their card details. So, it's wise to shop around for a payment gateway with low merchant fees.
Platforms like Shopify and WooCommerce come with inbuilt payment gateways, but will allow you to integrate alternatives into your checkout if you wish.
For businesses with international customers, integrating a multi-currency payment gateway into your checkout might be the cheapest option, as it will allow you to collect payment in several currencies without forced conversions.
Conclusion
Your checkout page is a sensitive part of your customer journey, so it's crucial that you do everything in your power to reassure your customers, and make them feel comfortable in parting with their money.
However, by choosing the right payment gateway, switching to a multi-currency business account and offering a diverse range of payment options in your checkout, you can create a payment experience that suits your customers and your bottom line.
Published 25/01/22