Is Unified Commerce Simply Omnichannel Rebranded?
By Karlie Taylor, Marketing Manager at Comestri
Omnichannel. The great buzzword that had its day many moons ago is back with a bang. But what is omnichannel, and how does it differ from multi-channel or the latest buzzword, unified commerce?
67% of customers use multiple channels to complete a single transaction. They may start their journey with a search or on social media, switch between ecommerce stores, marketplaces, review sites, and more. Not only do they bounce around online and offline, 85% of customers start a purchase on one device and finish it on another.
40% of consumers say that they won't do business with companies if they can't use their preferred channels, and 45% said product availability at a nearby store was one of the most important logistical factors that influenced when and where they shopped – a trend that's going to continue to rise.
When consumers discover new products on social sites, where do they tend to purchase from?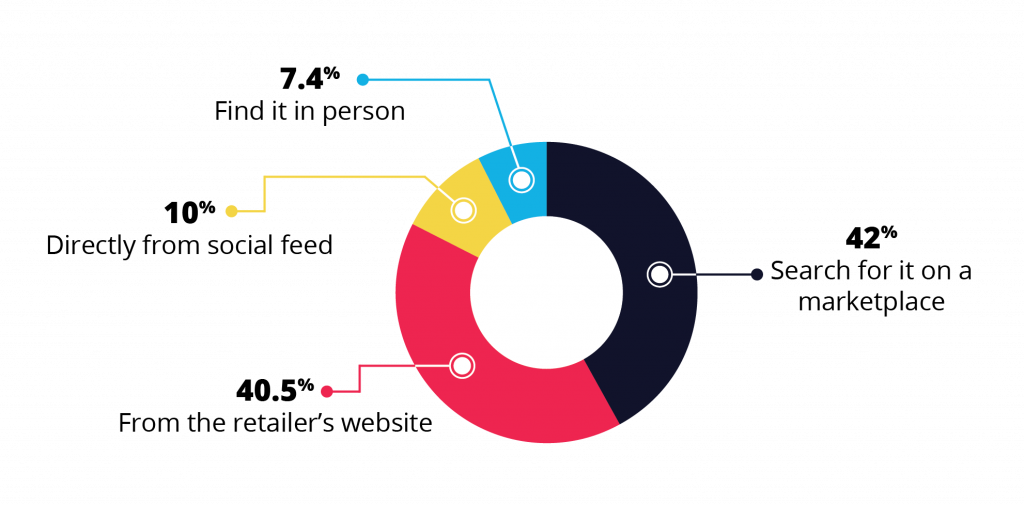 What does this mean? Retailers need to embrace the needs and expectations of their customers, and ensure their strategy can provide the experience their customers demand!
"Post-pandemic, 84% of shoppers plan to purchase via retail apps, 80% by social media networks, 77% on company websites, and 78% in stores, according to Accenture research. Reflect this with a consistent front-end experience across all customer-facing channels."
Single, Multi, Omni – What's The Difference?

Multi-Channel Retailers operate in more than one channel; retail stores, websites, marketplaces, social and more. They allow customers to engage on their preferred channel, however channels are siloed with little or no integration.
Omnichannel Retailing is a more integrated approach; it links channels and can therefore offer customer experiences within and between them. Channels can communicate with each other.
Is omnichannel retailing enough in today's retail environment?
It most definitely is not. Retail is not going to go back to where it was pre-2020; consumers have moved on. While retailers might be providing a great cross channel experience to consumers with an omnichannel strategy, it's a mess in the backend. Any changes to products, pricing, images, and more need to be made in duplicate and the brand experience is not consistent across the channels.
The next evolution of omnichannel retailing is Unified Commerce.
Unified Commerce creates a seamless, consistent experience for customers across all channels. By harmonising all channels, payment systems, products, and customer data, retailers can deliver a totally integrated, measurable, and frictionless experience.
The process puts the consumer at the centre of a holistic retail experience, touching everything from the purchase journey, customer service, fulfillment, returns & refunds and more. By connecting all back end systems with customer-facing channels in a single platform, retailers benefit from better data insights, a simplified commerce ecosystem and a consistent brand experience for customers.
Unified Commerce Benefits
Product consistency across all channels: product descriptions, meta data, images & videos, pricing, delivery options and costs, stock availability, payment options, customer communications, recommendations and more. All product details are managed in your PIM (Product Information Management), ensuring consistency and automating product updates.

Flexibility to add or remove channels as required:  Get your products in front of customers where they choose to shop, and access new customer bases with new channels.

Be agile with the ability to adapt and pivot to meet changing market conditions, such as turning stores into mini fulfillment centres when they are forced to shut.

Less human error, more automation: Drop the spreadsheets and automate critical business processes with a unified commerce infrastructure. Reduce errors and improve your operational efficiency.

Get personal: Customers expect personalised interactions; they expect you to know them and know what they're after. Unifying your customer data is key to providing relevant, engaging and contextual experiences, no matter where the customer is touching your brand.
Everything comes down to data. Omnichannel retailing consists of siloed, unconnected systems and channels, whereas unified commerce connects all back end systems with customer-facing channels in a manner where critical data can pass between these systems, in real time,  and still ensure the truth.
The single source of truth for specific data may reside in different systems, but each system is connected, ensuring the reliability of that data. This includes everything from product descriptions, meta data, images & videos, pricing, delivery options and costs, stock availability, payment options, customer communications, recommendations and more.
For unified commerce to be truly enabled, all systems must be connected: ecommerce platforms, retail stores, mobile apps, marketplaces, payments, dropshippers, social media, ERP, CRM, POS, CMS, logistics, procurement, distributed order management, marketing automation, analytics and reporting, customer service, personalisation, AI…. the list goes on!
Accurate and consistent data across every channel and touchpoint is essential, and this can only be achieved in a unified commerce solution.